Downton Abbey star Laura Carmichael sees plight of Syrian refugee children
Celebrities, Children in conflicts, Education in emergencies, Up for School or #upforschool campaign
Downton Abbey star Laura Carmichael has joined the campaign calling on world leaders to back a fund to ensure children trapped in emergencies do not miss out on education.
Laura, who plays Lady Edith in the hit British TV drama series, was deeply moved by a trip with A World at School to Lebanon, where thousands of Syrian children are out of school.
The 28-year old actress said: "I met children who have had everything taken from them because of the conflict raging in their country.
Laura at El Shayah mixed Public School in Beirut
"They have left their homes and schools and are separated from friends and families. I spoke to mothers who were scared for their children's future, desperate for them to have an education to give them freedom to rebuild their lives."
The four-year conflict in Syria has resulted in the worst refugee crisis in 20 years. There are 1.2 million Syrian refugees in Lebanon, a third of them children.
A World at School Ambassador Laura travelled to the Bekaa Valley, which is hosting thousands of Syrian refugees in tented settlements.
Almost all of the children there are out of school, many for up to four years, and the consequences are dire. Out-of-school children are becoming trapped in child labour, early marriage and radicalisation.
Laura said: "It was clear from everyone I spoke to that going to school would provide some hope and a chance to rebuild their lives.
"Two women, Kawsar and Ghazia, welcomed me into their home and introduced me to their beautiful children, all of them out of school.
With Syrian out-of-school children in the Bekaa Valley
"Kawsar told me her two sons who had once dreamed of being teachers and doctors were now labouring every day in order to support their family.
"You could hear the sadness in her voice that her children were bearing the brunt of the war.
"Ghazia, a mother of five, told me both of the eldest boys had to go out to work and provide for their family as their father was no longer alive.
Laura with Kawsar and her children Jamal (11), Cedra (9) and Mohamed (5) in Houch El-Oumara tented settlement
"This is not uncommon in these areas, as many children out of school are becoming trapped in child labour, early marriage and extremism."
There is support for children affected by the Syrian crisis. But this is not recognised as a formal education and provides no qualifications for future work.
In April, a deal between the international community and the Lebanese government meant 200,000 spaces will open in public schools at the start of the school year.
Speaking with 12-year-old Sharbal, who dreams of being a pilot
This uses the "double-shift" system which allows Lebanese children to be taught in the mornings and Syrian children to be taught in the afternoons, using the same schools, the same teachers and the same curricula.
Laura visited one of the schools. She said: "You could immediately see a difference with children in the double-shift school.
"The classroom felt so positive and the children energised.
Laura cradles two-month-old baby born in Houch El-Oumara
"I met with Sharbal, who had been out of school for two years but was now in a formal education in the double-shift school with his sister.
"He spoke perfect English because his mother had been an English teacher in Syria.
"He told me he often tried not to think about the situation he was in or about his home in Syria because it was too hard – but that being in school had made a huge difference to his life.
Laura Carmichael as Lady Edith in Downton Abbey
"He told me that his mother was so thrilled he was now able to be in school and learning. And that he could still dream about being a pilot and flying to Canada to see his aunt and cousins."
Despite the success of the double-shift system, there are still more than 200,000 children out of school in Lebanon alone.
Without sufficient investment they will not be able to return to the classroom.
With out-of-school children in Houch El-Oumara tented settlement
More than half of the world's out-of-school children – 28 million girls and boys – are denied an education because they live in conflict or emergency-affected areas.
Yet in 2014 only 1% of humanitarian funds deployed went to education and there is currently no mechanism to fund the education of refugee children or those affected by disaster.
A World at School is calling on world leaders to back a fund for education for children in emergencies.
"The fund, a major topic of discussion at the Oslo Summit on Education for Development in July, would finance the delivery of education at the onset of disasters and emergencies to ensure that children can return to school rapidly.
Laura said: "We must ensure generations of children in Syria and around the world don't pay the price of needless wars, earthquakes and other emergencies because their education is neglected."
She called on everyone to sign the #UpForSchool Petition, which urges world leaders to keep to their promise to provide education for every child in every country. 
Laura is shown round settlement in Bekaa Valley
The petition also backs the call for an urgent fund for education in emergencies.
Laura added: "We need to join together and make a call to ensure world leaders listen to the needs of the most vulnerable children in the world. Please join by signing the #UpForSchool Petition."
You can follow Laura on Twitter, on Instagram and on Facebook.
And you can sign the #UpForSchool Petition now!
---
More news
Theirworld initiative helps to deliver $30m of computers to Ukrainian children
Theirworld initiative helps to deliver $30m of computers to Ukrainian children
Theirworld's mission to give children in crises a safe place to learn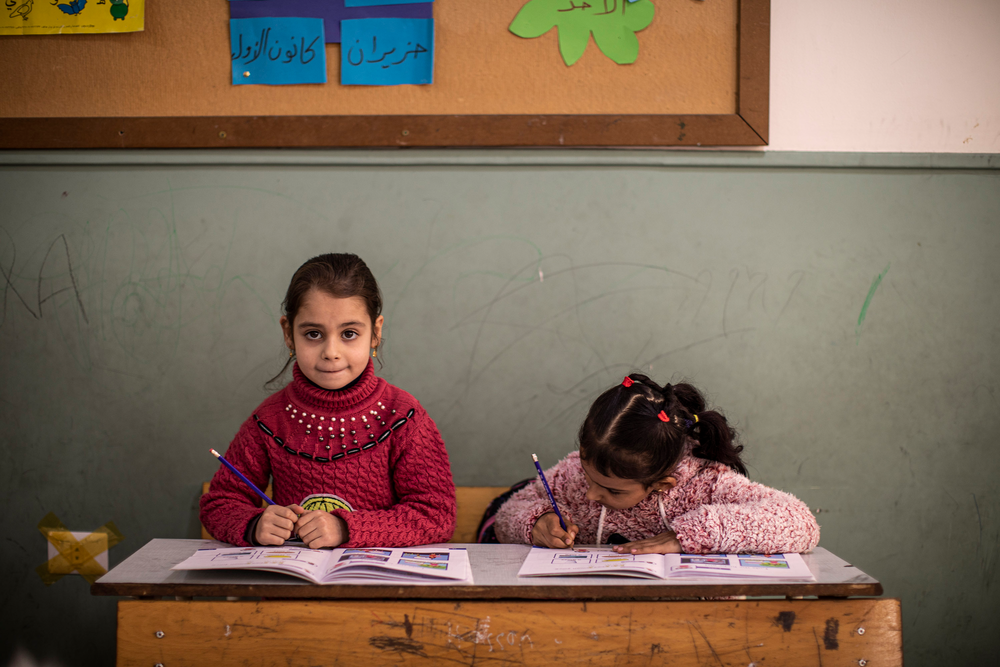 Theirworld's mission to give children in crises a safe place to learn