"Our job is to give young people the tools to achieve their ambitions and help make them good citizens and great leaders"
Discrimination of marginalised children, Early childhood development, Global Youth Ambassadors, Right to education, Teachers and learning, Technology and education
---
University founder and 2017 WISE Prize winner Dr Patrick Awuah talks about helping students in Ghana fulfil their potential through education.
---
Dr Patrick Awuah is the founder and President of Ashesi University College, a private, not-for-profit institution that has quickly gained a reputation for innovation and quality education in Ghana.
The former software engineer was the winner of the WISE Prize for Education 2017 – honoured for his passionate advocacy for empowering and transforming lives through education grounded in ethical leadership and community.
In a special interview with Theirworld's Global Youth Ambassadors, Dr Awuah talks about the importance of education at all levels and how Ashesi University College is equipping students for the future.
How has education played a role in your success?
It's helped me in my career. Going through education – being literate – has been a good tool for reading and for learning about things, even outside my field.
But the main thing about education has been that it's opened up the world to me and enabled me to become an engineer at Microsoft and now in the work that I do running a university in Ghana.
It's interesting that you started with "being literate" as the basis of success. How do you see the education system in Ghana and how effective is it?
The education system in Ghana is mixed. At the primary school level, things have changed quite a bit from when my parents went to school – my parents went to public primary schools and mission schools. 
By the time I was going to school, a lot of the mission schools had become public and so run by the government. The quality was much lower than the private schools, so I went to a private primary school but went to a very good public high school.
With the education system in Ghana as it is, students who started with a private primary education are more likely to get a good education throughout their schooling years.
Of those who start with public education, only a small number are able to advance beyond junior high school.
Why do you think there is a difference in the quality of education in public and private schools at primary education level?
It's hard to say but there are many different factors, like management and teacher absenteeism, and then there are much larger class sizes in the public schools than the private. 
Interestingly, some of the best high schools are public schools. It is clear that it's not just the public versus private, there is something else going on there.
As an educator what do you see are the barriers to education, especially for marginalised communities?
At primary school level, most kids are able to go to school now but the barrier is the quality of the teaching, the pedagogy and also the tools that are available to kids in school. Basic things like books and stationary.
At the high school level, though, from this year the government has made it free for anyone who can get in. They are boarding schools and there are not enough places at these schools. 
We need more high schools to be built and that is a fundamental constraint that needs to be removed. And more teachers need to be hired.
Africa has the fastest-growing population of young people. If educated properly, how do you see that benefiting Africa overall?
There's a lot of work to be done in Africa, a lot of infrastructure to be built and businesses to be created. But with a well-educated workforce there are huge opportunities for accomplishing all of that. 
Jobs would be available if citizens are educated appropriately and given the right skills. But if they're not, then we have a problem.
Do you see that happening at university level, a focus on quality over quantity?
I see with the Sustainable Development Goals there is global attention being paid to the quality of education, moving beyond access and quantity to make sure we're addressing qualitatively how education is done.
So this makes me optimistic that education will improve over time.
When thinking about lifelong learning, how important is early childhood development in helping every child to fulfil their potential when they go to school and beyond?
I think the fundamentals of literacy and being curious and interested in learning is important and the sooner you start with education, the better.
Getting kids to school as soon as possible, getting them to kindergarten and beginning that work is really important for setting them off on the right path.
What role, if any, do young people play in advocating for access to quality education? How do you plan on utilising their voices in your work?
At our university, quality is very important in making sure that the education we offer here is preparing people to be able to get jobs and preparing them to go on to postgraduate education. 
We're very clear about that and those families that send their children here are aware of that and are responding to that commitment to quality that we have at Ashesi.
When you ask generally what role do young people have, it's difficult for really young people, for example, at kindergarten or primary school level to really have a voice. They need their parents to be their advocates.
How did working in the private sector in the United States and in Ghana influence your founding of Ashesi University and your ongoing work with young people?
I left Ghana after having completed high school and teaching for one year in a public senior high school. 
After college, I worked mostly for Microsoft on an engineering team. The work was all about working in teams, solving problems, staying abreast of technology and the trends of technology, trying to imagine where technology needed to go and be a part of creating that future in technology. 
Very exciting and very fast-paced. There was also quite a lot of pressure, to design, build and ship software to customers – taking projects and managing them to completion. 
All of that experience has been useful in the work that I do today at.
There has been a great deal of focus on accessing technology for education in Ghana. Are the benefits identifiable?
Well, we're using technology here at Ashesi – including our classrooms, our labs, giving students access to very large data sets from other countries, giving them access to courses that they can use as a supplement to the courses they are taking here and also giving them access to tools, such as robotics platforms, and so on.
The technology that students have access to today is dramatically different to the technology I had access to when I was in college.
I think this is always going to be the case, that every year things get better and we work to provide access to emerging technologies for our students.
Technology and having access to it is certainly benefiting the students at Ashesi.
Does Ashesi offer any financial assistance?
We have a scholarship programme and in fact, half of our students get financial assistance from the university. So 30% pay nothing to come here, 20% pay partial fees and 50% pay full fees. 
We have a financial aid system that enables us to provide access to a wide range of students from many different backgrounds.
You must encounter some amazing young people at Ashesi. Can you tell us a little about them?
We have very bright and very driven people here, who have big ambitions for themselves, for their families, for their society.
I think that our job here is to give them the tools to achieve their ambitions and also to have them engage in the kinds of conversations and reflections that will make them good citizens and great leaders for their society.
You have said that "a great society" can emerge in Africa within one generation and that this will need "inspired leadership". Can leadership be taught? If so, what are some of the ways in which you are teaching leadership to young people?
Yes, leadership can be taught. It is a combination of engaging students in an intellectual conversation about ethics, virtue and the kind of society they would like to see emerge and what role they'll play in making that happen. 
As well as demonstrating the kind of leadership we would want our students to exhibit when they graduate or even as students on campus, we try to model a certain behaviour by engaging students through coursework and by getting them to go out to the community, working on social issues and being civically engaged.
All of that helps them to develop a sense of empathy that is important if we're trying to educate people who are going to be enlightened leaders for their society.
We also need to be giving students a set of tools so that they have the professional capabilities to progress, whether it is in engineering or project management, finance or technology, if they have the capability then they will deploy that capability when they graduate. 
They will have the confidence to make the change we need to see.
What sort of "civically engaging" work are the students doing at Ashesi?
They're doing projects all over Ghana. We challenge the students to find projects they want to engage in so it's not the university telling them what to do. 
There is a leadership seminar we run and, as part of that course, they have to identify a problem, which could be anything from agricultural, education, social.
We have students doing research on sustainable farming practices and passing that on, there are students engaged in adult literacy programmes, there are students who are tutoring children all the way from kindergarten up to junior high school. So there's a wide variety of projects. 
Who inspires you today – in Ghana and around the world?
I don't think I could point to an individual. There are lots of people doing great work in the world that I've had the privilege of meeting and they inspire me. 
I see people here who are working very hard in challenging circumstances, who are providing for their families. But, most of all, our students and alumni inspire me.
---
More news
Take the test and discover how our Schools Hub helps students grasp the global education crisis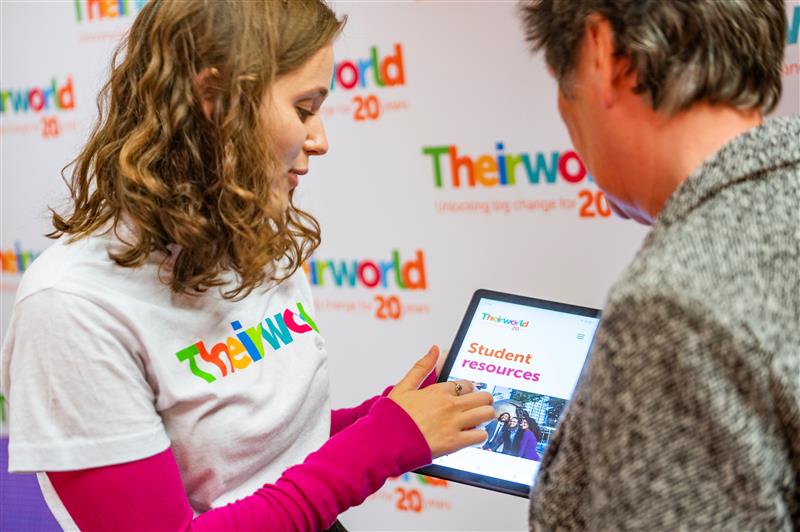 Take the test and discover how our Schools Hub helps students grasp the global education crisis
MyBestStart programme gives young girls the education they deserve
MyBestStart programme gives young girls the education they deserve