Dynamo delivers message of hope for Syrian children .. now it's time for action
Celebrities, Double-shift schools, Education in emergencies, Refugees and internally displaced people, Right to education, Theirworld
The magician and millions of #YouPromised campaign supporters ensured education for refugees was high on the agenda at a crucial funding conference.
---
When magician Dynamo marched into the crucial Syria summit, he had a message from 700,000 refugee children: "Keep your promise to get us into school."
He was backed in Brussels by nearly six million people who have watched and shared his powerful video 72 Hours about the plight of kids denied an education. 
And he carried with him over 70,000 calls for action from Theirworld's #YouPromised campaign and a social media campaign that has reached more than 150 million people worldwide.
Dynamo's passionate plea to world leaders was the most dramatic moment of the two-day conference hosted by the European Union and United Nations.
"It will be the youth of today who become the future of Syria. So if they have no education, there is no hope for Syria in the future," said the British illusionist, who travelled to Brussels with Theirworld.
The #YouPromised campaign – backed by thousands of our supporters – helped to get education high on the agenda at the Supporting the Future of Syria and the Region conference. 
Christos Stylianides, European Commissioner for Humanitarian Aid and Crisis Management, said: "I am happy to see that education features as a top priority at the Brussels conference. Education saves lives, protects children and empowers new generations."
Governments and other donors pledged $4.4 billion in humanitarian aid to Syria in 2018. Historically, around 10% of all funding has gone to education, so on similar trends we calculate that $440 million has been raised for education in 2018 – which would ensure school places for more than a million children so far.  
Announcing the commitments the UN and EU issued a joint statement saying: "These efforts will aim to secure quality education for all children."
But the funding pledges are not all clearly listed and our best calculations show that they amount to only about half what is needed to get every refugee child in school – with 689,000 children in Turkey, Lebanon and Jordan still not receiving an education.
The shortfall in funding is largely due to the United States not committing any money at all due to internal budget issues, when in previous years it has provided more than $1 billion a year to Syria and the region  – and a $3.7 billion commitment from the EU to Turkey, which is expected to be finalised soon.  
Watch Dynamo's film 72 Hours
Ben Hewitt, Theirworld Director of Campaigns, said: "Together we have secured a commitment to children's education – but we need to secure the whole amount before the next school term or we risk having to close the school gates on hundreds of thousands of Syrian children. 
"Our attention is now focused on the start of the school term in September and how many children will walk through the school gates."  
It's more than two years since world leaders made a vow to get every Syrian refugee child into education by last year. Over one million refugee children are now in school thanks to the efforts of the host countries. But those still denied education are at risk of being left behind – and in increasing danger of falling prey to child labour, early marriage and exploitation.
Lebanon, Turkey and Jordan, along with UN agencies, have agreed plans that would ensure 91% of all refugee children in school this year – but only if the funding promises turn into reality.
Theirworld will contact every government involved in the conference for confirmation of their pledge and details of their specific commitment to education – so we can hold them to their promise. We will also be calling on the US and any other remaining governments to commit their funding as urgently as possible.
We have also been invited back to Brussels for a larger conference with Members of the European Parliament following our presentation this week, as a way of directly tracking commitments with each country.
Dynamo said: "We will continue to press governments on this until every child is in school."
The award-winning magician's role in the #YouPromised campaign has had an enormous impact in the past week. After going to Lebanon with Theirworld to see Syrian refugee children in Lebanon, Dynamo made the moving and inspiring film 72 Hours.
Shared and praised by celebrities, fans and campaigners, it called on leaders to ensure they kept their promise to educate every single child.
At the Brussels conference, Dynamo said: "Education for me is the closest thing to real magic that you can give a child.
"If you give a child an education – even simple reading and writing – it instantly gives them a belief in themselves that they didn't have beforehand. It creates ambition and I think that we owe it to ourselves to be the ones that believe in the children enough to pledge them the money and put them into education."
Listen to Dynamo at the Syria conference​ in a special episode of the Better Angels podcast
Syria civil society groups attending the conference also issued a statement saying: "The deterioration in the education sector is a primary threat to the present and future of the Syrian people. We therefore believe that the continued support to this sector, and the validation and recognition of its certificates, and its increased support are a necessity to protect the future of our children in all areas.   
The EU, Germany and United Kingdom were singled out in Brussels for praise over their "exceptionally large pledges". Theirworld congratulated Norway in particular for committing 15% of its funds to education (around $42 million in 2018 alone) and encouraged all other governments to follow their lead.
"The pledges announced today are a good start," UN humanitarian chief Mark Lowcock said. "In an ideal world, we would have liked to raise even more money and we do expect to receive additional funding this year." 
Penny Mordaunt, the UK's International Development Secretary, said: "The UK will continue to provide long-term, multi-year support to the region to create the education and employment opportunities that will spur the recovery we all want to see. But as we do so, we must not forget those most at risk from being left behind."
She said donors must make more multi-year pledges, adding: "With predictable financing we can create long-term, sustainable programmes that deliver results."
Linda McAvan MEP, chair of the European Parliament development committee, said: "Today's pledges are very welcome – but urgent action is needed and donors need to deliver on previous pledges.
"We are at risk of seeing an entire generation of Syrian children left behind, unable to prepare for their future. European and world leaders must now deliver their promise to help educate these kids – and that is why we are backing Theirworld's #YouPromised campaign to ensure Syrian children have the best chance of a brighter future."
---
More news
Take the test and discover how our Schools Hub helps students grasp the global education crisis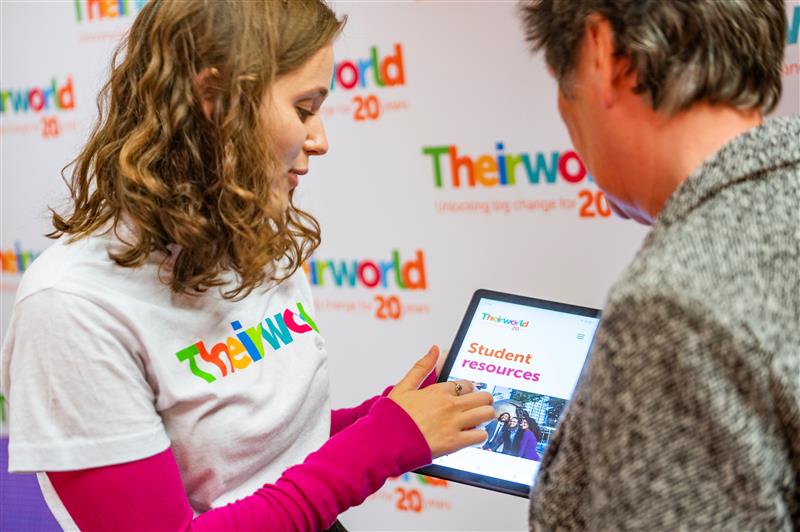 Take the test and discover how our Schools Hub helps students grasp the global education crisis
#LetMeLearn: the story of a global education campaign
#LetMeLearn: the story of a global education campaign