#YouPromised … now get every Syrian child in school, Dynamo tells world leaders
Celebrities, Children in conflicts, Double-shift schools, Education in emergencies, Refugees and internally displaced people, Right to education, Theirworld
---
The TV star known as Magician Impossible will say at a Brussels conference today  that educating every refugee child is not just possible - it must happen.
---
He levitated above the tallest skyscraper in London and walked on water across the River Thames. But today the magician Dynamo aims to achieve his greatest feat – by helping a generation of Syrian children get into school.
The man known as Magician Impossible is in Brussels to tell world leaders that keeping their promise to educate every refugee child is not just possible – it MUST happen.
Despite assurances made two years ago that every Syrian girl and boy would be in school by last summer, 689,000 are still being denied an education in their host countries and the funding has fallen.
Dynamo is in Brussels with Theirworld to speak at a major conference on Syria – and to show his powerful and inspirational film 72 Hours about the plight of refugee children in Lebanon. 
It has been seen by more than 1.5 million people and shared by celebrities and thousands of supporters who have also signed the #YouPromised petition.
Dynamo said: "It's easy to feel overwhelmed and helpless by the sheer size of the problem. But I wanted to try and help in some way."
He will speak alongside Theirworld President Sarah Brown at the Brussels conference – on behalf of a generation of Syrian children who have been let down by broken pledges from the international community.
Children like Sheymaa, a Syrian refugee in Lebanon who said: "All I have become is a number. Where is my childhood and education?" 
Sarah Brown said: "When leaders promised to get every Syrian refugee child into school by the end of 2017, this was greeted with great acclaim – the truth is that 700,000 of those 1.7 million children still have not got their place at school due to lack of funding.
"Here at the Brussels conference, Dynamo and I will be speaking at the education event. We will also be meeting European Commissioners, heads of UN agencies, Members of the European Parliament and other activists."
The Supporting Syria and the Region takes place today and tomorrow, against the backdrop of a conflict now in its eighth year. 
Those children still out of school in Turkey, Lebanon and Jordan – many of whom have never set foot in a classroom – face the risk of child labour, early marriage and exploitation.
Ben Hewitt, Theirworld Campaigns Director, said: "It is absolutely possible to get every refugee child back to school. But world leaders cut aid for education for Syrian refugees in 2017. 
"Today they meet in Brussels. Children who have lost everything need them to urgently turn this around and give them a future and a hope."
---
More news
Take the test and discover how our Schools Hub helps students grasp the global education crisis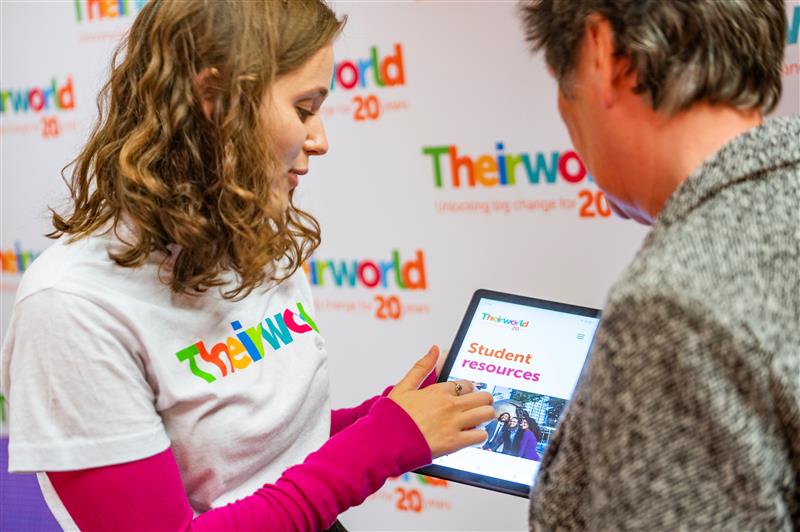 Take the test and discover how our Schools Hub helps students grasp the global education crisis
#LetMeLearn: the story of a global education campaign
#LetMeLearn: the story of a global education campaign