Little Ripples programme has a big effect on young refugee children in Chad
Children in conflicts, Early childhood development, Education in emergencies, Teachers and learning
---
Early learning classes at the homes of Sudanese youngsters are being provided by refugees trained as teachers.
---
Refugees in Chad are being trained as teachers to provide home learning to thousands of young children living in camps.
The eastern part of Chad hosts around 320,000 refugees from the Darfur region of Sudan, who fled their communities in 2003 due to the war that killed over 300,000 people.
Almost 15 years later, Darfur's conflict has prevented thousands of families from returning.
Chad is one of the poorest countries in Africa and Darfuri refugees live in remote areas along its eastern border. They are in 12 camps and each has a population of between 15,000 and 27,000 people.
The refugees have faced dramatic cuts in World Food Programme food rations and support from international aid agencies.
The reduction in funding has negatively impacted services including education. As a result, the humanitarian community in Chad has shifted efforts toward self-reliance.
The education project for refugees is called Little Ripples and is run by a not-for-profit organisation in the US called iACT (iActivism).
At primary and secondary school levels, budget cuts have led to poor school structures and classrooms and a lack of space for school-age children. There is also a lack of textbooks, minimal training for teachers and low teacher salaries.
As a result, children attend school in shifts or do not attend at all – and teachers are forced to find supplementary employment or leave their positions entirely.
Resources are even more limited for early childhood education (ECD) which prompted iACT to develop Little Ripples. Started in 2013, it operates operating in four camps and has reached almost 3000 children so far.
iACT said its project is refugee-led in order to address the needs of children and communities that experience trauma from violence, displacement and uncertainty.
Through teacher training and professional development, Little Ripples transforms untrained refugee men and women into teachers.
Sara-Christine Dallain, Director of International Programmes at iACT, explained the background of Little Ripples to Their News.
She said: "My executive director had been travelling to the Chad camps since 2005 and over the years we were primarily an advocacy organisation, mostly raising awareness and funds. 
"We started noticing big gaps in programmes and also gaps in the quality of programmes. One of the camp leaders was taking us around and said, 'Look how many young children are around, are unsafe, are not being educated or nurtured or cared for'. 
"That was around 2011 – and so we embarked on a two-year journey of creating with the refugee community – and also with experts in child education – defining a programme we thought would be the best possible for any child in the world but also adapt to Chad."
In 2013, with a group of 14 women, Little Ripples was implemented in a refugee camp called Goz Amer. Working with the community, iACT put out a call for women who wanted to be trained as preschool teachers. 
"We selected and employed those 14 women and prepared them to be education directors and teachers of this programme," said Dallain. "And we built a school, a really really beautiful school in the camp, with six classrooms.
"The women implemented the programme and it started small with about 250 children ages three to five. It's since grown to around 400 children at school.
"The project brought really positive results for children's social and cognitive development and feedback was great."
Although the project proved a huge success it was not cost-effective for iACT to build new schools in all the camps. So they decided that home learning would be the best way to expand Little Ripples.
Dallain said: "The refugee homes in eastern Chad are quite large and they have these big compounds and multiple homes in these compounds. 
"So we talked to the communities and said, 'what if we brought the Little Ripples programmes to homes?' instead of putting a whole bunch of money into creating new schools. 
"We put the money into teacher training and employing teachers and create spaces in the community where more children can attend and be in safe spaces. The community was very receptive."
The Little Ripples project is led by refugee teams of camp coordinators, education directors and teachers, who design the programme jointly and lead peer-to-peer teacher training with community engagement.  
Refugees' homes are altered to provide a safe learning space for both teachers and children.
Hosting preschool in the existing home spaces of refugees living in camps reduces the costs of building school structures and the barriers of access to education for young children. Sara-Christine Dallain, Director of International Programmes at iACT
Each home space – called a Little Ripples "Pond" – employs two teachers to care and teach up to 45 children, and two mothers from the community to prepare and provide a daily meal.
The curriculum has been created by experts in early childhood development, trauma recovery, preschool education and mindfulness – to ensure it includes best practices for refugee children.
They are taught literacy and numeracy and grounded in play-based education, empathy development, peacebuilding, and mindfulness.
Refugee teachers learn the curriculum through training and adapt it to their culture and context.
Dallain said: "Hosting preschool in the existing home spaces of refugees living in camps reduces the costs of building school structures and the barriers of access to education for young children, and directly integrates the community into the education solution.
"Empowering refugees to adapt and lead an education programme fosters ownership from the outset, ensures the solution is culturally relevant, and enables the programme to be sustainable beyond the support of international aid agencies."
Theirworld's work on early childhood development is supported by the Conrad N. Hilton Foundation.
---
More news
Take the test and discover how our Schools Hub helps students grasp the global education crisis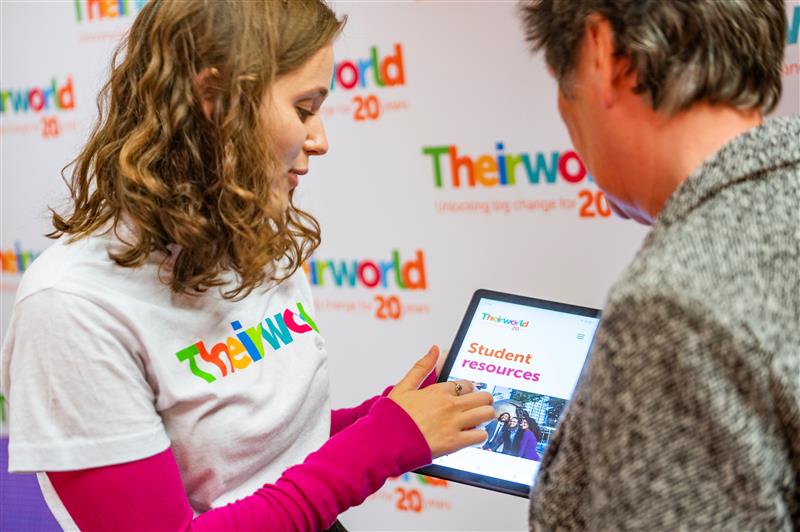 Take the test and discover how our Schools Hub helps students grasp the global education crisis
MyBestStart programme gives young girls the education they deserve
MyBestStart programme gives young girls the education they deserve