'Hidden' crisis countries where new initiatives will help 1m children get quality education
Children in conflicts, Education Cannot Wait, Education in emergencies, Theirworld
Education Cannot Wait - launched after Theirworld led the way in calling for an emergencies fund - has announced multi-year action in Chad and Ethiopia.
---
Can you name the countries where humanitarian emergencies have forced millions of children out of school? You'd probably come up with the likes of Syria and Yemen, maybe South Sudan.
But would you think of Chad and Ethiopia? While other conflict-torn countries grab the global headlines, the "hidden" crises can be just as devastating. Here are some startling facts:
CHAD: 1.2 million children aged six to 11 are out of school because of a long-running and complex crisis. Only one in 10 girls complete middle school. 
ETHIOPIA: One million children are out of school because of conflicts and natural disasters that have damaged more than 700 schools.
These youngsters are among 75 million children and youth whose education is disrupted by humanitarian emergencies around the globe. 
"In Chad, Ethiopia and other crisis-affected countries, children's lives have been ripped apart by conflict, forced displacement, climate change impacts and protracted crises," said Yasmine Sherif, Director of the Education Cannot Wait fund. "We must not leave these children behind. They all have the right to develop and thrive."
When wars, displacement and natural disasters strike, education is crucial to help children deal with trauma and return to a normal life. But only five years ago, education in emergencies was overlooked and underfunded – with less than 2% of humanitarian aid going to schooling.
Then Theirworld led the way in calling on world leaders to create an urgent fund for education in emergencies. We launched a #SafeSchools campaign and – after months of campaigning by us and other leading charities – Education Cannot Wait (ECW) was launched in 2016.
"In the beginning, there were few partners advocating for a new fund for education in emergencies – in fact many were skeptical," said Justin van Fleet, President of Theirworld.
"But at Theirworld, we built a grassroots movement led by our Global Youth Ambassadors and joined by like-minded organisations which pushed hard until we reached the World Humanitarian Summit where Education Cannot Wait was inaugurated."
Fast forward to 2020 … and ECW has reached more than 2.3 million girls and boys in 30 countries and raised over $500 million. This month it has invested $48 million by launching multi-year programmes in Chad and Ethiopia with the governments and partners, which help almost one million children into school. 
ECW now has a proven model in 10 crisis-affected countries – Afghanistan, Bangladesh, Central African Republic, Chad, Ethiopia, Palestine, Somalia, South Sudan, Syria and Uganda.
"At Theirworld, we're now focused on filling the gaps that still remain, and that's why we partnered with Education Cannot Wait and Nationale Postcode Loterij to deliver education where international partners have failed to step in, starting with the Greek Islands emergency," added van Fleet.
Theirworld's project with Education Cannot Wait is allowing partner organisations to send 5,500 vulnerable refugee children to school on the Greek Aegean Islands.
In Chad, the problems are different but the effects are the same. Ongoing violence, population displacement, the effects of climate change and widespread poverty and hunger in the Lake Chad Basin has resulted in 4.3 million people needing humanitarian assistance. One result is that only 19% of girls and 40% of boys access lower secondary school education. 
ECW plans to allocate a total of $21 million over three years in seed funding grants to catalyse the additional $30 million required to fully fund the three-year programme and reach 230,000 girls and boys.
Chad's Education Minister Aboubakar Assidick Tchoroma said: "With generous funding from Education Cannot Wait, this new programme will reach girls and boys that have been left behind as the result of ongoing crises and emergency in the region. It's an investment in our children and in a more prosperous future for the country." 
The Chad initiative will reintegrate out-of-school girls and boys into learning and training programmes, train teachers, provide psychosocial and school feeding services, support early childhood education and increase school enrolment and retention.
In Ethiopia, ECW plans to allocate a total of $27 million in seed funding grants to catalyse the additional $138 million needed to fund the three-year $165 million programme and reach 746,000 crisis-affected children.
To help address the country's high drop-out rates at Grade 1, the programme will focus on early childhood education – providing improved opportunities for 213,000 pre-primary and 532,000 primary school-aged children.
"This multi-year investment from Education Cannot Wait will help address one of the most important, yet often overlooked, needs for vulnerable children and youth in times of crisis," said Ethiopian Education Minister Dr Tilaye Gete. 
"By building a programmatic response that brings together multiple stakeholders including the local community, this is a sustainable investment in the future of our children and in the prosperity of our country."
---
More news
Take the test and discover how our Schools Hub helps students grasp the global education crisis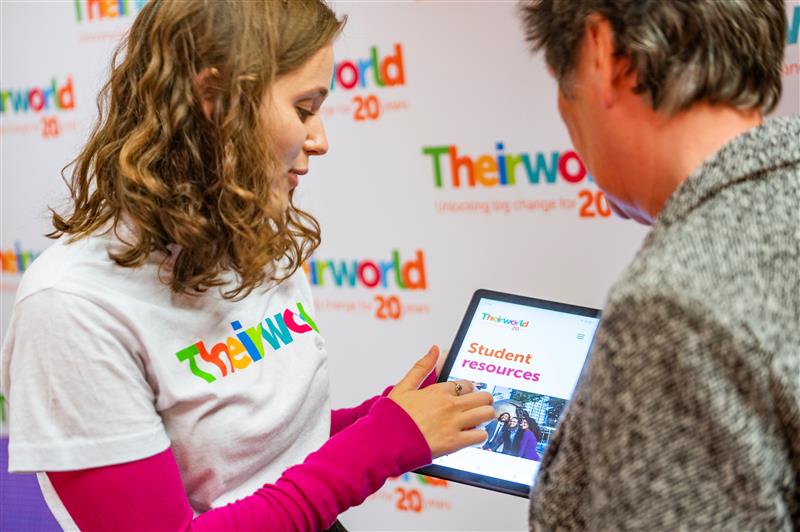 Take the test and discover how our Schools Hub helps students grasp the global education crisis
#LetMeLearn: the story of a global education campaign
#LetMeLearn: the story of a global education campaign