Education Commission report: reaching the 75m children living in emergencies
Children in conflicts, Education in emergencies, The Education Commission
Will they get the education they deserve? Syrian brothers Esraa and Waleed sit near a shelter for displaced people in Aleppo Picture: UNICEF/Al-Issa
The Education Commission – a group of world leaders and experts – has spent a year researching and analysing the state of global education. In a major report published today called The Learning Generation, it warns that hundreds of millions of children around the world will be robbed of their future unless immediate action is taken.
You can read about the commission's findings and recommendations here. In this article, we look specifically at what the report says about education in emergencies.
Attacks on their schools. Dangerous journeys just to get to the classroom. The risk of being conscripted as a child soldier, married off as a child bride or having to work to feed their family.
This is the reality of life for millions of children around the world who are living in crisis situations.
About 75 million children each year are affected by humanitarian emergencies – half of them by conflicts, the rest by natural disasters, disease outbreaks and other crises.
That includes one million Syrian refugee children living in neighbouring countries. World leaders meeting in February at the Supporting Syria and the Region conference in London pledged to come up with the money to get all of them into schools this academic year.
But with just days to go before the school year starts in the region, only a fraction of the pledged $1.4 billion has been received.
"Education is everything in life" – Aasir, 12, in school again after 5 years.
Promises to children must be kept. pic.twitter.com/QaeRowIojs
— Sarah Brown (@SarahBrownUK) September 16, 2016
Leaders gathering at the United Nations General Assembly in New York this week have the opportunity to keep their promises and ensure that those Syrian children – and millions more like them – get the chance to go to school and fulfil their potential.
The issue of education in emergencies is a massive one, as the report from the Education Commission shows. Among its findings are:
63 million children and youth who are out of school live in conflict-affected areas
Children in these countries are 30% less likely to complete primary school and only half as likely to finish lower secondary
Only one in two refugee children go to primary school
Only one in four refugee adolescents go to secondary school
In countries where there is not equal access to education for all children the chances of conflicts more than doubles
More than half of the 30 countries with the highest rates of child marriage are fragile or affected by conflict
The commission found that each extra year an adolescent boy spends in school reduces their chance of becoming involved in conflict by 20%.
Despite all this evidence, there is a woeful lack of funding for education in emergencies. In 2015, less than 2% of all humanitarian aid went to education.
Syrian refugees who fled the war are now learning at a school in Lebanon
And while the need for funding of education in emergencies has increased by 21% since 2010, international financing for it has declined by 41% over the same period.
All this meant that last year less than 12% of children in need of education assistance in emergencies were reached.
Here are some of the other things the report has to say on the issue.
Education helps people to plan for emergencies
It gives them the skills to be better prepared, more resilient and able to adapt when they are hit by natural disasters or "unexpected economic or political shocks".
Education can also help to bring about co-operation and peace as conflicts continue and disasters caused by climate change increase.
Seven-year-old Nada at a refugee camp in Djibouti for prefugees who fled the war in Yemen Picture: UNICEF/Rita
But it's a mixed picture at regional or country level
The report warns: "Across countries, there is a lack of planning for emergencies. Few countries incorporate disaster preparedness into their formal education planning or prepare for any disruption due to conflict or natural disaster."
It says improving the physical structure of schools is vital for the nearly 900 million students who live in high-risk earthquake zones.
But it says Pakistan and Afghanistan has helped to prevent terrorist attacks at schools by building boundary walls and other security measures such as razor wire and cameras.
Emergencies are getting longer
90% of countries with a humanitarian response plan in 2014 have had an appeal for three or more years.
This means there needs to be improved co-ordination between long-term development aid and shorter-term humanitarian aid.
Financial help is inadequate and uncoordinated
Support for education in emergencies is sadly lacking. The co-ordination between emergency and development financing is weak, which prevents effective support during and in the aftermath of a crisis.
The report says: "Education emergency appeals are often underestimated and lack long-term multi-year strategic outlooks for financing and delivery."
Nine-year-old Alima from Niger at a camp for diaplaced people in Garin Wazam picture by UNICEF:Phelps
Backing for the Education Cannot Wait fund
The commission supports the fund, which was set up earlier this year. Education Cannot Wait aims to raise $3.85 billion by 2020 and support education for 75 million children and young people affected by emergencies each year.
The commission recommends the fund prioritises helping 30 million children with the most urgent need who have lost access to schooling. It endorses the need to develop reliable and consistent ways to fund education in emergencies.
"A system of support for refugees and displaced persons that relies on a voluntary 'begging bowl' cannot be defended," says the report.
Funding for education in emergencies should be increased from the current 2% of humanitarian aid to between 4% and 6%. The commission adds: "Reaching 6% could nearly fully finance the amount called for in current education appeals. This financing could be channeled through the Education Cannot Wait fund."
Other financing proposals
The UN Security Council should explore the possibility of moving to a contribution system for member countries that would cover the costs of the Palestinian refugee agency UNWRA and major emergency appeals.
There is scope to get additional funding from development banks and the private sector.
Efforts should be made to encourage the World Bank and other multilateral development banks to consider expanding concessional financing to support education in countries faced with emergencies or large numbers of refugees.
GET EDUCATION UPDATES FROM THE UNITED NATIONS GENERAL ASSEMBLY
---
More news
Theirworld initiative helps to deliver $30m of computers to Ukrainian children
Theirworld initiative helps to deliver $30m of computers to Ukrainian children
Theirworld's mission to give children in crises a safe place to learn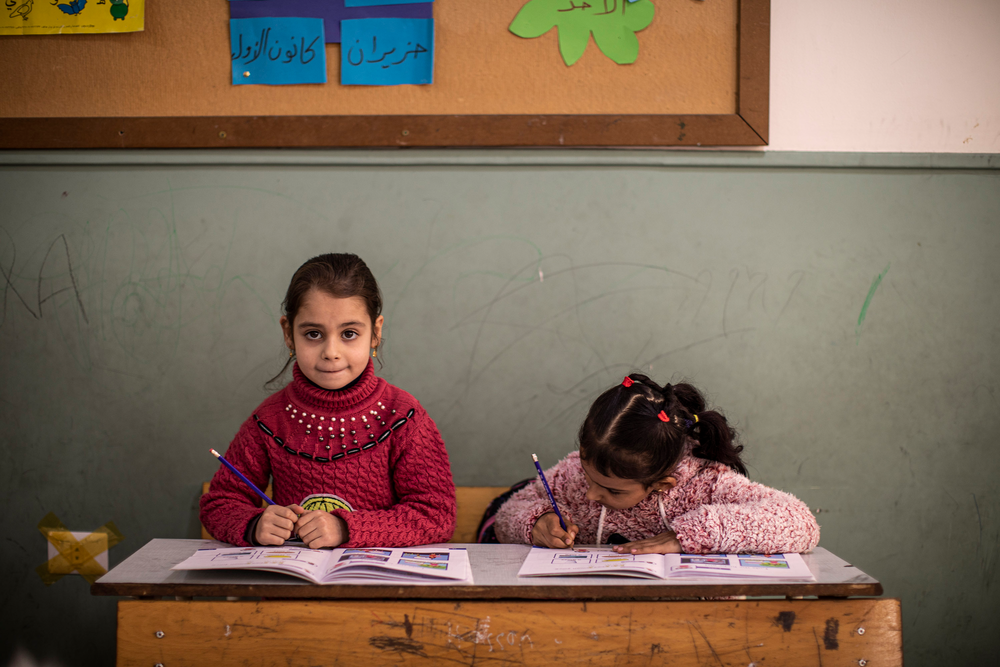 Theirworld's mission to give children in crises a safe place to learn