'I have begun to realise my dream' … exam success for refugee and Lebanese students on Theirworld scholarships
Refugees and internally displaced people, Theirworld
---
Our cohort – including Syrians and Palestinians - have achieved fantastic results as they study for MBA degrees from Edinburgh Business School. 
---
Students in Lebanon have made a flying start in their quest to earn an MBA degree through a joint initiative by Theirworld and Edinburgh Business School. 
A group of Syrian and Palestinian refugees and Lebanese nationals are taking part in the two-year post-graduate Master of Business Administration programme – and 15 have just passed their Accountancy exam. 
Nine of them earned a distinction (a mark of more than 70%) and one achieved a hugely impressive 90%. Edinburgh Business School, which is based at the Scottish city's Heriot-Watt University, said these are exceptional results for this exam – with a pass rate of 83% compared to the usual 65%. 
One of the successful students is Orwa Tayara, originally from Homs in Syria. He said: "I left due to the war, leaving behind many wishes and dreams in pursuing my master's studies. After eight years now as a refugee in Lebanon, I have begun to realise this dream. 
"I hope that after obtaining my master's degree from the university, I will be one of the influencers in Syrian society, helping children. 
"In my homeland Syria, there is a dreamland where children are waiting for love and knowledge. Thank you to Theirworld." 
The fully-funded MBA programme is part of a joint initiative with Theirworld and the Edinburgh Business School. It has been made possible thanks to the support of players of People's Postcode Lottery UK and Omniwomen, part of the the global marketing and communications agency Omnicom. 
Throughout the programme, the 20 students will receive academic support from the business school but will take their exams in Lebanon.  
In August, they received tablets to access the bespoke learning platform and course materials for each of the core courses.
Professor Heather McGregor, Executive Dean of Edinburgh Business School, said: "I would like to congratulate everyone at Theirworld on facilitating this opportunity for postgraduate management education for people in such disadvantaged communities.  
"These kind of results show that they will go far, and our data from 30 years of offering this degree globally shows us that eventually getting an MBA will transform their life opportunities." 
Theirworld President Justin van Fleet said: "This cohort of aspiring innovators and entrepreneurs will ultimately help pave the way for a more positive future in the region. The MBA programme will support them with the skills to lead the way in their fields." 
---
More news
Take the test and discover how our Schools Hub helps students grasp the global education crisis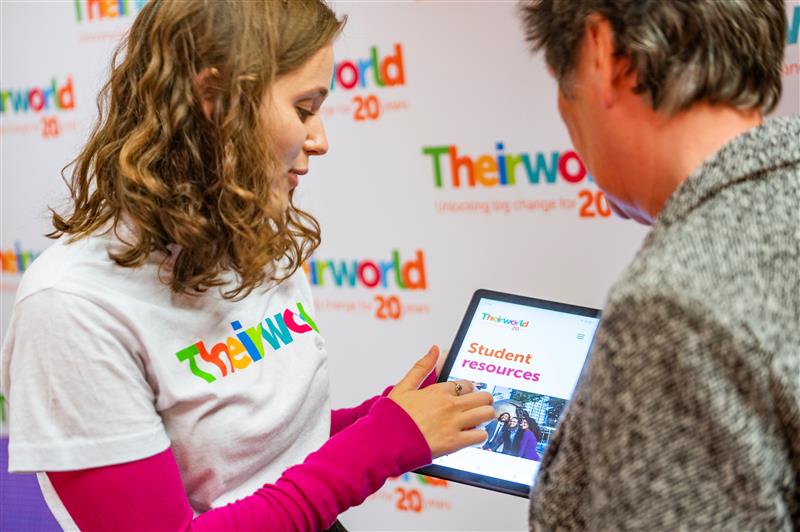 Take the test and discover how our Schools Hub helps students grasp the global education crisis
#LetMeLearn: the story of a global education campaign
#LetMeLearn: the story of a global education campaign