Five things you need to know this week about global education
Child soldiers, Child trafficking, Children in conflicts, Education in emergencies, Refugees and internally displaced people, Safe schools, Safe Schools Declaration
---
China's frozen-hair boy one year on, school aid for refugees and a deadly attack on a Syrian school are among the topics in our latest news roundup. 
---
1. School's warm welcome for frozen-hair boy
Eight-year-old Wang Fuman became known as "the frozen-hair boy" when his determination to get to school to take an exam went viral. The Chinese boy became a global sensation one year ago this week after his teacher took a picture of him arriving in class in rural Yunnan province with his hair turned into icicles, his eyebrows and eyelashes frozen, his cheeks bright red and his hands swollen.
Wang, who comes from a poor family, had walked three miles in sub-zero temperatures wearing thin clothes.
But his life has changed since then, reports the People's Daily in China. His family have moved out of a shared mud hut into a new home just a few minutes from his school. 
Donations and investment in the primary school also means the classrooms have better heating and a dormitory has been built for students who live far away. One thing hasn't changed though – Wang is still top of his class.
2. EU aid helps Syrian refugee children in Turkey
1.5 million refugees in Turkey have now been supported by the European Union's biggest ever humanitarian programme. The Conditional Cash Transfer for Education has surpassed its initial goals and currently supports the families of more than 410,000 children who attend school regularly.
It provides cash assistance to vulnerable refugee families with children who attend school regularly.
Christos Stylianides, the UN Commissioner for Humanitarian Aid and Crisis Management, visited Turkey this week and said: "The EU, in cooperation with Turkey, is bringing a real change in the lives of the most vulnerable refugees. I am very proud of what we have achieved together."
There are nearly four million refugees in Turkey – the largest refugee population in the world.
3. Horrific attack on school 'was unlawful'
An attack by Syrian government forces near a primary school that killed six children, a teacher and a student's mother appears to have been unlawful and indiscriminate, Human Rights Watch said today.
Witnesses said three mortar shells hit the area beside the school in the town of Jarjanaz in Idlib governorate in November. At least 10 children and three adults were also injured.
This horrific attack on Jarjanaz is a small glimpse of what an all-out offensive on Idlib without strict measures to protect civilians could mean for thousands of children. Bill Van Esveld, senior children's rights researcher at Human Rights Watch.
Schools are meant to be safe spaces where children can learn and be free from fear. But Theirworld's report Safe Schools: The Hidden Crisis has revealed the growing threats to the safety of children and teachers from conflicts, natural disasters and other forms of violence.
4. Child soldiers on rise in conflict zones
Human trafficking is becoming more "horrific" in conflict zones, where armed groups keep women as sex slaves and use child soldiers to spread fear, the United Nations said this week.
From girls forced to wed to boys made to cook and clean, militants are using trafficking as a tool to boost their control in areas where the rule of law is weak, the United Nations Office on Drugs and Crime (UNODC) said in a report.
"Child soldiers, forced labour, sexual slavery – human trafficking has taken on horrific dimensions as armed groups and terrorists use it to spread fear and gain victims to offer as incentives to recruit new fighters," said UNODC Executive Director Yury Fedotov.
Almost all child soldiers are deprived of education and a chance to fulfil their potential.
Theirworld's report Safe Schools: The Hidden Crisis revealed that last year children were abducted to be used as human shields or recruited as soldiers and suicide bombers in countries such as Nigeria, the Democratic Republic of the Congo, Central African Republic and Yemen. In South Sudan, as many 19,000 children have been forced into conflict as part of armed militias since 2013. 
5. Palestinian students face another uncertain year
This time last year, the United Nations agency that provides education for 726,000 Palestinian children revealed that it faced a massive financial crisis after the United States slashed its funding.
At one point it looked as if UNRWA's 711 schools in Gaza, the West Bank, Lebanon, Jordan and Syria might not reopen after the summer break. But they did – thanks to other donors stepping up with money.
Palestinian students are worried that 2019 might not be any easier. Matthias Schmale, the agency's Director of Operations in Gaza, said uncertainty over their future has become a constant worry.
14-year-old Hada told UN News that when school began "everybody was very anxious", and that when they "knocked on the door of the social counsellor asking for support, they were reminded that she was no longer there" because of cutbacks.
---
More news
Theirworld initiative helps to deliver $30m of computers to Ukrainian children
Theirworld initiative helps to deliver $30m of computers to Ukrainian children
Theirworld's mission to give children in crises a safe place to learn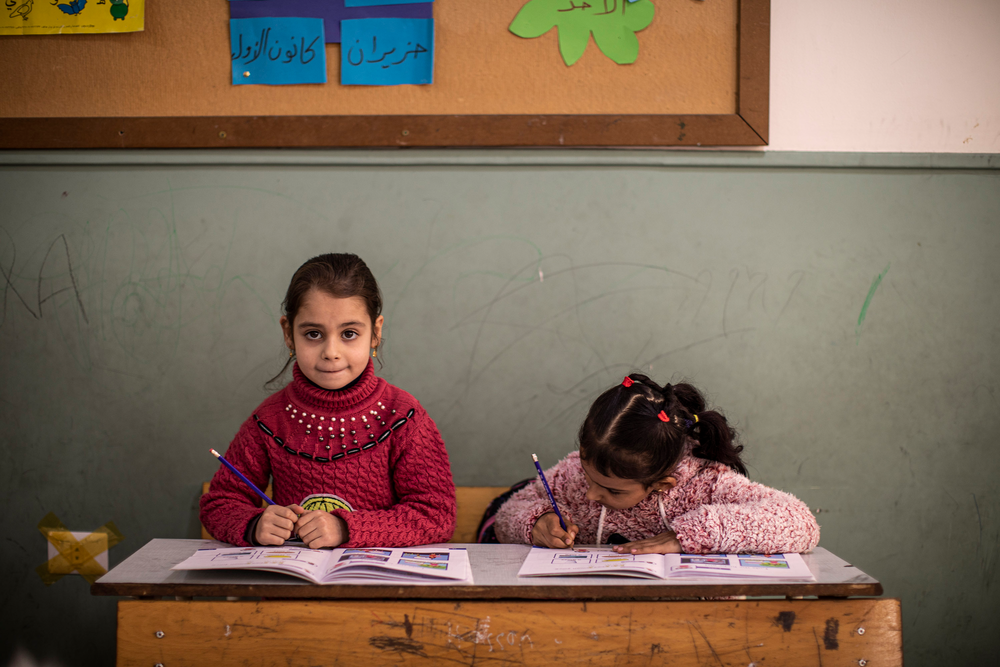 Theirworld's mission to give children in crises a safe place to learn