Five things you need to know this week about global education
Children in conflicts, Coronavirus and education
---
How school meals can help a whole community - and the "pandemic-proof" design that means adaptable classrooms at a new school in Peru can be outdoors or inside. 
---
The real impact of school meals
School meal programmes provide children with nutrition and help to keep them in education – but their value goes well beyond that, according to a new report.
The Global Child Nutrition Foundation said they also create jobs and contribute to agricultural and economic growth and social stability for whole communities.
"Especially in the wake of the Covid-19 pandemic, it is critical that we advocate for school feeding programmes as a path to recovery," said GCNF Executive Director Arlene Mitchell. 
"School meals support children in returning to school. They directly contribute to children's health, nutrition, and education, expand employment opportunities for women and youth and strengthen agriculture."
The report said the impact of school meals can be even greater for adolescent girls – helping to achieve better learning outcomes, delay marriage and early pregnancy. But countries where early marriage and pregnancy rates are the highest have the lowest levels of secondary school feeding programmes.
Spotlight on Theirworld's funding report
Theirworld's new guide for governments, donors and philanthropists on how to fund quality, inclusive education for every child in the world by 2030 has featured at a philanthropic conference. 
The Education Finance Playbook warns that world leaders are letting down the most vulnerable children by failing to prioritise education in their post-Covid recovery plans and tackle a $59 billion-a-year shortfall in funding.
The guide was featured in the Forging Forward series, which is hosted by the Omnicom One Hundred agency and focuses on sharing ideas and innovative solutions.
Theirworld President Justin van Fleet was a guest speaker at the virtual conference in a session on how philanthropists can  leverage their assets to improve the lives of children living in poverty. 
Outdoor classrooms make school 'pandemic-proof'
Outdoor classrooms to play key role in "pandemic-proof" school in Peru Architecture firms Rosan Bosch Studio and IDOM have developed a school for a campus in Lima, Peru, in which teaching will take place in both indoor and outdoor classrooms.
The Markha… https://t.co/7NaxRKUHMG pic.twitter.com/LjAox2lyt6

— Marvelous Design (@DesignMarvels) April 15, 2021
A new school in Peru will be "pandemic-proof" because it has swapped traditional classrooms for adaptable open teaching spaces that can be either indoors or outside.
Architects have designed the school in Lima to have classrooms with moveable walls that are naturally ventilated and able to accommodate classes of various sizes.
Architecture firms Rosan Bosch and IDOM said the new Markham College Lower School for children aged six to 12 should be able to stay open during any future virus outbreaks.
"The architectural structure brings nature in and out of the building, while it invites students to constantly move between inside and outside areas, supporting more sustainable and activating learning experience," Rosan Bosch told the architecture and design magazine Dezeen.
Kidnapping fear of Nigerian student
A Nigerian student who survived a mass school kidnapping says she is afraid the incident may end her dream of finishing her studies and becoming a lawyer.
Ummu Aiman, 17, told the BBC about the day she and hundreds of other girls were abducted and then freed days later. 
More than 800 students have been abducted from schools in northern Nigeria since December. Most were returned after ransoms were reportedly paid.
Ummu said her family were now considering having her married off. She added: "If I get married I can't continue with my education."
Teachers' outcry over fire tragedy
The national teachers' union in Niger has called for schools to stop using straw huts as classrooms after a fire this week killed 20 preschool children.
Teachers and parents said the tragedy showed the danger of setting up temporary classrooms because of overcrowding and lack of space to build.
A fire service official said 21 straw hut classes in the capital city Niamey caught fire and the children were trapped inside them.
"It is important that from here the authorities stop the classes in straw huts," the National Union of Teachers of Niger said in a statement. The school's director, Habiba Gaya, said all of Niger was in "total mourning".
---
More news
Theirworld initiative helps to deliver $30m of computers to Ukrainian children
Theirworld initiative helps to deliver $30m of computers to Ukrainian children
Theirworld's mission to give children in crises a safe place to learn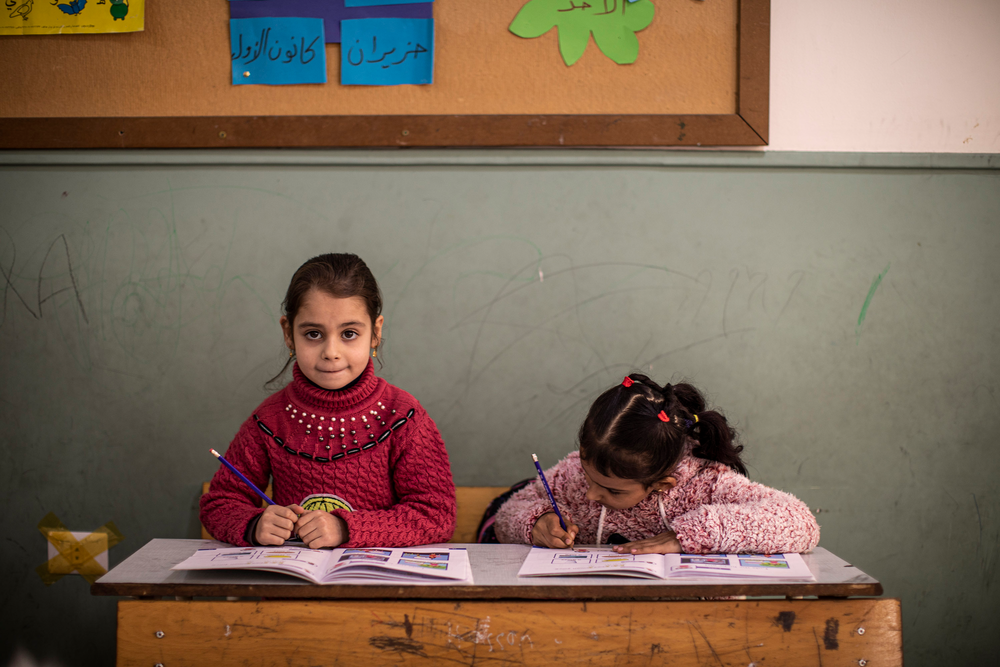 Theirworld's mission to give children in crises a safe place to learn