Five things you need to know this week about global education
Celebrities, Chibok girls, Children in conflicts, Education Cannot Wait, Education funding, Education in emergencies, Refugees and internally displaced people, Safe schools, Safe Schools Declaration, Theirworld
---
The fifth anniversary of the Chibok kidnappings, three million school books destroyed and pop star Dua Lipa's visit to Syrian refugees are in our weekly news roundup.
---
Five years on, 112 Chibok girls still missing
Five years ago this week, 276 Nigerian girls were kidnapped from their school in Chibok. As the anniversary was marked by vigils and Chibok residents gathered at the school, at least 112 of the students were still missing.
"We aren't losing hope but we are appealing to government to invest more effort to bring back our girls and reunite us," said Musa Maina, father of Hauwa – one of those abducted by Boko Haram.
Nigeria's President tweeted this on the April 14 anniversary.
Today marks five years since the abduction of our Chibok daughters. We have succeeded in bringing back 107 of them, but we will not rest until all the remaining girls are back and reunited with their families. I made this promise when I became President, and I will keep it.

— Muhammadu Buhari (@MBuhari) April 14, 2019
In the wake of the 2014 attack, the #BringBackOurGirls movement gathered global attention. Five years on, the northeast of Nigeria is still a dangerous place for children to go to school. 
Hundreds of schools have been attacked and thousands of children have had their education disrupted by Boko Haram. Nigeria was one of the hotspots highlighted in Theirworld's report Safe Schools: The Hidden Crisis.
It proposed a framework for action that would help to tackle the issue of safety for students and teachers in and around schools.
On the eve of the Chibok anniversary, UNICEF said over 3,500 Nigerian children, mostly aged 13 to 17, were recruited by non-state armed groups between 2013 and 2017 and used in the ongoing armed conflict.
Singer Dua Lipa visits Syrian refugee children
Singer-songwriter Dua Lipa talked to Syrian refugee children about the difficulties they face in getting an education when she visited Lebanon this week.
"You can read about the conditions or see the challenges on TV – but you don't really feel the absolute dire circumstances for refugees from Syria until you see them for yourself," she said. 
Lipa visited a settlement in the Bekka Valley and spoke to vulnerable children and young people about the obstacles they face in their daily lives. She also visited Burj el Barajneh Palestinian camp, where she spent time with Palestinian and Syrian children receiving psychosocial support and taking early childhood development courses. 
Theirworld has been campaigning since 2016 for global leaders to keep their promise to educate every Syrian refugee child. Over 800,000, or 40%, of Syrian refugee children are out of school – including those in Lebanon.
Music star Lipa is the daughter of Kosovar-Albanian parents who fled the conflict and political instability in the Balkans in 1992. On her Lebanon visit, she said: "This is personal for me. My parents fled a war-torn region and built a life for themselves in a new place."
Call to UK on education in emergencies
Civil society organisations are calling on the British government to make a significant investment in Education Cannot Wait (ECW) – the fund for education in emergencies.
Theirworld is among those who have backed the Unlock Education for Everyone report, which urges the United Kingdom to strengthen its leadership in education in emergencies and protracted crises. 
It includes a call for the UK's Department of International Development (DFID) to give £75 million to ECW over the period 2019-21.
A joint letter to DFID from the organisations praises its efforts on education in emergencies but adds: "There is an urgent need for more and better international funding for education."
Rockets destroy 3m school books in Libya
More than three million school books were destroyed when rockets hit education ministry warehouses during fighting between rival government forces over the Libyan capital Tripoli.
Education minister Othman Abdu Aljalil said it could take years for the school system to recover. The United Nations and government officials said 3.1 million books were destroyed. The UN agency OCHA tweeted that "five million books and national exam results" were affected.
The UN Libya mission UNSMIL said "the bombing of schools, hospitals, ambulances and civilian areas is strictly prohibited", adding that it was documenting such cases for the UN Security Council. A school has also been hit in an air strike blamed on the eastern forces of the self-styled Libyan National Army.
The academic year has been suspended in all schools in conflict-affected areas and seven schools are currently sheltering displaced families. 
IFFEd gets strong backing from global leaders
The case for setting up the International Finance Facility for Education (IFFEd) has been given "strong support" by world leaders.
The Education Commission – whose landmark 2016 report called for the funding initiative to help millions of children into school – welcomed their backing and said the international community is "recognising the urgent need to tackle the learning crisis".
At an event at the World Bank's Spring Meetings in Washington, DC, the establishment of IFFEd was supported by leaders and representatives of many countries, including the USA, UK, Canada, Pakistan and Nigeria.
It was also backed by the European Union, UNICEF, the Global Partnership for Education and Education Cannot Wait.
IFFED is a groundbreaking way to finance education in countries around the world and will unleash huge new funding streams. It has the power to help tens of millions of children go to school and prepare millions more young people for the future of work.
---
More news
Take the test and discover how our Schools Hub helps students grasp the global education crisis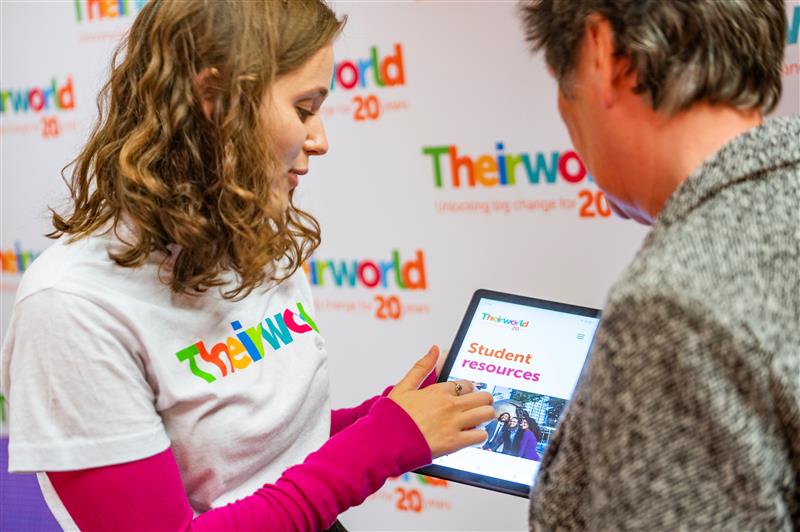 Take the test and discover how our Schools Hub helps students grasp the global education crisis
#LetMeLearn: the story of a global education campaign
#LetMeLearn: the story of a global education campaign