Five things you need to know this week about global education
Children in conflicts, Children's welfare after natural disasters, Education Cannot Wait, Education in emergencies, Safe schools, Safe Schools Declaration
---
Our weekly news roundup includes aid for children affected by Cyclone Idai, school attacks in Syria and how Lego bricks can help blind children learn.
---
Urgent education aid for children hit by Cyclone Idai
75,000 of the most vulnerable children in Mozambique will get urgent education aid after the devastation caused by Cyclone Idai. Education Cannot Wait (ECW) – the global fund for education in emergencies – revealed this week it has approved $5 million for immediate relief to get children back in school.
Over 3,500 classrooms were destroyed or damaged, disrupting the education of more than 335,000 girls and boys, according to government figures.
ECW will work with Mozambique in a coordinated response with international and national NGOs, UN agencies, civil society and donors to reach the most at-risk children and keep girls safe from the dangers of gender-based violence that occur in emergencies.
36,000 girls will be among those helped. Over 1,900 education personnel will receive specialised training to ensure children have the psychosocial support they need to resume their lives and deal with the trauma.
The 12-month ECW investment will be implemented by Save the Children in partnership with CARE, World Vision, Food for the Hungry, AVSI and Plan International (US$700,000 grant).
Cyclone Idai caused devastation in Mozambique, Malawi and Zimbabwe
Three Syrian children killed after attacks on schools
Three children were killed on Monday in a new wave of shelling in Syria that heavily damaged two schools supported by Save the Children.
The three boys from the same family were killed in their tent at Khan Sheikhoun in Idlib province, said the organisation. They went there to seek shelter after their school was hit by shells. 
A second school in the same area was also damaged. A third school in Saraqib suspended classes for the day when shells fell nearby. The three schools have more than 500 students and receive education support from three Save the Children partners.
"Schools should be a safe place and what we are seeing and hearing is horrific. It is critical that civilians, and especially children, are protected as innocent bystanders of a conflict they had no hand in making"' said Sonia Khush, Save the Children Syria Director.
More than two million children are out of school in Syria. One in three schools is damaged or destroyed and attacks on educational facilities and personnel have increased.
Theirworld's report Safe Schools: The Hidden Crisis said that between 2013 and 2017 there were more than 12,700 attacks on schools globally, harming more than 21,000 students and educators in at least 70 countries.
Floods 'put 100,000 children out of school' in Iran
Flooding in Iran has destroyed or severely damaged 1,000 schools and forced 100,000 children out of school, according to UNICEF.
The agency said on April 19 that over half of the 500,000 people displaced are children – and added that more supplies are urgently needed to restore essential healthcare services.
But Iran's education minister has contradicted the school damage reports, according to the Tasmin news agency in Iran.
"Apparently, the UNICEF office in Iran has released statistics on (the number of) those deprived of education due to floods, which is basically inaccurate," Seyed Mohammad Bathaei said in a post on his Instagram account.
"Except for a few cases in (the southwestern province of) Khuzestan, where it is still not possible to hold classes because the schools have been used to accommodate flood-stricken people, in other areas and provinces, students are studying with the efforts of the dear teachers."
The Iranian organisation Mehr Giti had previously reported that at least 77 schools were destroyed by the flooding, after unprecedented heavy rains caused dams to overflow, rivers to flood and landslides. 
Lego bricks will help blind children learn Braille
A pioneering project will help blind and visually impaired children learn Braille in a playful and engaging way – using customised LEGO bricks.
LEGO® Braille Bricks was unveiled this week at the Sustainable Brands Conference in Paris, supported by the LEGO Foundation and LEGO Group.
LEGO Braille Bricks will be moulded with the same number of studs used for individual letters and numbers in the Braille alphabet, while remaining fully compatible with the LEGO System in Play. 
To ensure the tool is inclusive – allowing sighted teachers, students and family members to interact on equal terms – each brick will also feature a printed letter or character.
"With thousands of audiobooks and computer programmes now available, fewer kids are learning to read Braille," said Philippe Chazal, Treasurer of the European Blind Union. 
"We strongly believe LEGO Braille Bricks can help boost the level of interest in learning Braille, so we're thrilled that the LEGO Foundation is making it possible to further this concept and bring it to children around the world."
'Solar cow' project helps to keep kids in school
Children from poor families in sub-Saharan Africa have been able to swap cleaning up cowpats for lessons – thanks to a solar power project that rewards parents for sending them to school.
South Korean solar firm Yolk has designed a cow-shaped solar power station for schools that can be used to charge power banks for families while their children are in class. 
The design references the fact that many children are removed from school in order to care for their family's cattle.
The company wanted to help tackle child labour and realised they had to offer a "tangible" incentive to families.
"If the value is similar or more, then they're wiling to send their children to school rather than the workplace," SungUn Chang, the chief executive of Yolk, told the Reuters news agency this week.
"Solar cow" charging stations are installed in schools and students are given a milk-bottle-shaped power bank which they plug into to charge if they attend class and take home at the end of the school day to provide homes with electricity.
---
More news
Theirworld initiative helps to deliver $30m of computers to Ukrainian children
Theirworld initiative helps to deliver $30m of computers to Ukrainian children
Theirworld's mission to give children in crises a safe place to learn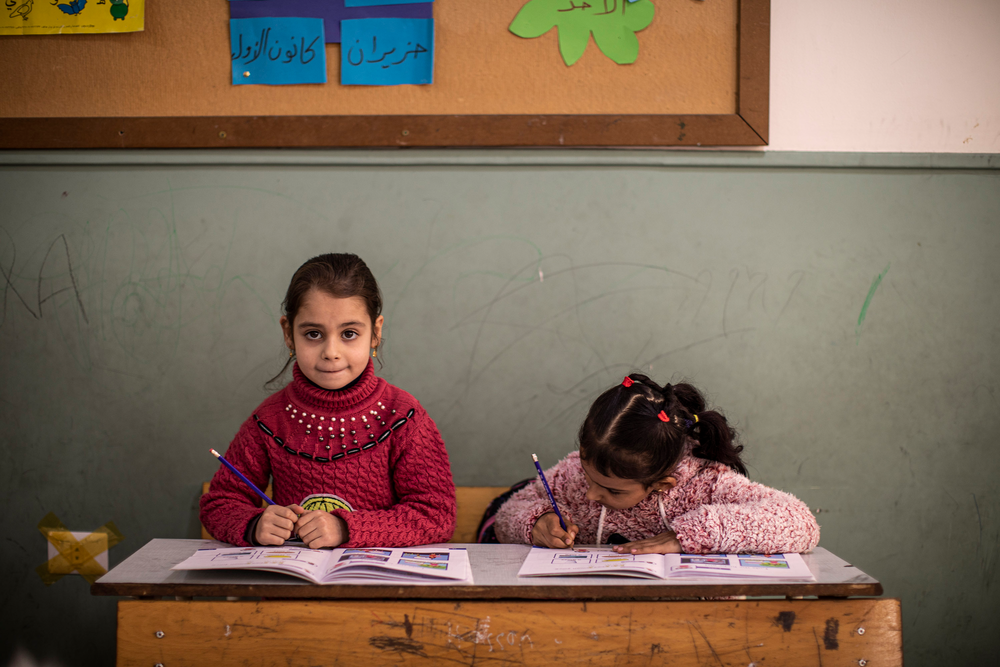 Theirworld's mission to give children in crises a safe place to learn