Five things you need to know this week about global education
Children in conflicts, Coronavirus and education, Education in emergencies
---
There's a creature theme to our roundup - a dragon helps children deal with the pandemic and a camel delivers books to students whose schools are closed.
---
Covid storybook helps children and teachers
A storybook created by the United Nations to teach children how to protect themselves and others during the Covid-19 pandemic and deal with their emotions has become a hit in schools and homes around the world.
The opinions of more than 1,700 children and teachers from 104 countries helped to create My Hero is You, which features a girl called Sara who befriends the dragon Ario and flies off on an adventure.
It was launched in March 2020 in six languages. A year later, there are now more than 130 translations and more than 50 multimedia adaptations and accessible formats available.
The storybook – aimed at children from six to 11 – has supported children, teachers and families during the global lockdowns that forced 1.5 billion young people out of school.
The book begins with Sara feeling scared. It says: "She wanted to go to school but her school was closed. She wanted to see her friends but it was not safe. Sara wanted the coronavirus to stop scaring her world." But her travels with Ario help Sara to manage her feelings and have a better understanding of what's going on around her.
An audio version of the book was used to help Rohingya children in refugee camps in Bangladesh. In Thailand, high school students put together a performance of My Hero is You and performed it to younger students at primary schools.
In February, we told you how a Theirworld-funded project in Turkey had produced a storytelling video to support vulnerable children, including Syrian refugees, forced to stay at home by the pandemic. It features the heartwarming tale of a boy named Tohara and a wise owl called Ugi. 
Camel delivers books to shut-out students
Plodding his way through the desert in remote southwest Pakistan, Roshan the camel carries priceless cargo – books for children who could no longer go to school because of lockdowns. In villages in Balochistan, where the streets are too narrow for vehicles, the children put on their best clothes and rush out to meet him.
Pakistan's schools first closed in response to the pandemic in March 2020 and have only opened sporadically since then. In many places internet access is almost non-existent.
Raheema Jalal, a high school principal, founded the Camel Library project with partner organisations because she wanted children to continue learning. Roshan visits each village three times a week.
Nine-year-old Ambareen Imran said: "I like picture books, because when I look at the pictures and the photographs, I can understand the story better."
Turkey closes its schools again
Schools across Turkey have shut down again as part of a full lockdown to curb a surge on Covid-19 infections. Classrooms closed yesterday and lessons will move online until May 17 at least.
Turkey shut down its schools in March 2020 and began to gradually reopen them from February.
France sent primary and nursery students back to school on Monday in the first phase of reopening after a three-week lockdown.
In Poland, children from the first three grade are expected to go back to school next week as infections fall. The Czech Republic is restarting classes for students in grades 6-9. Younger children returned earlier this month.
Kidnappers kill Nigerian students
Nigerian criminals have killed five students they abducted from a northern university last week – the latest in a series of kidnappings at schools and colleges.
Security forces recovered the bodies of the five after gunmen stormed Greenfield University in Kaduna state. Armed groups have repeatedly struck northern Nigerian schools and universities since December, abducting more than 700 students for ransom.
The latest attack came days after Nigeria committed to develop a national plan for safe schools. The Abuja Compact on Safe Schools was announced at a forum of government ministers, state governors, security forces, the international community and the private sector.
Theirworld President Justin van Fleet told the forum our Global Youth Ambassadors in Nigeria will campaign for safe schools and hold everyone accountable for delivering the plan.
Tracking children's lost potential
More than 393 million children have failed to gain the basic literacy skills at age 10 since world leaders adopted the Sustainable Development Goals in 2015, according to a new analysis tool.
The Lost Potential Tracker shows the increasing number of children who are unable to read and understand a simple sentence. It has been launched by the ONE Campaign, the Global Partnership for Education and Save the Children.
The tracker is based on calculations from official World Bank and UNESCO "learning poverty" figures, and UN population data of all 10-year-olds. It sets out the number of children losing their future potential every year, month, week, day, hour and second. 
Inger Ashing, CEO of Save the Children International, said: "If we are to live up to our commitments to achieving the full range of SDGs and children's right to education, then improving literacy levels is a must."
---
More news
Theirworld initiative helps to deliver $30m of computers to Ukrainian children
Theirworld initiative helps to deliver $30m of computers to Ukrainian children
Theirworld's mission to give children in crises a safe place to learn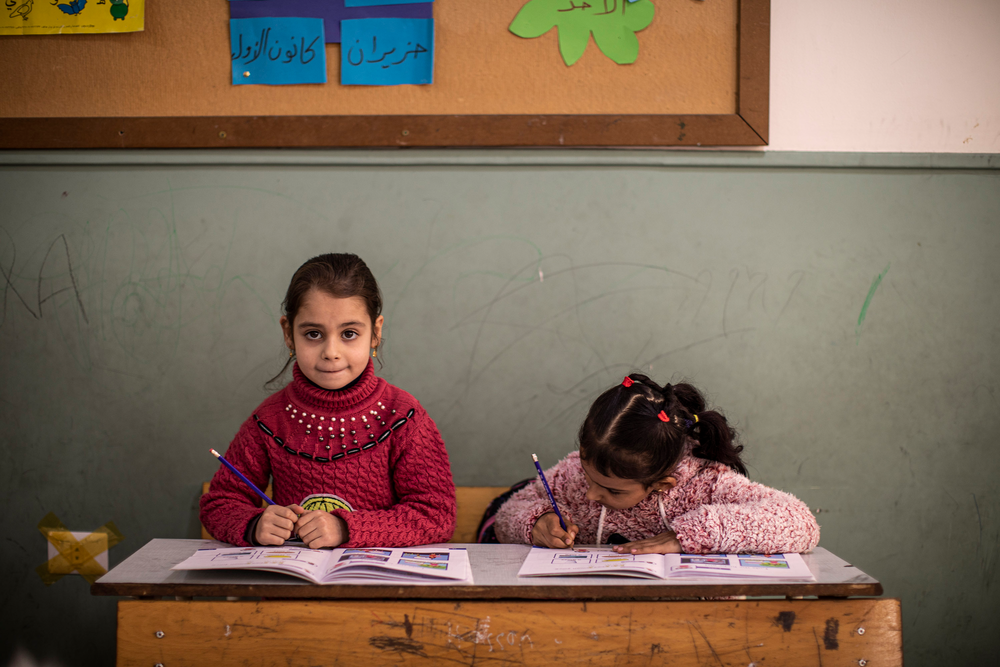 Theirworld's mission to give children in crises a safe place to learn