Five things you need to know this week about global education
Children in conflicts, Children's welfare after natural disasters, Education in emergencies, Refugees and internally displaced people, Safe schools, Safe Schools Declaration
---
Safe learning for children in Syria, plans to close a huge refugee camp in Kenya and a book that's set to be a classic are in our weekly news roundup.
---
Education boost for 440,000 Syrian children
More than 440,000 Syrian children and youth will have better access to education and psychosocial support – thanks to continued commitment from Germany.
Since 2013, it has been the leading partner to UNICEF's No Lost Generation initiative. Germany's latest contribution of $11.3 million takes its total funding to $36 million.
The new money will help to provide safe learning environments including pre-fabricated classrooms; temporary learning and early childhood education centres; school supplies; and self-learning and accelerated learning programmes for out-of-school children. 
Children and youth will also receive psychosocial support and mine risk education, while marginalised adolescents will benefit from vocational, entrepreneurship and life skills training.
"The education sector, in particular, has suffered the grave impact of conflict," said Fran Uquiza, UNICEF Representative in Syria. "Damaged and destroyed schools, fleeing teachers and overcrowding due to displacement influxes have left over two million children out of school with another 1.3 million at risk of dropping out."
Kenya 'to close Dadaab refugee camp this year'
Kenya has ordered the closure of the Dadaab refugee camp by the middle of this year, according to a leaked internal United Nations document obtained by the Thomson Reuters Foundation.
It says the race is now on to find homes for more than 210,000 people, 90% of them from Somalia. Dadaab has 97 schools, according to latest data – but about a third of school-age children are not getting an education.
The Kenyan government said it plans to close Dadaab because of "national security concerns" and has asked the UN to start relocating the refugees who live there.
Officials from Kenya's interior ministry did not immediately respond to requests for comment by the Thomson Reuters Foundation – but the UN refugee agency UNHCR confirmed the plan to shut Dadaab.
Story of Syrian refugee schoolboy wins book award
It's been described as "a future classic". The Boy At The Back Of The Class, a novel inspired by the refugee crisis, has won the prestigious Waterstones Children's Book Prize.
It is Onjali Q Rauf's first novel and tells the adventures of a group of children when they help a Syrian refugee who has enrolled at their school.
Nine-year-old Ahmet has fled from the conflict but is separated from his family. So the children in his class come up with a plan to help.
The founder of the London-based human rights organisation Making Herstory, Rauf was inspired to write the book after working in refugee camps.
Move to improve protection of children in conflicts
A new initiative has been launched to generate greater awareness and action to improve the protection of children affected by armed conflict.
ACT to Protect Children Affected by Conflict will spend the next three years seeking to strengthen collaboration between the United Nations, civil society and the international community to support action that will prevent violations against children in war.
"With more children suffering horrific abuses in war zones across the globe, we desperately need to reinvigorate our efforts to raise awareness … and ensure action by parties to conflict to give children the protection they deserve," said Virginia Gamba, Special Representative of the Secretary-General for Children and Armed Conflict.
The initiative comes after Theirworld's hard-hitting report Safe Schools: The Hidden Crisis projected that 620 million girls and boys – nearly 40% of all school-age children worldwide – will live in countries where their education is at risk from environmental threats, war or violence by 2030.
Around 75% of these children and young people – almost 470 million – will leave school without having achieved basic literacy and numeracy learning outcomes.
Countries share ideas on keeping schools safe
Southeast Asia is one of the most disaster-prone regions in the world – and education is often disrupted when schools are damaged, evacuated or used as shelters. So sharing innovations and lessons learned is vital if children are to recover from trauma and stay in school.
The Safe Schools Initiative was set up by ASEAN (Association of Southeast Asian Nations) to help schools and students reduce the risk from disasters.
The 3rd ASEAN Regional Conference on School Safety has been held this week in Bangkok. As well as disasters, it also looked at dangers from climate change, conflict and violence in schools.
"Destroyed schools and interrupted education exposes girls and boys to the risk of abuse and gender-based violence given the pre-existing social norms," said Dr Marla Petal, Senior Technical Advisor for Disaster Risk Reduction at Save the Children.
---
More news
Theirworld initiative helps to deliver $30m of computers to Ukrainian children
Theirworld initiative helps to deliver $30m of computers to Ukrainian children
Theirworld's mission to give children in crises a safe place to learn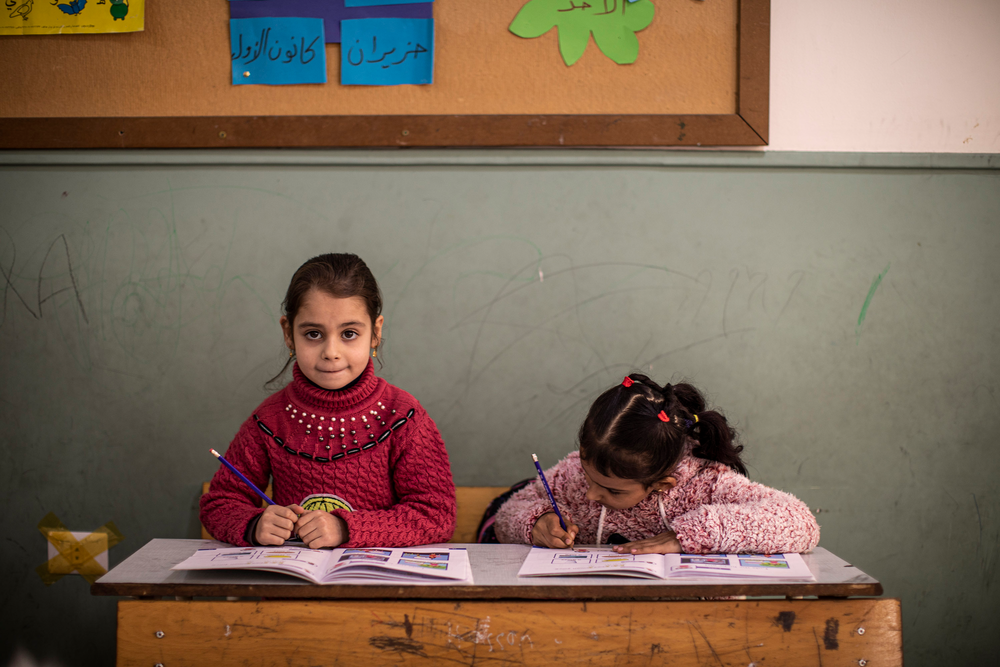 Theirworld's mission to give children in crises a safe place to learn