Five things you need to know this week about global education
Coronavirus and education, Refugees and internally displaced people
---
Our news roundup features a girl of 12 who teaches younger children in the street while their schools are closed - and a return to classes for Palestinian refugees.
---
Meet the Egyptian teacher aged just 12
Every day up to 30 children gather for school lessons in a village street in Egypt's Dakahlia province. 
Their teacher is 12-year-old Reem El-Khouly, who started offering instruction to her younger neighbours in Atmidah when schools across Egypt were shut due to the pandemic.
"I thought that instead of having them play in the street, I can teach them," said Reem. "I wake up in the morning, pray and I call them to start the classes. I teach them Arabic, mathematics, religion and English."
Reem started using just a notebook before being given a blackboard and some chalk. Now the youngster, who wants to become a maths teacher, has a whiteboard and marker pens donated by a local company.
"Once the schools were closed, Reem started teaching us so that we don't forget what we learned at school," said Mohamed Abdel Moneim, a nine-year-old who attends the classes. 
"I love Miss Reem because I really understand Arabic, maths and English due to her teaching."
Palestinian refugee children happy to be back
For the first time since September, more than 119,000 Palestinian refugee children have returned to classrooms at schools in Jordan run by the United Nations agency UNRWA.  
Classes will be split, with half the children learning at home and the other half in school at any time. School attendance has to be approved by parents.
"I'm thrilled that we are finally back to school and get to see our friends and teachers," said Ibtisam Rafaat, a third-grade student at Russeifeh School. "I will make sure to keep my facemask on and encourage my colleagues to do the same."
Teacher Shadyah Abu Alya said: "It was not an easy journey but we spared no effort to make sure that our students are following their lessons properly, especially the first graders who are still building their basic skills and knowledge."
UNRWA operates 711 schools for more than 526,000 Palestine refugee students in Syria, Lebanon, Jordan, Gaza and the West Bank.
Armed clashes destroy refurbished girls' school
A recently-refurbished girls' high school has been destroyed by an airstrike and intense fighting in northern Afghanistan, leaving more than 3,000 students with no classes.
The school in Faryab province was closed for the day so no children or teachers were injured. But walls and windows were damaged and almost all of the school's equipment was destroyed in the clashes between Afghan security forces and armed opposition groups.
Jan Bibi Uoz Bashi Girls' High School had been rehabilitated by the Norwegian Refugee Council with funding from Norway. Nearly half of all school-aged children in Afghanistan are out of school – 60% of them girls.
"The recent fighting shows yet again the high risks and dangers for students in Afghanistan wanting to receive an education," said Astrid Sletten, Afghanistan Country Director for the Norwegian Refugee Council (NRC). "All parties to the conflict must protect civilians and civilian infrastructure, including schools."
Radio and TV deliver learning in DRC
Partnerships with more than 90 radio stations and seven TV channels have helped the education system in the Democratic Republic of Congo reach nine million children with distance learning .
During the pandemic, 135,619 workbooks and 6,788 solar-powered radios have been distributed to children of vulnerable households, latest figures from UNICEF show.
Schools in the DRC have remained closed after the Christmas break due to a second wave of Covid-19 wave. UNICEF has called on the  government to prioritise the reopening of schools and to take all preventive measures to make them as safe as possible.
Before the pandemic, nearly seven million children aged five to 17 were out of school. More than half of all girls were not getting an education.
Period poverty hits girls' education
Up to two million girls and women who fled from the Venezuela crisis lack access to the resources and education needed to manage their periods.
Most have made long journeys to countries such as Colombia, Peru and Ecuador without sufficient access to clean water, sanitary facilities and even toilet paper, says Plan International. 
The situation is even worse for those who have stayed in Venezuela, where one package of sanitary towels cost more than 25% of a month's salary. Almost three in 10 girls stop going to school during their periods in Venezuela because of a lack of products or because their schools do not have infrastructure and access to water. 
Plan International is working with partners in Venezuela, Colombia, Peru, Ecuador to provide training and educational workshops and deliver hygiene kits to more than 41,225 Venezuelan people.
---
More news
Theirworld's mission to give children in crises a safe place to learn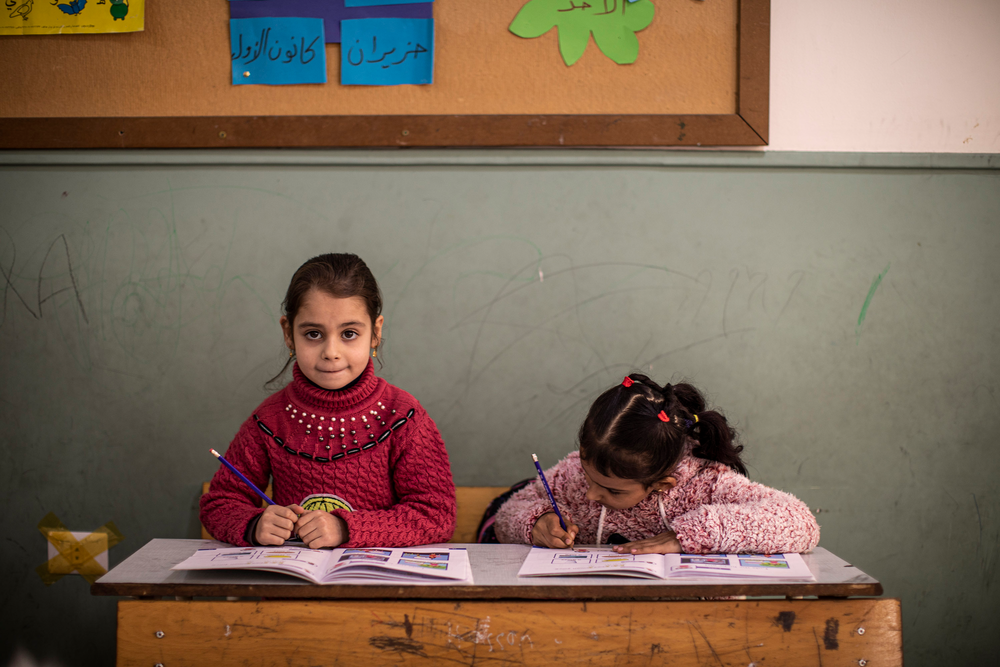 Theirworld's mission to give children in crises a safe place to learn
World Refugee Day: ACE project helps children to integrate and learn in Greece
World Refugee Day: ACE project helps children to integrate and learn in Greece