Five things you need to know this week about global education
Children in conflicts, Coronavirus and education, Education in emergencies, Theirworld
---
How 3D-printed schools could solve a shortage of classrooms - and Theirworld's reaction to the UK Government locking in devastating cuts to aid.
---
The 3D-printed school built in a day
Children in Malawi have started lessons at the country's first 3D-printed school, which was constructed in only 15 hours.
Made of concrete placed layer by layer through a computer-controlled nozzle, the school in the village of Salima has a single room with rounded corners and can accommodate 50 students.
Olipa Elisa said her 10-year-old son used to hike three miles every day to the nearest school, often arriving late and exhausted. The 38-year-old said: "I am very excited that we now have a school closer to my home. What we need is more of these learning blocks to accommodate other classes."
It was built by a joint venture called 14Trees, which said the school shows how 3D printing could be transformative in Africa, where there is a dire shortage of classroom space. It said the project was faster, cheaper and less energy-intensive than conventional construction.
There is an estimated shortfall of 36,000 primary school classrooms in Malawi alone. 14Trees believes that gap could be closed in 10 years using 3D-printing technology, as opposed to 70 years using conventional methods.
Limbani Nsapato, country director for Edukans, an international development organisation focused on education, said the average ratio of children to teachers in Africa is 40-to-1 – but in Malawi it's closer to 115-to-1.
"Pupils who live far from school have a double disadvantage because apart from getting stuck in congested traffic, they also have to face the challenge of covering long distances, which makes them late for class," he said. "This makes them arrive at school tired, leading to poor concentration. Such students often drop out or repeat classes."
Theirworld condemns UK aid cut
Theirworld has criticised a move by the UK Government to lock in devastating cuts to overseas aid. It won a parliamentary vote that will slash £4 billion from international development assistance by cutting the budget from 0.7% of national income to 0.5%.
Opponents say thousands of live will be at risk and warn the cut could stay in place for years. In a joint statement, Theirworld's Chair Sarah Brown and President Justin van Fleet said: "We are deeply disappointed by the outcome of the vote. It is shameful that this Government is choosing to walk away from the world's most vulnerable children at a time when they are facing hardship on a scale never seen before.
"Whatever the Government may say through clever spin and rhetoric, the truth is that an indefinite cut to our aid budget – which, let's be clear, this is – will leave the very poorest weaker in the fight against the threats of poverty, climate change and the current pandemic.
"Covid-19 has left the world facing the biggest education crisis in history. At the height of the pandemic, more than 90% of the world's children were locked out of school. If the UK is serious about investing in future generations and giving all children an equal chance in life, it must reverse the cuts to international aid immediately and return to its 0.7% manifesto pledge."
Helping poorest children into primary school
An ambitious programme is aiming to help 160,000 children into quality primary school education in seven of the world's poorest countries.
The plan also includes building 1,873 primary schools, in partnership with rural communities and local ministries of education, and engaging 225,000 local people to take an active role in bringing out-of-school children back to the classroom.
The programme – in Haiti, Guatemala, Senegal, Mali, Malawi, Burkina Faso and Nepal – is a joint initiative by the non-profit buildOn and Education Above All Foundation, with support from the Qatar Fund For Development. 
The two organisations have already successfully enrolled more than 55,000 children in school in developing countries.
Third of countries not providing catch-up learning
One in three countries where schools have been closed during the pandemic have not yet started remedial programmes to help children catch up with lost learning.
And only a third of the poorest countries said all students have returned to in-person schooling, heightening their risk of learning loss and drop-out. The statistics are revealed in a major survey by UNESCO, UNICEF, the World Bank and the OECD.
However, the majority of countries said they are using tactics such as community engagement to encourage children to return to school. 
"Remedial instruction is vital to help those children who have missed out on school to get back on track and reduce long-term learning losses," said Jaime Saavedra, the World Bank's Global Director for Education.
Big push to educate children in Pakistan
A major programme has been launched to develop education in Pakistan's Balochistan province. It aims to improve literacy, numeracy and other skills by improving access to quality primary and middle schooling.
Among the targets of the ambitious five-year Balochistan Education Support IIproject are enrolling 10,000 female students in school and another 20,000 girls and boys in accelerated learning programmes.
Androulla Kaminara, EU Ambassador to Pakistan,  said: "An educated young generation is the basis for Pakistan to pursue a path of inclusive growth and development. The pandemic has had a significant impact on education and our support will focus on addressing some of these challenges."
Schools in Balochistan have remained closed throughout most of the academic year because of the health crisis. The $20 million programme will be funded by the European Union and UNICEF.
---
More news
Take the test and discover how our Schools Hub helps students grasp the global education crisis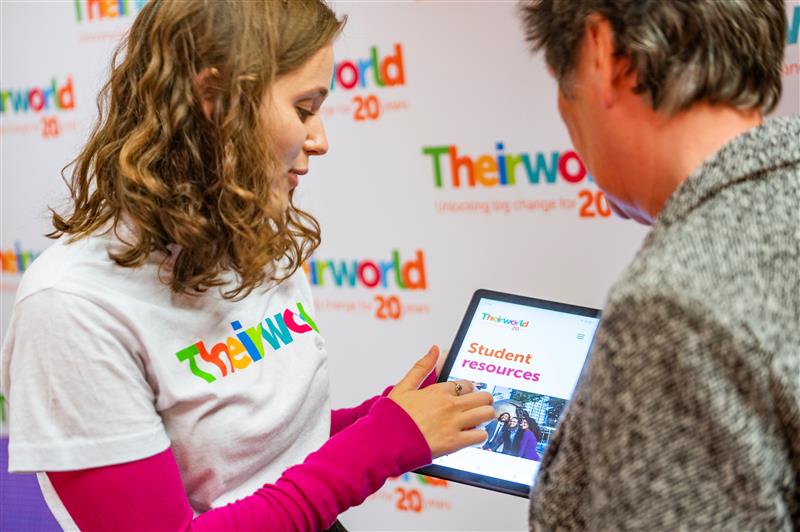 Take the test and discover how our Schools Hub helps students grasp the global education crisis
#LetMeLearn: the story of a global education campaign
#LetMeLearn: the story of a global education campaign