Five things you need to know this week about global education
Child labour, Children in conflicts, Coronavirus and education, Days in the childhood development calendar, Education in emergencies
---
School closures are leading to fears of rising child labour and FGM - but children in some remote villages are having their education delivered by camel.
---
Parents' fears as schools begin to reopen in South Africa
Children began returning to classrooms in South Africa this week – but many parents are worried not enough has been done to guard against infections.
After a delay when teachers' unions said they were not happy with the supply of masks, gloves and other equipment, the education ministry said 95% of primary and secondary schools could now reopen for grades 7 and 12 initially.
At Zithathele Primary School in Soweto township outside Johannesburg, staff took children's temperatures and classes were limited to 20 students wearing masks and gloves. But many government schools have no running water, making hand-washing nearly impossible. 
Ntomizodwa Zitha said her children had persuaded her to let them return to Zithathele Primary. But she added: "I let my child come today but tomorrow I won't. It's too dangerous."
Some schools in the Spanish capital Madrid reopened for primary pupils on Monday and seniors preparing for university-entrance exams went back the next day. Other regions are allowing different age groups to return.
Sweden's high schools will re-open on June 15. Malaysia announced it will begin reopening schools from June 24.
Camel library helps children to learn
In a remote part of Ethiopia, one charity has come up with a novel way of ensuring children off school because of the pandemic are still learning – camels bearing books.
Ethiopia closed its schools in mid-March and sent more than 26 million children home, where experts say they are at greater risk of child labour and early marriage. But in the country's eastern Somali region, more than 20 camels carry wooden boxes filled with storybooks to help thousands of children in remote villages to continue their education.
"We are ensuring that children still continue to read and learn, despite the fact that they are out of school," said Ekin Ogutogullari, country director for Save the Children. The charity launched the mobile camel libraries a decade ago and has helped more than 22,000 children in 33 villages to get access to education during the pandemic.
Community volunteers travel around villages with the camels, carrying boxes of books and a tent to set up a temporary library that stays in each village for two and a half days before moving on.
FGM fears as Kenyan schools stay shut
Covid-19 has put Kenya's goal of ending female genital mutilation (FGM) by 2022 in jeopardy, campaigners have warned amid reports of "mass cuttings" involving hundreds of girls being held while schools are closed.
Kenya made the practice illegal in 2011 but it persists in some communities. Domtila Chesang, an anti-FGM campaigner in West Pokot county, said she had had reports of up to 500 girls undergoing FGM since schools closed on March 16.
"Girls are not going to school, they are just sitting at home. Some are coming of age. Parents are facing an uncertain future due to loss of income caused by the coronavirus, so they are having the girls cut and will marry them off," said Chesang.
The government agency Anti-FGM Board said it was working with police to rescue girls and arrest suspects. But with schools not expected to reopen until September, campaigners fear a heightened risk to girls from not only FGM but also child marriage, teen pregnancy and sexual violence.
Child labour warning over pandemic
The pandemic has put millions of children at risk of being pushed into underage work, the United Nations warned today as it it marked World Day Against Child Labour.
The economic woes mean families may be under pressure to put their children to work for survival – potentially marking the first rise in child labour since 2000.
The number of child labourers worldwide has dropped significantly to 152 million children from 246 million in 2000, according to the International Labour Organization. To prevent a rise in exploitation, the UN called upon governments to integrate child labour concerns into broader pieces of legislation, including policy on education and human rights protections.
Advocates also warn children are susceptible to being put to work while schools are closed in the effort to stop the spread of coronavirus. UNICEF Chief Executive Henrietta Fore said: "As poverty rises, schools close and the availability of social services decreases, more children are pushed into the workforce." 
Education support for 40,000 in CAR
Education support reached more than 40,000 children in the conflict-torn Central African Republic last year – just under half of them girls.
But the CAR Humanitarian Fund's annual report also showed that children are the primary victims of the ongoing crisis in the country.
More than one million girls and boys of school age will be in need of humanitarian education assistance in 2020, including 156,000 children with disabilities. The report said this was due to both long-term failures in the school system and CAR's continuing unrest and humanitarian crisis.
Attacks on teaching staff increased and 378 elementary schools remained non-functional during the 2018-2019 school year.
---
More news
Theirworld initiative helps to deliver $30m of computers to Ukrainian children
Theirworld initiative helps to deliver $30m of computers to Ukrainian children
Theirworld's mission to give children in crises a safe place to learn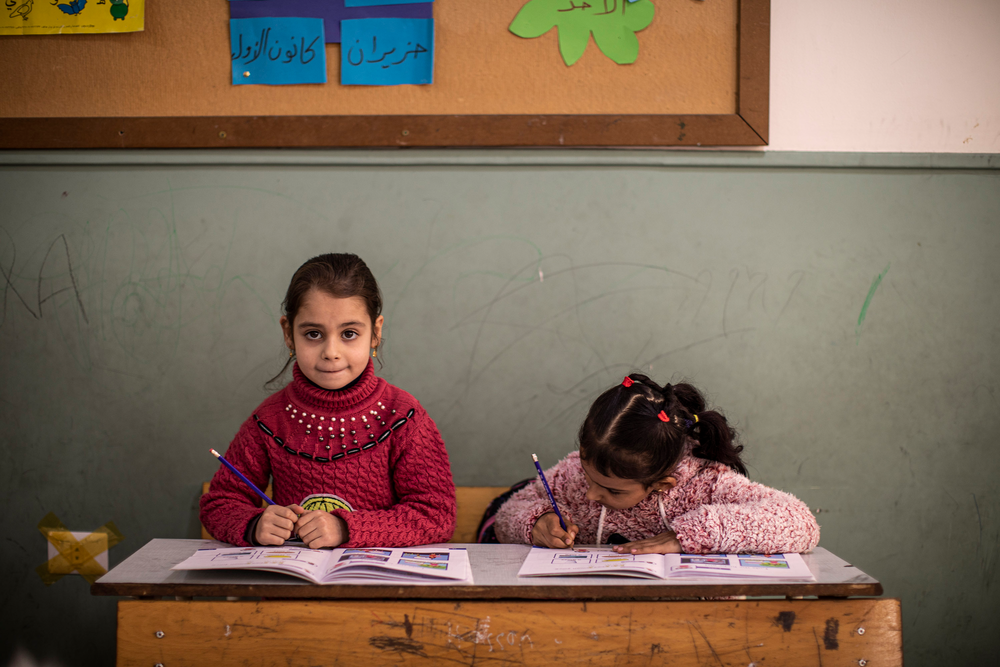 Theirworld's mission to give children in crises a safe place to learn