Five things you need to know this week about global education
Child marriage, Children in conflicts, Coronavirus and education, Health and education convergence, Refugees and internally displaced people
---
Our roundup leads with the news that one in five students around the world have had their school and college classes shut down because of coronavirus.
---
Coronavirus closes pre-primaries, schools and colleges globally
More than one in five students around the world are now staying away from schools and colleges because of coronavirus, the United Nations said as it stepped up its emergency responses this week.
UNESCO said 49 countries have announced school closures. In 29 countries, all schools nationwide have closed – impacting 391 million children and youth. A further 20 countries have localised school and university closures and if they went to nationwide shutdowns, it would disrupt the education of an extra 500 million. 
The UN agency convened a global video conference of higher education officials to share strategies to minimise learning disruption – with 73 countries represented.
"We are entering uncharted territory and working with countries to find hi-tech, low-tech and no-tech solutions to assure the continuity of learning," said UNESCO Director-General Audrey Azoulay. "As countries try to prepare their response, international cooperation is vital to share the most effective approaches and support students, teachers and families."
UNESCO has published a curated list of free learning applications and platforms for use by parents, teachers and learners, as well as school systems. It is urging countries to recognise that school closures hit vulnerable learners the hardest.
Other updates this week include:
Greece, Ireland, Algeria, Poland, Moldova, Bolivia, Albania, Romania, Denmark, Paraguay, Belgium, Portugal, Slovakia, Peru, Lithuania and Norway have all shut preschools, schools and universities for two weeks or more. Spain will do so from Monday.
The Czech Republic said it was closing all schools and universities – but not preschools – indefinitely
Italy announced its schools closure will extend until at least April 3
Saudi Arabia, Qatar and Kazakhstan said they were closing all education establishments until further notice
Israel and Algeria today ordered public schools to close for an unspecified period. Turkey said it will close primary and secondary schools for a week from Monday.
Ukraine's capital Kiev, German's Bavaria region and Bosnia's Serb region have closed all schools until at least the end of March
Hubei province in China says all schools will remain shut until further notice
EU to host fifth Supporting Syria conference in June
As the Syria conflict enters its 10th year, a fifth annual conference to address the humanitarian needs in the region has been announced. The European Union will host the latest Supporting the Future of Syria and the Region event in Brussels on June 29 and 30.
With over six million people displaced outside Syria and 11 million people inside the country needing humanitarian assistance, the event will mobilise international donors to pledge further humanitarian and development assistance.
The first Supporting Syria and the Region conference was held in London in 2016 – when world leaders promised to get every refugee into school. Four years later, there has been significant progress but more than 800,000 refugee children are still not getting an education. There are also two million children out of school inside Syria.
Since 2016, Theirworld has campaigned for the promise to get every refugee child into to be kept. Following the London conference, there have been three further ones held in Brussels. 
Last year's event raised a record figure of $7 billion in pledges for 2019 and $2.4 billion for 2020 and beyond. As well as governments and UN agencies, it featured representatives from more than 400 Syrian, regional and international non-governmental and civil society organisations.
Zimbabwe makes 12 years of education compulsory
Zimbabwe has made it compulsory for all children to attend school from early childhood development level to the age of 16 – a total of 12 years. Parents who fail to ensure their children's education can now be fined or jailed for up to two years.
The government move under the new Education Amendment Act is designed to tackle rising rates of school dropouts. One in five children are out of school in some parts of the country
At least 60% of children in government-run primary schools were sent home because their families failed to pay fees, according to the Zimbabwe Vulnerability Assessment Committee (ZimVac). 
But the new laws mean schools cannot expel students for non-payment of fees or for becoming pregnant, said a BBC report. 
Child marriage programme to help millions of girls
Two UN agencies have announced that a multi-country initiative to end child marriage and help protect the rights of millions of girls worldwide will be renewed for another four years.
By 2023, the UNFPA-UNICEF Global Programme to End Child Marriage will reach over 14 million adolescent girls across 12 countries in Africa, the Middle East and South Asia  with direct services. 
The programme – launched in 2016 – also involves families, educators, health providers, governments, and religious and traditional leaders as part of the global effort to end child marriage by 2030. 
"As long as girls are being married as children, we cannot achieve the gender-equal world that young people are demanding," said UNFPA Executive Director Dr Natalia Kanem. "Girls should have the power to make their own choices – about when and whom they will marry, about continuing their education, and about whether and when they have children."
70% out of school in Cameroon's crisis zones
More than 70% of children are out of school in crisis-hit regions of Cameroon that have been affected by armed conflict, violence, flooding, and cholera and measles outbreaks. 
Education authorities have released new statistics for the North-West and South-West regions that show only 19% of the 1,010 public primary and 17% of 68 public secondary schools are operational. 
The situation in the North-West is considerably worse, with 91% of primary schools not running and only 16% of teachers at work. 
A UNICEF report said: "Nationwide, about 1.8 million school aged children in the crisis-affected zones need humanitarian support in education. These multiple crises have significantly weakened the education system in the areas where structural challenges were already present."
---
More news
Theirworld initiative helps to deliver $30m of computers to Ukrainian children
Theirworld initiative helps to deliver $30m of computers to Ukrainian children
Theirworld's mission to give children in crises a safe place to learn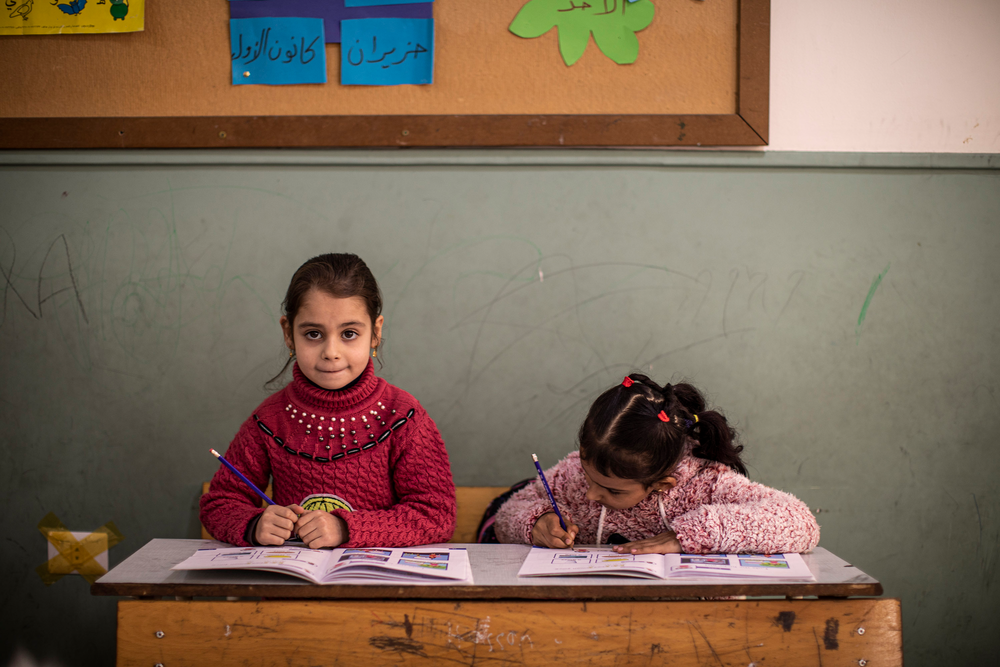 Theirworld's mission to give children in crises a safe place to learn