Five things you need to know this week about global education
Children in conflicts, Coronavirus and education, Education in emergencies
---
Our roundup looks at the impact of the Israel-Gaza conflict on schools - and how comic character Magnificent Mei is negotiating life as a teenager in a pandemic.
---
Conflict leaves schools damaged, shut and used as shelters
Fifty schools in Gaza have been damaged in the past few days by Israeli airstrikes – disrupting the education of more than 41,000 children, according to Save the Children.
It said three other schools in Israel had been damaged by rockets from Gaza during the current conflict.
"The destruction of schools is an abomination," said Jason Lee, Save the Children's Country Director in the occupied Palestinian territory. "One in 15 schools in Gaza has now been damaged. With every school that is damaged or destroyed, children's prospects of experiencing and building a better future diminish."
Schools, students and teachers are meant to be protected during armed conflicts by the Safe Schools Declaration, which has been signed by more than 100 countries.
Hundreds of thousands of children have been affected by school closures in Gaza and southern Israel during the violence that has killed more than 200 people – many of them children.
Schools run by the UN agency UNRWA have been turned into shelters for more than 48,000 Palestinians who fled their homes. Classrooms in 58 schools in the Gaza Strip have become dormitories, with desks stacked up and blankets spread on the floor.
Magnificent Mei to the rescue
Magnificent Mei and her friends are navigating the tricky ups and downs of becoming teenagers. They are nervous about going back to school after lockdown, coping with their studies and keeping their families safe.
The 13-year-old features in a series of comics produced by UNICEF and the World Health Organization to support social and emotional learning among adolescents.
The first issue is now available with a teacher's guide on how to help promote wellbeing, prevent mental health conditions and reduce risky behaviours.
The comics aim to engage and shape students' attitudes by promoting empathy and critical thinking. They use real-life scenarios and situations faced by young adolescents in their everyday lives.
LGBTQI students face school bullying
More than half of LGBTQI students in Europe have been bullied at school because of their sexuality or gender identity, a new UNESCO report has revealed.
The study highlighted widespread discriminatory attitudes, with 83% of students saying they had heard negative comments about LGBTQI students, while 67% said that they had been the target of critical comments at least once.
Nearly six in 10 students "never reported bullying incidents to any school staff" and fewer than two in 10 did so systematically, said the report, which was released this week on International Day Against Homophobia, Biphobia, Transphobia.
For information on how you can campaign for education as a powerful tool to end discrimination, see the Education and the LGBTQ+ Community section of Theirworld's online advocacy resource The Key.
Unequal impact of school shutdowns
Free and accessible education for every child should be at the core of recovery plans in every country, Human Rights Watch says in a major new report.
The organisation warns that school closures caused by the pandemic will spell the end of education for millions of children and urges governments to act swiftly to redress the harm caused to learning.
The 125-page report Years Don't Wait for Them looks at increased inequalities in access to education because of Covid-19. It says many governments did not have the policies, resources or infrastructure to roll out online learning in a way that ensured all children could take part equally.
Elin Martinez, senior education researcher at Human Rights Watch, said: "The aim shouldn't be just to return to how things were before the pandemic but to fix the flaws in systems that have long prevented schools from being open and welcoming to all children."
Career portal for Punjab students
A "career portal" will be launched to help more than 800,000 teenage students in India's Punjab state move from school into higher education and work.
Produced by the state government in association with UNICEF and the youth-run NGO Aasman Foundation, it will have information on at least 450 career options, as well as 21,000 colleges and vocational institutes within the country and abroad. The portal will also detail 1,150 entrance exams and 1,200 scholarships. 
There will be a special focus on integrating the school curriculum with life skills. Punjab Education Secretary Krishan Kumar said: "The portal will be of great help to students as well as teachers. It will further strengthen the department's initiatives to improve the quality of education in government schools."
Life skills will be even more crucial in dealing with the devastating effects of the coronavirus pandemic on education and future work prospects.The Global Business Coalition for Education, a Theirworld initiative, produced a report last year which said young people need to develop such resilience skills to thrive.
---
More news
Theirworld initiative helps to deliver $30m of computers to Ukrainian children
Theirworld initiative helps to deliver $30m of computers to Ukrainian children
Theirworld's mission to give children in crises a safe place to learn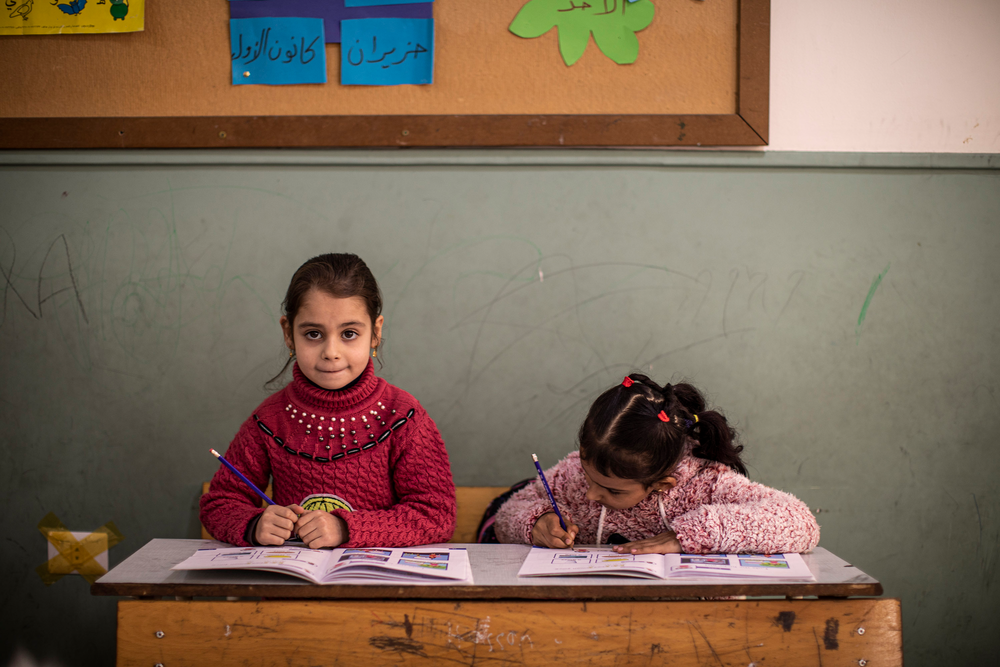 Theirworld's mission to give children in crises a safe place to learn