Five years on: one in three Syrian children has known nothing but war and trauma
Children in conflicts, Education in emergencies
Syrian girl Esraa aged four and her brother Waleed aged three sit near a shelter for internally displaced persons in Aleppo Picture: UNICEF/Al-Issa
A third of all Syrian children – an estimated 3.7 million of them – have been born since the conflict that has decimated their country began five years ago.
And 8.4 million children – that's 80% of the child population – need humanitarian assistance in Syria or as refugees in neighbouring countries.
The shocking statistics are revealed in a report by the United Nations children's agency UNICEF on the eve of the fifth anniversary of the Syrian conflict.
Dr Peter Salama, UNICEF's Regional Director for the Middle East and North Africa, said: "Five years into the war, millions of children have grown up too fast and way ahead of their time.
"As the war continues, children are fighting an adult war. They are continuing to drop out of school and many are forced into labour, while girls are marrying early,"
At least 2.1 million children inside Syria and 700,000 in neighbouring countries are out of school, said the report, titled No Place For Children.
UNICEF added: "Bombs have turned classrooms, health centres and parks to rubble. The streets where they should be able to play are blocked by checkpoints or littered with explosive remnants of war. Schools and hospitals have closed in the thousands."
More than a quarter of Syria's schools are out of use – destroyed, used as shelters or occupied as bases for military groups. Over 52,000 teachers have left their posts.
The conflict has created 2.4 million child refugees. Outside Syria, more than 151,000 Syrian children have been born as refugees – 70,000 of them in Lebanon alone.
World leaders meeting in London last month pledged to get more than one million Syrian refugee children into schools in neighbouring countries in the coming academic year and improve access to learning for children inside Syria.
Theirworld – the campaigning charity behind A World at School – has been mobilising support among some of the world's leading charities and aid agencies to demand a quality education for every child affected by the conflict.
Theirworld has also been developing projects to help Syrian children back into education in Lebanon. In December it was announced more than 200,000 refugee children will be registered for classes in Lebanon in this academic year through an innovative double-shift system.
Funding for education in emergencies, such as conflicts, is pitifully small. A World at School has been calling for urgent action and establishing of a platform to fund education in emergencies.
Syrian fourth grade students at the Al Karnak camp in the city of Tartous Picture: UNICEF/Saker
The UNICEF report also revealed other aspects of the misery faced by Syrian children.
Almost seven million live in poverty. More than 200,000 live in areas of Syria regarded as being under siege – and 400 children were killed in 2015, more than 150 of them either at school or on their way to or from school.
Another worrying statistic is the increasing recruitment of child soldiers. Since 2014, all parties in the conflict have recruited young children – some only seven years old.
UNICEF said: "These children are receiving military training and participating in combat, or taking up life-threatening roles at the battle-front, including carrying and maintaining weapons, manning checkpoints, and treating and evacuating war wounded.
"Parties to the conflict are using children to kill, including as executioners or snipers."
Dr Salama said: "It's not too late for Syria's children. They continue to have hope for a life of dignity and possibility.
"They still cherish dreams of peace and have the chance to fulfill them."
---
More news
Theirworld initiative helps to deliver $30m of computers to Ukrainian children
Theirworld initiative helps to deliver $30m of computers to Ukrainian children
Theirworld's mission to give children in crises a safe place to learn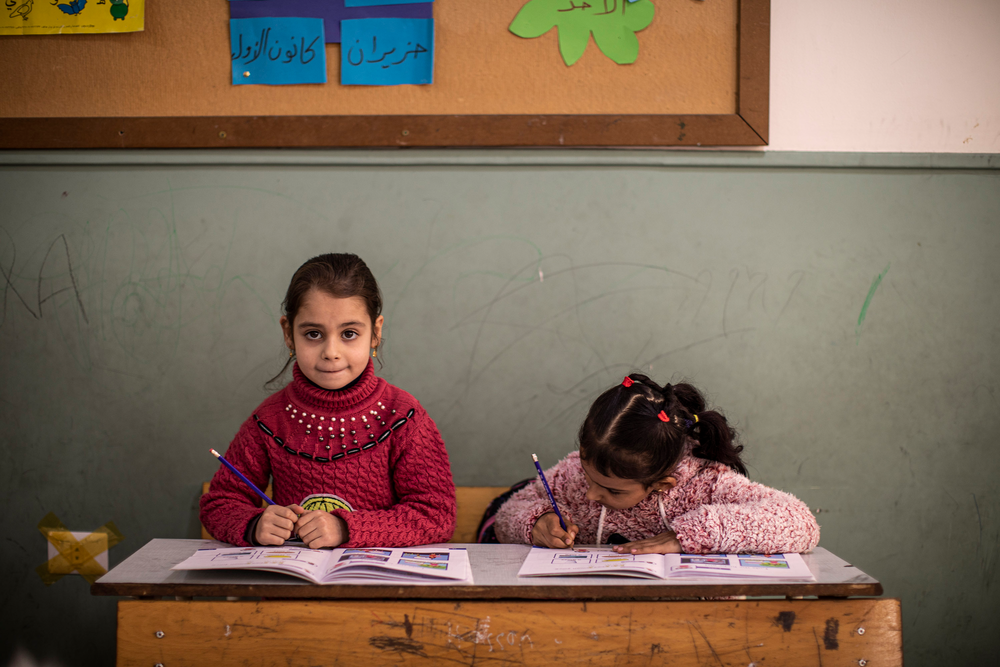 Theirworld's mission to give children in crises a safe place to learn