Five years on: the Syrian children who can help to rebuild their country
Children in conflicts, Education in emergencies
Ahmad Dashtar helps other refugee children with their homework at a camp in Lebanon Picture: Tabitha Ross
The Syrian conflict enters its sixth year today – after more than 250,000 deaths and the forced flight of more than 4.5 million people.
The victims of these horrific five years have included millions of children. There are 2.4 million child refugees and at least 2.8 million Syrian children are out of school there and in neighbouring countries. One in three Syrian children was born after the fighting started.
A World at School has talked to some of those Syrian children – and their parents – whose lives have been blighted by fear and trauma.
In this article, Beirut-based writer and photographer Tabitha Ross – with the help of the education initiative Sonbola – meets children who have been able to return to the classroom and asks what they plan to do when they grow up.
You can also read about some of the children who sadly are not in school.
Ayman Okla, 12, and Batoul Okla, 10
He wants to be a surgeon. She wants to be a paediatrician.
Tabitha writes…
Brother and sister Ayman and Batoul missed nearly four years of school.
Their mother says that, from the start of the conflict, schools in their area of the countryside near Aleppo were targeted by the Syrian regime, so it wasn't safe for them to go.  About a year and a half ago they came to Lebanon.
One of the first thing their parents did was search out school places for them.
Ayman says when he first went back he could barely remember what he had learned before. But now he's learning more and more.
Having only completed grade one, Batoul had to start almost from scratch but she's bright and loves maths so has been making up for lost time.
The pair have wanted to be doctors since they were little. Their dream is to return to Syria and work there. As Ayman says: "There aren't enough doctors in Syria anymore so it is needed."
There is a medical crisis in Syria today. Facilities and personnel have been purposefully targeted by the Syrian regime.
The vast majority of doctors have fled the country and many have been killed, while more than a third of hospitals have been destroyed.
Medical staff will be among the forefront of those who rebuild Syria.
Ayman and Batoul say…
Ayman: We come from a village in the middle of the countryside. I loved the nature there. Batoul: I loved our house.
Ayman: We've been in Lebanon a year and a half. We left because of the bombing. The planes dropped a bomb on the house next to the school and destroyed it. We weren't at school at the time.
I was with another boy when it happened and he was hit by some of the shrapnel. 
Batoul: I was at home.  I could hear the plane coming and the bomb falling. I was very scared.
Ayman: I had got up to grade three in Syria when the school closed. Batoul: I was in grade one.
Ayman: We were out for nearly four years. We didn't get the chance to go back until we came here to Lebanon and found places. We've been back about a year. I love school. 
Batoul: I was so happy to go back. I love it that I can learn. I've got friends and nice teachers.
Ayman: I want to be a doctor when I grow up. I'm not afraid of blood so I think I will be a surgeon. I want to be a doctor so I can treat people who are hurt and so that I can earn money which I can use to help others too.
Batoul: I am going to be a doctor too but I want to help sick children.
Ayman: Five years ago we were in Syria and in five years time we want to be back there if the situation is safe.
Batoul: Education is important to learn reading and writing.
Ayman: .. and to learn how to become doctors!
ISRAA RAJAA, 14
She wants to be a police officer
Tabitha writes…
It is a pleasure to talk to Israa. Smart, collected and thoughtful, she is exactly the kind of child Syria needs to build its future. 
Not many kids tell you they want to be police officers, especially girls to be honest. But Israa has clearly got things thought out – she wants to contribute to the rule of law so people can live safe and stable lives. 
Who knows if this is despite or because of what she has been through? Having had to try to identify a shockingly injured young man who had been caught in a direct hit by a bomb? 
School is a great way of helping to put the past behind you. When I meet children who are out of school, I'm often struck by how they have no focus or distraction and little to help them build hope for the future instead of living in the past. 
They are often stuck at home with adults grieving for lost relatives, friends or home and country. Israa says that school helps her think about the good things in life and forget the bad.
She says that's because she's learning, she has friends to laugh with and it's a "change of scene".
Israa says…
I'm from Homs and I've been in Lebanon four years. 
When we came here I was out of school for a year. If you can't go to school and get an education you can't build a future life. 
Then I got a place. I was so happy to go back because it was possible for me to continue my education. And if I don't pursue my education then I won't have opportunities for a good future.
I love school here. Mostly the teachers are good but some of them do not care if we learn or not. And some teachers do not want to teach Syrians.
School helps to focus on the present and not on the past. At school I have friends to talk and laugh and play with. 
I'm doing a reading competition that Sonbola told us about. You have to read and write a summary of 50 books over the school year but I have already read them in three months. 
I want to become a police officer because I want to help implement the law so that we can rebuild a stable country. 
In five years if the war is over I want to be back in Syria.  Otherwise, can I go on a world tour?
HEBA BILAL ASSAD, 12
She wants to be a doctor
Tabitha writes…
Heba (whose name means "Gift") has three younger brothers. They are all in school and her parents value her education as much as the boys'.
She has been in Lebanon for two years and has only missed two months of school because her family are so committed to education. 
She wants to be a doctor when she grows up and with her parents' support and her own determination, you can believe she will make it. Since getting back to school she hasn't missed a single day.
Even so, it's not easy. From next year, sciences at her school will be taught in English, a language which is relatively new to her and which will be a challenge. 
This is an issue facing many Syrian refugee students, as the Lebanese curriculum is taught mostly in English or French, unlike the Syrian one which is in Arabic.
Heba says…
I am from Daraa. What I miss most is my school and my town and seeing my whole family every day.
I've been here for two years. I was only two months out of school and then my family found a school with places and I registered.
I want to be a doctor because I want to heal children. I don't know where I see myself in five years but I would like to be in Syria. 
I'd like to help my country in the future firstly by helping children. My friends and I will work hand in hand to build a better country.
I go to a Lebanese public school in the afternoons. It's very good and the teachers are great. 
The situation was good until the war started. Then lots of things changed. People had to move because their houses were destroyed.
Yes, sometimes I felt afraid.  My brothers and I were afraid of the bombing.
I've been coming to the Sonbola centre for two months and studying extra English and computer studies and maths – and we draw and paint. 
School helps to think about the good things and forget the bad.
SALAM DLAWATY, 12
She wants to be a vet.
Tabitha writes…
Salam's family are also deeply committed to the education of their children. So much so, that if they got the chance to return to Syria but with no education for their children there, they would stay in Lebanon until the kids have finished school.
Salam (whose name means "Peace") wants to be a vet because she loves animals. She spent a year out of school.
She's a smiling girl, quick to answer questions and volunteer information. She's confident and bright and full of aspiration. 
Salam says…
Our home in Syria was demolished and taken by fighters, so we had nowhere to go. That's why we came here four years ago.
It feels like home now. I know the streets and my way around.
I was out of school for one year when we first came to Lebanon. We lived with my brother and there were no schools near there so I had no chance to go to school. 
When I was out of school I missed my friends and was always remembering how I used to answer the teacher and how it felt when I got a question right.
When I went back I felt like I was resuming my old life.
I want to be a vet because I love animals. I love cats the best. I had a cat who had a broken leg and I healed her myself. 
Where do I want to be five years from now? It depends. It's up to my mum. If the war is over, we might go back.
But she wants us to finish our education so if it looks like we can do that here but not there, we won't go back that quickly.
AHMAD DASHTAR, 14
He wants to be a footballer
Tabitha writes…
Ahmad is so smart that he runs homework clubs in the camp. When the kids get back from their classes, they all gather next to his tent, spread out blankets and mattresses and do their exercises together. 
He was out of school for two years, during which time he was always nagging his mum about when he could go back.
He wants to be a footballer when he grows up. I asked him how this could help Syria (admittedly a difficult question) but he misunderstood and thought I was asking him how he could help Syria now.
With a troubled and sad look he said: "I don't think I can help Syria." When I explained a bit more about what I meant – could he represent his national team? – he just said he couldn't help on the political level. 
It was an insight into how helpless these children must feel.
Ahmad says…
I'm from the Aleppo countryside. The most beautiful thing that I miss there is my village. I was raised there and went to school there.
I've been here for four years. For the first two years in Lebanon I was out of school. I wasn't very happy because I missed school. 
I felt happy when I went back because I would be learning again. Now I go to a Lebanese public school half an hour away. It's good. All of the teachers are good and they teach us well.
I didn't see anything that scared me in Syria – I didn't see any bombing or any aeroplanes. 
We play football in the camp. I want to be a footballer when I grow up. 
Education is important because when I get older then I can help my country in other ways.
For homework, all the children in the camp who go to school come to me for help. We have a kind of homework club. 
When we get back from school they all come to my tent and we spread out blankets and do our exercises together.
In summer I work in the fields. It's hot and hard. Picking potatoes is the worst, carrying a bag of them is so heavy. But it helps the family so it's good. 
---
More news
Theirworld initiative helps to deliver $30m of computers to Ukrainian children
Theirworld initiative helps to deliver $30m of computers to Ukrainian children
Theirworld's mission to give children in crises a safe place to learn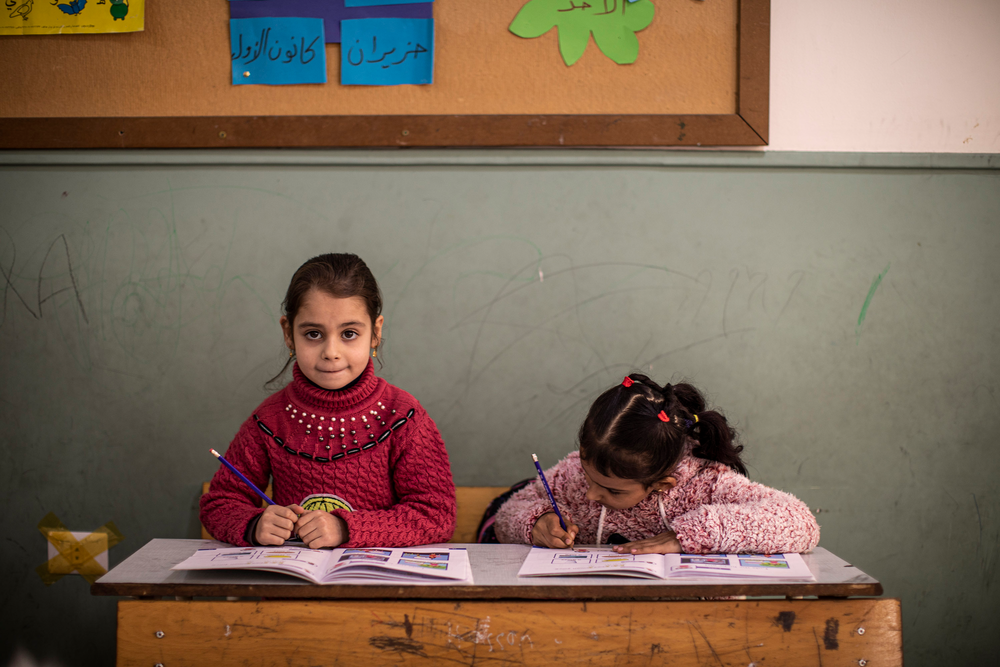 Theirworld's mission to give children in crises a safe place to learn