Florida helps thousands of migrant children back into school after hurricane trauma
Children's welfare after natural disasters, Education in emergencies, Refugees and internally displaced people
---
More than 11,000 students from Puerto Rico and the US Virgin Islands are being educated in the US state after their families fled the storm devastation.
---
At Leslie Campbell's office in the central Florida city of St. Cloud, the phone will not stop ringing.
Director of special programmes for the Osceola County School District, Campbell helps enrol students fleeing storm-ravaged Puerto Rico.
Her job has been a busy one. Since hurricanes Irma and Maria devastated the Caribbean in September, over 2400 new students have arrived in the district. That is enough to fill more than two typical-sized elementary schools. Dozens more youngsters show up weekly.
"We're just inundated, from the minute we come in, to the minute we leave," said Campbell, who helps families obtain transportation, meals and clothing.
Across the country, state and local officials are scrambling to manage an influx of Puerto Ricans, a migration that is impacting education budgets, housing, demographics and voter rolls in communities where these newcomers are landing.
Florida, already home to more than one million Puerto Ricans, is on the front lines. About 300,000 island residents have arrived in the state since early October, according to Florida's Division of Emergency Management. 
The influx is nearly two and a half times the size of the Mariel boat lift that brought 125,000 Cubans ashore in 1980.
Some Puerto Rican arrivals have passed through Florida on their way to New York, Pennsylvania, Texas and other states. Some may eventually return home. But many will not. 
The island is still reeling months after Hurricane Maria, a Category 5 storm, wreaked catastrophic damage to homes, businesses and infrastructure. Nearly 40% of residents still lack electricity. The economy has been devastated.
For Florida, the inflow of Puerto Ricans is altering public budgets and perhaps the political calculus in a state that President Donald Trump won by a slim margin in 2016. 
Puerto Ricans, who are US citizens, are on pace to overtake Cuban-Americans within a few years as the state's largest Latino voting bloc. Many criticised the Trump administration's hurricane response as inadequate.
Statewide, more than 11,200 students from Puerto Rico and the US Virgin Island have enrolled in Florida public schools since the storms, according to the governor's office. 
Most arrived after a deadline that determines state funding based on enrolment, resulting in an estimated loss for local districts of $42 million during the 2017 fall semester, a Reuters analysis shows.
Central Florida was one of the country's fastest-growing regions even before the disasters as Puerto Ricans fleeing a sputtering economy flocked here for jobs in the booming tourist trade. An estimated 360,000 have settled in the area, the largest concentration in Florida.
We have students coming without clothes or records. Some are exhibiting symptoms of post-traumatic stress. Kelvin Soto of Osceola County school board
The Osceola County school district has enrolled thousands of new students in recent years, including nearly 2700 in 2015-2016 alone. To accommodate them, the district hired more bilingual teachers, converted offices into classrooms, added portable units and built a new middle school. In 2016, voters approved a half-cent sales tax to provide more funding.
Hurricane Maria has compounded the urgency.
"We have students coming without clothes or records. Some are exhibiting symptoms of post-traumatic stress," said Kelvin Soto, an Osceola County school board member. "We're handling it well but it's straining our resources."
Recent arrivals include Felix Martell and his five-year-old daughter Eliany, who settled in Ocala, Florida, about 80 miles northwest of Orlando. Martell is the sole caretaker for the child after his wife died two years ago. 
He worried Eliany's education would suffer in Puerto Rico due to lengthy school closures following Maria.
Father and daughter are now living in a rundown hotel paid for by the Federal Emergency Management Agency. Martell has yet to find a job. Still, he said there is no turning back.
"She has learned more in three weeks of school here than in the entire semester on the island," he said. "I am concentrating on her future."
---
More news
Theirworld's mission to give children in crises a safe place to learn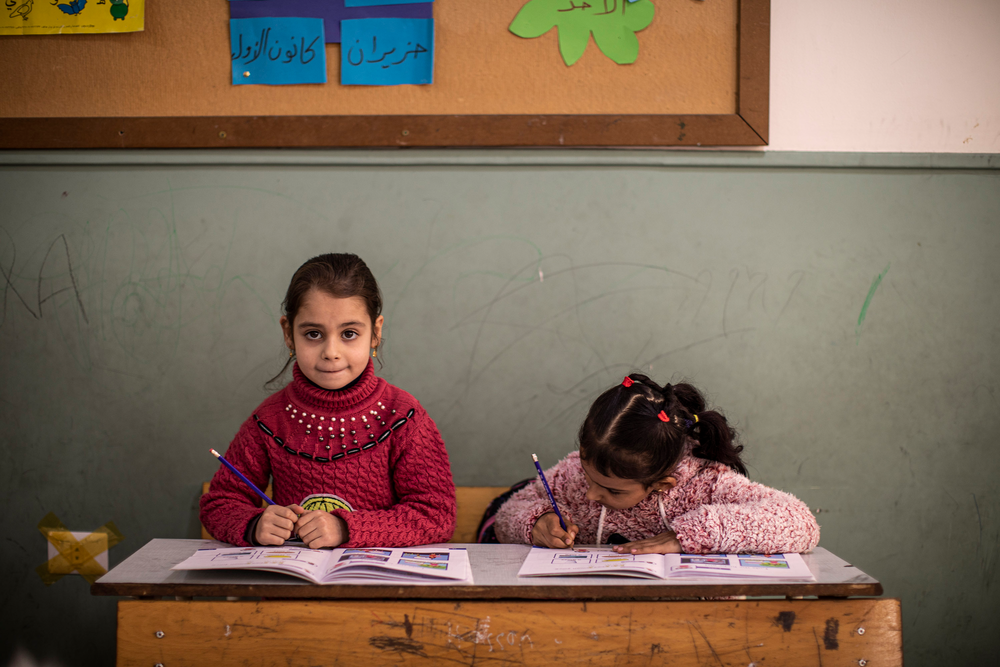 Theirworld's mission to give children in crises a safe place to learn
World Refugee Day: ACE project helps children to integrate and learn in Greece
World Refugee Day: ACE project helps children to integrate and learn in Greece