Four years after Syrian conflict began, 14m children count the cost of war
As the Syrian conflict is about to enter its fifth year, almost 14 million children are suffering the consequences – out of school, away from their homes and at risk of being lost in a cycle of violence.
The most desperate situation is that of more than 5.6 million children inside war-torn Syria, with 2.6 million of them getting no education. Two million are living in parts of Syria cut off from humanitarian aid by the fighting and another two million are living as refugees in Lebanon, Turkey, Jordan and other countries.
Syrian refugee Safa, 14, in school at Kawergost camp in northern Iraqi Picture: UNICEF/Hazou
The United Nations children's agency UNICEF says the escalating conflict sweeping Syria and much of Iraq has also resulted in 3.6 million children living in communities hosting refugees – which has caused a huge strain on their education and health services.
And in Iraq more than 2.8 million children fled from their homes with their families as Islamic State took control of large parts of the country. Many others are trapped in areas controlled by armed groups.
Hiba, 7, goes to first grade classes at Akcakale refugee camp school in Turkey Picture: UNICEF/Yurtsever
UNICEF Executive Director Anthony Lake said: "For the youngest children, this crisis is all they have ever known. For adolescents entering their formative years, violence and suffering have not only scarred their past; they are shaping their futures.
"As the crisis enters its fifth year, this generation of young people is still in danger of being lost to a cycle of violence – replicating in the next generation what they suffered in their own."
Syrian boys play at the Marj El Khokh camp in Marjayoun, Lebanon Picture: UNICEF/Romanzi
The Syrian conflict began with an uprising against President Bashar al-Assad in March 2011 and an estimated 150,000 people have died in the four years since.
In January, United Nations Special Envoy for Global Education Gordon Brown said an extra $136 million was needed to fund the education of the 500,000 Syrian refugee children in Lebanon. He called for an emergency global fund to provide education in conflict-hit countries.
Rihab, 14, wanted to be a teacher but now she is married and knows she cannot go back to school Picture: UNICEF/Romanzi
UNICEF is urging longer-term investments to meet the needs of children and adolescents, to equip them with the skills and motivation to build a more stable future for themselves. It says they should include:
Opportunities for remedial education, vocational training, and recreation for adolescents. With some five million Syrian aged between 12 and 18, young people require support that can provide skills and support livelihoods
Formal and informal learning opportunities for children impacted by conflict, and certification systems that help maintain pupils' academic status
Services for vulnerable children, including survivors of violence, that provide psychosocial care and assistance
Strengthening education and health systems, as well as livelihood support, in host communities so all children affected in some way by the conflict are supported
Asma, 11, now works in agriculture to support her family in the Bekka Valley, Lebanon Picture: UNICEF/Romanzi
Meanwhile, Lebanon's education minister says his country is committed to educating Syrian refugee children. Elias Bou Saab said: "We are with the return of the refugees to their country at the earliest opportunity – but as long as they are on Lebanese territory, we are committed to putting them in schools."
But he told a gathering of ambassadors and representatives of donor countries and international organisations in Beirut that refugee children who don't go to school are in danger of becoming radicalised or turning to crime. Lebanon is hosting 1.2 million Syrian refugees and they now make up   more than a quarter of its population.
Read blogs by A World at School's Ben Hewitt and Georgina Mortimer on their trip to Lebanon to see how Syrian refugee children ar being educated.
---
More news
Theirworld initiative helps to deliver $30m of computers to Ukrainian children
Theirworld initiative helps to deliver $30m of computers to Ukrainian children
Theirworld's mission to give children in crises a safe place to learn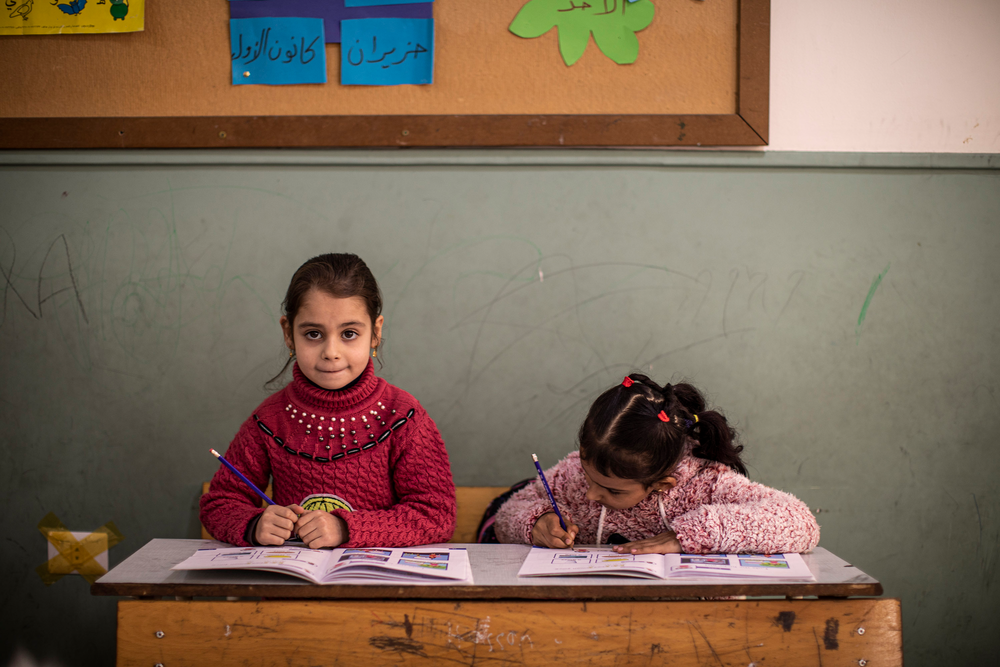 Theirworld's mission to give children in crises a safe place to learn