France and Canada sign Safe Schools Declaration to protect students and teachers in conflicts
Barriers to education, Children in conflicts, Education in emergencies, Right to education, Safe schools, Safe Schools Declaration
---
Fifty-nine countries have now endorsed the commitment to protect schools from being attacked or used for military purposes.
---
France and Canada's signing of the Safe Schools Declaration has been widely welcomed. They are the latest countries to endorse a political commitment to protect schools during armed conflicts.
The declaration is a global pledge that stressed the importance of continuing education during war. Fifty-nine countries have now signed, including the majority of European Union and NATO member states.
French President François Hollande announced France's endorsement during the opening of the Protect Children From War Conference co-organised by France and UNICEF in Paris yesterday.
The decision followed several months of efforts by UNICEF France and Human Rights Watch to raise the French authorities' awareness of the importance of the declaration.
Canada's Minister of Foreign Affairs, Chrystia Freeland, said: "Canada believes that all girls and boys must be able to attend school without fear of being targeted, especially in conflict situations.
"Education is a right and schools should be places where all students, regardless of where they live, can come together in peace to learn about their community and the world," 
The Safe Schools Declaration emerged from a conference held in Oslo, Norway, in May 2015. During times of violent conflict, schools are targets for attack or may be used for the recruitment of child soldiers. 
The buildings may also be appropriated for other uses, such as military barracks, weapons stores and detention centres.
Since 2005, schools and universities have been used for military purposes in at least 26 countries with armed conflicts. Thousands of attacks on schools and universities were recorded in the Education Under Attack report in 2014. 
These included bombings and burnings of buildings and the killing, wounding or abducting of students and teachers.
Examples of more recent attacks include the 2015 massacre of students in Peshawar, Pakistan, and violence in Nigeria, where more than 1000 schools have been destroyed, damaged or taken over by Boko Haram, who have also kidnapped more than 2000 girls and women.
Diya Nijhowne, director of the Global Coalition to Protect Education from Attack (GCPEA), welcomed the latest endorsements of the pledge. 
She said: "France and Canada's support for the Safe Schools Declaration is a welcome addition to the growing community of countries demanding that schools be safe places for children, even during war.
 "The Safe Schools Declaration lays out many common-sense steps that countries can take to help ensure that students and schools are better protected."
The GCPEA brings together leading organisations including; PEIC, UNICEF, UNESCO, Save the Children and Human Rights Watch, to promote education as a basic human right.
Maleiha Malik, Academic Advisor for PEIC, also welcomed the news. He said: "Attacks on students and their schools in conflicts must stop now. 
"We are heartened that France has signed up to the Safe Schools Declaration, joining more than 50 other countries to deliver this united message.
It is only by working together that we can protect students and their teachers from further attacks. Maleiha Malik, Academic Advisor for PEIC
"It is only by working together that we can protect students and their teachers from further attacks. Education is the driver of human potential and a universal human right. 
"It drives stability and prosperity and lays the foundations for peace. We urge all governments to join France and others to make our global voice stronger.
"It is time for the international community to join the 59 countries across the world and stand up and support the Safe Schools Declaration."
Kolleen Bouchane, Director of Policy and Advocacy for Theirworld, said previously: "Countries that signed the Safe Schools Declaration have made a public declaration that attacks on schools and the military use of schools is unacceptable. 
"They should be commended for this critical step to protect education from attack and to create safe schools for all children."
Argentina has announced that it will host the Second International Conference on Safe Schools in Buenos Aires on March 28 and 29.
---
More news
Theirworld initiative helps to deliver $30m of computers to Ukrainian children
Theirworld initiative helps to deliver $30m of computers to Ukrainian children
Theirworld's mission to give children in crises a safe place to learn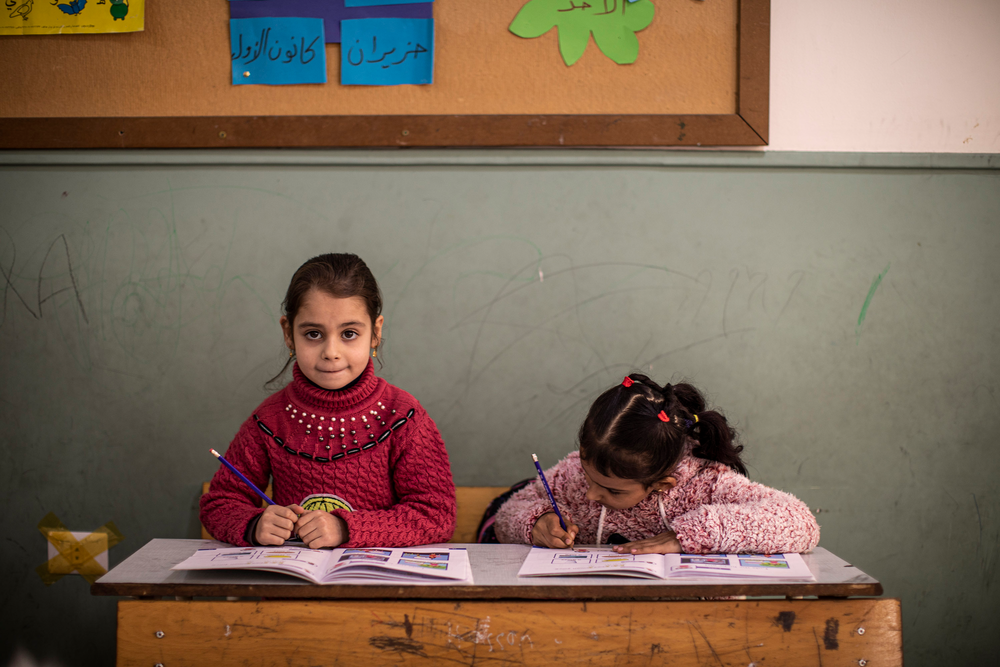 Theirworld's mission to give children in crises a safe place to learn