"It was worth all the pain!" Friends run the London Marathon to raise funds for Theirworld
Theirworld
---
The trio's amazing efforts in completing the 26.2-mile course will help us to provide a brighter future for vulnerable and marginalised children.
---
Three determined friends were running on empty when they reached the finish line of the London Marathon. But their hearts were full of joy after raising money for Theirworld's work to deliver education to vulnerable children. 
After months of training, Mary Solomon, Liz Moran and Leny Hall were among tens of thousands of runners who were cheered along the 26.2-mile course by huge crowds on Sunday. 
"I've done it! Almost everything hurts a bit and my toes are a mess but it was worth all the pain," said Mary, from Wolverhampton, who finished in the top 100 of the 65-69 age category in a time of five hours 12 minutes. 
"The London Marathon is a wonderful event, with brilliant support from fellow runners, spectators, bands and marshals. I'm very grateful to Theirworld for the opportunity to run and I owe massive thanks to marvellous friends for donating so generously." 
Running club member Liz, from Stafford, celebrated her 50th birthday by completing the marathon in five hours 37 minutes. She said she was motivated to take part by Theirworld's mission.  
Liz added: "The provision of education to refugee children will give them hope for a better future in which they can have improved access to jobs and careers and be able to build sustainable and happy lives for themselves and their families." 
Leny, who is also from Wolverhampton, finished the course in five hours 49 minutes. She wanted to raise funds for Theirworld because she is "saddened by the traumatic conditions that many children experience due to severe depravation and the circumstances of lives affected by war, disaster and poverty". 
Theirworld is hugely grateful to the three London Marathon runners for their amazing efforts. You can still support them on their JustGiving pages – just click on their names here: 
Anyone can raise funds for Theirworld's projects and campaigns. By doing so, you can directly help us ensure that every child has the best start in life, a safe place to learn and skills for the future – all over the world. Find out how to fundraise for Theirworld. 
---
More news
Take the test and discover how our Schools Hub helps students grasp the global education crisis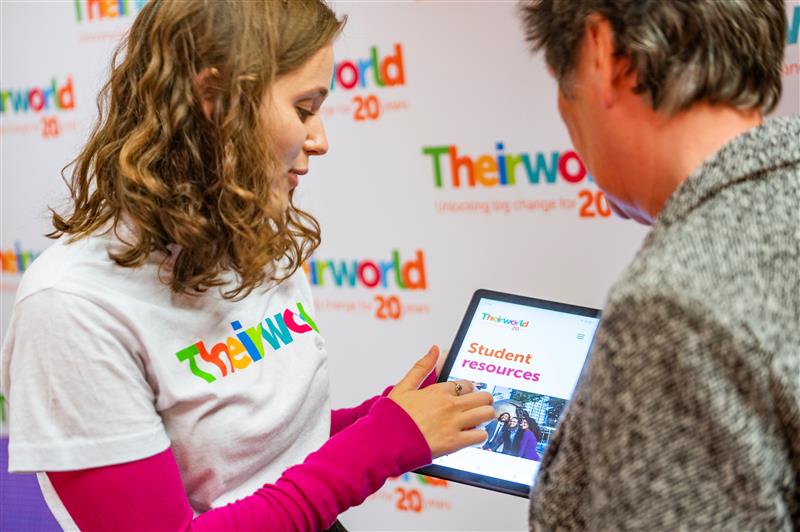 Take the test and discover how our Schools Hub helps students grasp the global education crisis
#LetMeLearn: the story of a global education campaign
#LetMeLearn: the story of a global education campaign