"Give a man a fish and you feed him for a day; teach a man to fish and you feed him for a lifetime"
Children in conflicts, Education in emergencies
---
The first World Humanitarian Summit will be held in Turkey in May. World leaders are being urged to commit to launch a fund that ensures children return to school quickly after an emergency such as a conflict or natural disaster. Theirworld, the children's charity behind A World at School, is running the #SafeSchools petition and campaign and our Global Youth Ambassadors are addressing the issue in a series of blogs.
Mona Hassan with other Global Youth Ambassadors from Lebanon
By Mona Hassan, an A World at School Global Youth Ambassador from Lebanon
An Open Letter from a Global Youth Ambassador to those attending the World Humanitarian Summit.
Ladies and gentlemen,
I would like you to close your eyes for a second and think about your own life, so far. It hasn't been bad, has it?
Now imagine you were born into an emergency, a war or a natural disaster, for example, and were deprived of your basic needs, including your education. Where would you be today?
It's a scary thought, right?
Last year, the world saw the most recorded attacks on education, the highest number of level III emergencies and the greatest refugee crisis since World War II.
Thankfully, money is being spent on providing food, shelter and health care for those affected by crises – but do you think that's enough?
You can provide food, shelter and health care for now, for next year, even for the next 20 years – but then what? Won't there be a time when today's refugees have to be on their own, to depend on themselves?
Syrian refugee students at Mtien School in Lebanon open kit computers as part of the Technology in Classrooms programme by the children's charity Theirworld Picture: Anthony Achkar
Last year, 80 million children had their education disrupted due to emergencies and 37 million were forced out of school entirely. Wouldn't it be easy for them to be drawn into extreme thinking? Wouldn't it be easy for them to be exploited?
Ladies and gentlemen, this is what we have to avoid. We have to educate. In 10 years, 20 years, 30 years from now I promise you that we will see a difference, because there will be an educated generation ready to pick up their countries after the conflicts end – a difference which will benefit not only them but all of us.
There's a Chinese proverb that says "Give a man a fish and you feed him for a day; teach a man to fish and you feed him for a lifetime".
That's what we are asking you do to. We are asking you to ensure that all children learn how to fish.
It's not acceptable that only 1.4% of humanitarian aid goes towards education. It's just not! These children can be leaders instead of child brides and they can be doctors or teachers instead of terrorists.
It's true, I cannot guarantee that one of them will, for example, cure cancer, but it's also true that you cannot guarantee none of them will.
Without education, we are entering into a vicious cycle of more and more violence and more money to be spent in the future to solve the impact of what is happening today. An investment in education is an investment into global safety and stability.
Every child has the right to learn. All I am asking is that you act now so that no more miss their chance to do so. Please help us help them to help the whole world.
Thank you.
---
More news
Theirworld initiative helps to deliver $30m of computers to Ukrainian children
Theirworld initiative helps to deliver $30m of computers to Ukrainian children
Theirworld's mission to give children in crises a safe place to learn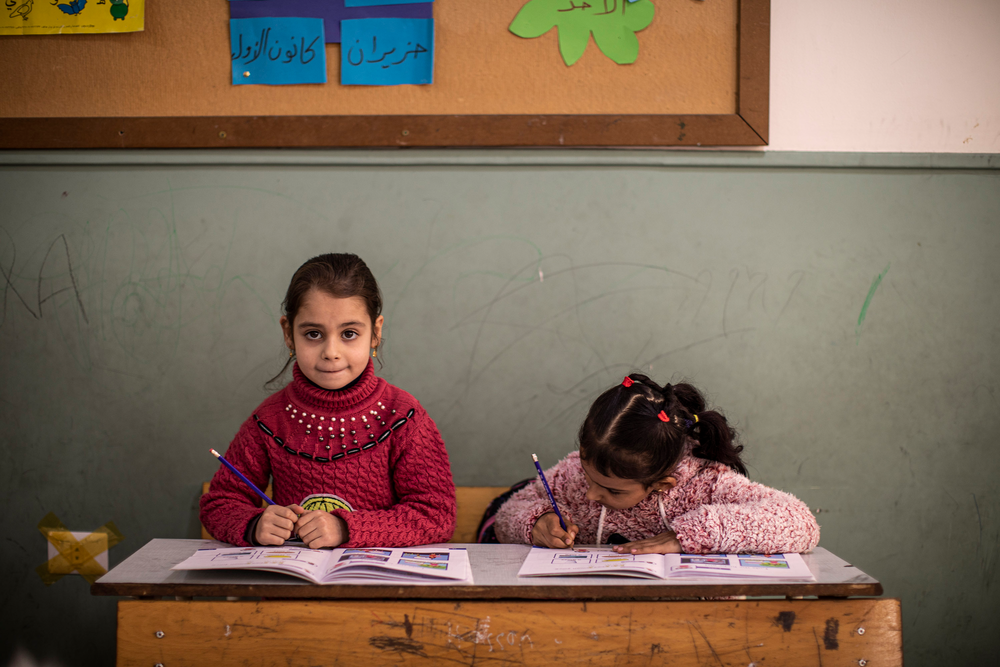 Theirworld's mission to give children in crises a safe place to learn