G20 leaders say investment in early childhood development is 'high priority'
Child nutrition (Early years), Childcare, Early childhood development, ​Learning through play (Early years), Theirworld
A landmark moment for early years care - including health, nutrition and learning for children under five - came at the Argentina summit.
---
The world's most powerful leaders have given their backing for early years care to ensure every child has the best start in life.
The heads of G20 countries committed to a major early childhood development (ECD) initiative when they met in Argentina for their annual summit at the weekend.
It was a landmark moment for ECD – the first time the G20 has addressed the issue and a move that could help to break the global cycle of poverty and inequality, especially for the most marginalised children.
The G20 – which includes the United States, China, Germany, India, United Kingdom and South Korea – said investment in the early years of a child's life, including education, health, nutrition and play, should be "a high priority".
That echoes campaigning by Theirworld over the past two years. We have been calling for countries and international donors to invest more in ECD – particularly in pre-primary education.
Earlier this year, Theirworld published an ECD donor scorecard, which showed that while international donors talk a good game when it comes to pre-primary education, many are falling short on delivering the funding.
Our report – using analysis by researchers at the University of Cambridge– showed that pre-primary education gets just 1% of all aid going to children under the age of five. That's putting millions of children at a huge disadvantage before they even start primary school. 
"The G20 placing early childhood development squarely on the international agenda opens up an opportunity to ensure these big promises turn into real action for the youngest children," said Justin van Fleet, Chief Advisor to Theirworld.
"The Theirworld ECD scorecard sets the baseline across all donors and sectors – and we now will be tracking donors to make sure this pledge is met with measurable progress."
The G20 presidents and prime ministers said they were concerned that 43% of children under the age of five in developing countries – about 250 million – are at risk of not fulfilling their potential.
The first five years of a child's life are vital – because 90% of their brain has already developed during that time. If a child receives the right amount of care, stimulation and sensory education, their chance of a more successful life increases dramatically.
The G20 Initiative for Early Childhood Development recognises that. It says: "We are convinced that early childhood is one of the most significant and influential phases of life – especially the first 1000 days. 
"It determines the basis for every child's future health, wellbeing, learning and earnings potential, and sets the groundwork for young children's emotional security, cultural and personal identity, and for developing competencies, resilience and adaptability."
The ECD initiative calls for action in three priority areas:
Financing and investing in early childhood programmes
Assessing and monitoring the impact of these programmes
International cooperation
Fiona Duggan, Head of Projects at Theirworld, said: "We welcome the G20 decision. At Theirworld we're gearing up for a major campaign over the next two years which will build on this commitment.
"It will also ensure more political attention and financing is directed to all areas of early childhood development spanning education and health, including early learning and pre-primary education, which has traditionally been neglected." 
The backing for ECD comes after last year's G20 summit in Germany committed to action on a bold new financing plan to unlock $10 billion and help to get millions of girls and boys into school.
The commitment to the International Finance Facility for Education was the first time in a decade that G20 leaders had signalled action on a new education funding initiative in one of their official communiques. 
As the G20 leaders were meeting in Argentina, their partners visited the Museum of Latin American Art of Buenos Aires (MALBA) to see a project that stimulates the development of children's artistic creativity.
"Early childhood care is the best way to build a future – because today's children are the leaders of the future and we need them to develop to their full potential," said the first lady of Argentina, Juliana Awada.
She said her husband, Argentinian President Mauricio Macri, promoted the launch of a network of early childhood centres to address problems in the most vulnerable neighbourhoods when he was head of Buenos Aires' city government.
The G20 summit also said it was vital to underline the importance of girls' education and made a commitment to eradicate child labour.
Theirworld's work on early childhood development is supported by the Conrad N. Hilton Foundation.
---
More news
Take the test and discover how our Schools Hub helps students grasp the global education crisis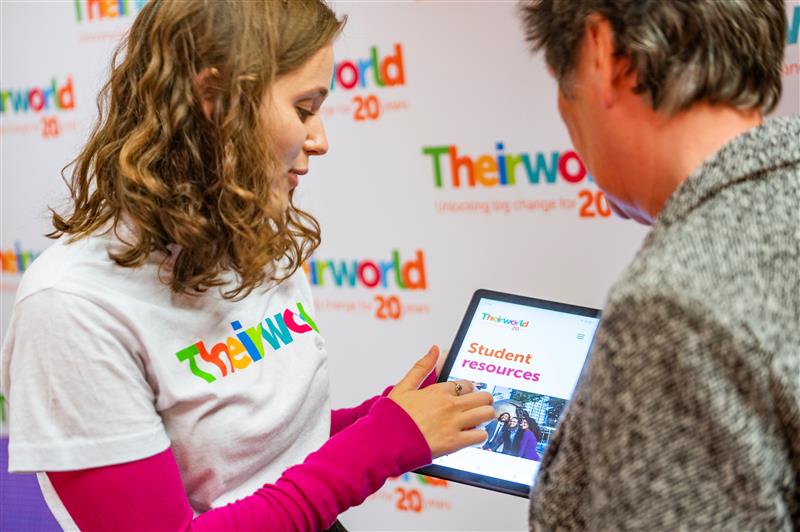 Take the test and discover how our Schools Hub helps students grasp the global education crisis
MyBestStart programme gives young girls the education they deserve
MyBestStart programme gives young girls the education they deserve