Getting children back to school after Hurricane Irma devastation
Children's welfare after natural disasters, Education Cannot Wait, Education in emergencies, Refugees and internally displaced people
The deadly storm left many schools damaged, without power or used as shelters in Caribbean countries and the southern United States.
---
If anyone had doubted the raw power of nature to disrupt people's lives, this year has been a harsh reminder.
Natural disasters, such as floods and typhoons, forced 4.5 million people around the world to leave their homes in the first half of 2017. Hundreds of thousands of children had their education disrupted.
Last month the South Asia floods affected more than 40 million people and left 18,000 schools damaged and 1.8 million children out of school in India, Bangladesh and Nepal.
Then Hurricane Irma swept through the Caribbean and southern United States last week – causing death and devastation.
Thousands of schools were shut down and many others were used as shelters for people fleeing from the storm.
The island of Barbuda took the full brunt of Hurricane Irma. Students were due to return to school this week after the summer break. But Sir McChesney George Secondary School – the only one on the island – was severely damaged.
The government of Antigua and Barbuda said it was working on a plan to integrate the 500-plus students from Barbuda into Antigua's public school system. 
It said it was "committed to the education of the children of Barbuda and the rebuilding of the island."
It was a similar story on Anguilla, where the island's only state secondary school – the Albena Lake Comprehensive – was badly damaged.
"I've been told many schools are damaged and that the secondary school has been hit," said Rhonda Connor, UNICEF Eastern Caribbean's Chief Education Officer.
"With roofs blowing off and windows blowing out you can just imagine what that's like. We will not be able to start again for a long time."
In Cuba, more than 400 schools were affected and the government is working to get everyone back to school quickly. Of more than 20 schools damaged in Guantanamo by Hurricane Irma, only two still need to be repaired.
Students who lost their school books and uniforms in the resulting flooding will have them replaced. 
On the US Virgin Islands, some schools started their new academic year a week late after the hurricane clean-up.
In the United States, schools were closed for several days in several states, including Florida, Georgia, Texas and Alabama.
Schools in Miami and other parts of southern Florida are due to reopen next week. Some had roofs ripped off and others are waiting to have their electricity switched back on.
Schools survived the worst effects because of their sturdy structure – unlike thousands of homes that were destroyed or damaged.
In Miami-Dade County, more than 40 schools were used as shelters for people with nowhere else to hide from Irma.
In Texas, schools are still slowly reopening after suffering the effects of Hurricane Harvey last month, which left more than one million children out of school.
Raquel Sosa-Gonzalez, principal at Bruce Elementary in Houston told NPR: "For us, it's getting the students back to a sense of normalcy, and if there's anything normal and something structured that they understand, it's school.
"For us to provide that for them, a lot of happy, smiling, shiny faces today, it just brings joy to all of us here to welcome them back."
---
More news
Theirworld's mission to give children in crises a safe place to learn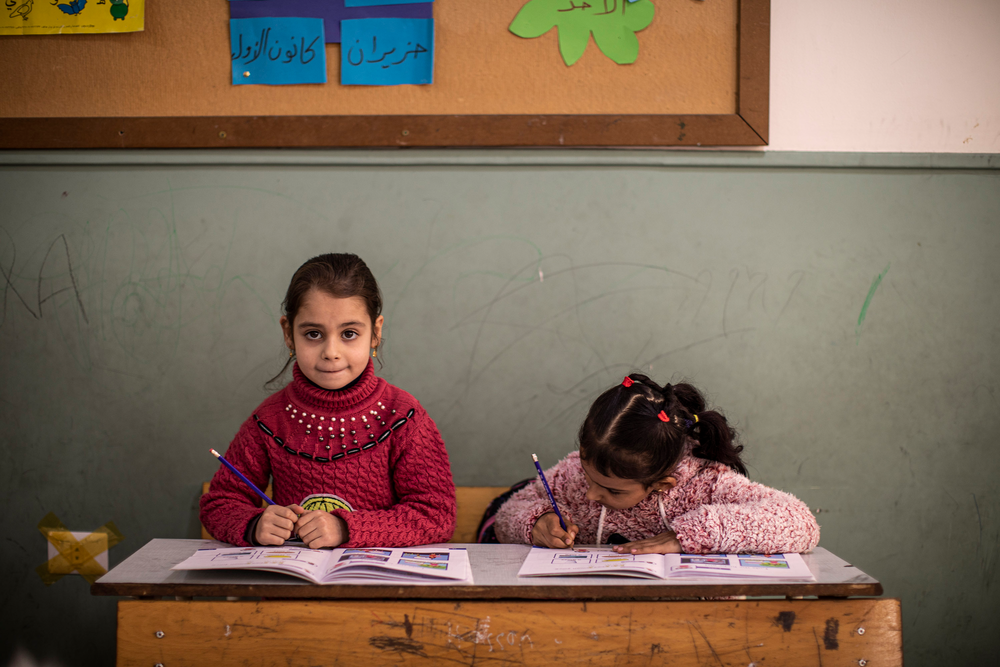 Theirworld's mission to give children in crises a safe place to learn
World Refugee Day: ACE project helps children to integrate and learn in Greece
World Refugee Day: ACE project helps children to integrate and learn in Greece