Gordon Brown: 'we need a New Deal to protect world's children from conflict and suffering'
Children in conflicts, Education in emergencies, Refugees and internally displaced people
The United Nations Special Envoy for Global Education told a summit on education in emergencies in Belgium today that urgent action is needed to help 30 million children.
---
Millions of children around the world need a "global New Deal" in 2017 to keep them safe and guarantee their right to an education.
Such an agreement would help to protect 30 million children displaced by 40 wars, United Nations Special Envoy for Global Education Gordon Brown said today.
At a summit on education in emergencies in Belgium, he added: "2016 will go down as the year in post-war history when it has never been more unsafe to be a child.
"Now it is time to put centre stage the civil rights struggle for children – for an end to the casual and routine violation of children's rights; for the right of boys and girls not to be in the front line of war; for schools not be used as instruments of war; for children's rights to education to be upheld at all times, irrespective of borders; and for us to end exploitation in child labour, child marriage and child trafficking in favour of education."
Brown called on the UN, World Bank and other international institutions to sign up to a "New Deal" for the world's children in 2017 that would mean:
All schools are protected as safe places
Children are not used as weapons of war – particularly not as child soldiers
Every refugee child's right to education is upheld
Every war crime and crime against humanity committed against children should be fully investigated
The Education in Emergencies Forum today in Brussels is hosted by the European Commission's humanitarian aid and civil protection department. 
It has brought together decision-makers, humanitarian experts and others to discuss how to support quality education for crisis-affected children.
Addressing the forum, Brown called for the International Criminal Court to act when children are the victims of attacks.
He said 500,000 children were under siege in Syria and Iraq – and evidence was mounting of a war crime against schoolchildren in Iblid, Syria, where more than 20 students were killed in an air strike.
The UN envoy said: "No child in Syria's conflict zones is safe, not even in hospitals or the recently-opened underground classrooms. 
"The evidence grows of war crimes against girls trafficked out of Libya. In Nigeria, millions of girls live in fear of Boko Haram and will not go to school. 
"With child marriage, child trafficking and child labour on the rise – and with thousands of girls having vanished on the routes from the Middle East to Europe – it can now be more dangerous to be a girl or a boy out on the streets than a soldier in the trenches.
"International law is being routinely and casually violated with schools – which should be safe havens – becoming theatres of war and children, who should be in those safe havens, forced into the front-line of so many of the world's civil conflicts."
On the potential New Deal for children, Brown said it was time to stop "passing the begging bowl" to raise funds during crises.
He added: "It is surely time to urgently find a funding formula that will allow guaranteed support for refugees – and a chance for them not simply to have food and shelter but schooling too.
"This is all the more necessary because recent appeals for funds for education in emergencies have yielded so little return  less than 10% in Nigeria, DRC and Iraq and less than 1% in Burkina Faso, Chad and the Central African Republic.
"The answer must now lie in World Bank President Jim Kim's laudable ambition to make his organisation the bank for the international system. 
"I believe we can secure a new deal between the UN agencies and the World Bank to release the funds necessary for the safety and education of 30 million displaced children and 10 million refugee boys and girls.
---
More news
Theirworld initiative helps to deliver $30m of computers to Ukrainian children
Theirworld initiative helps to deliver $30m of computers to Ukrainian children
Theirworld's mission to give children in crises a safe place to learn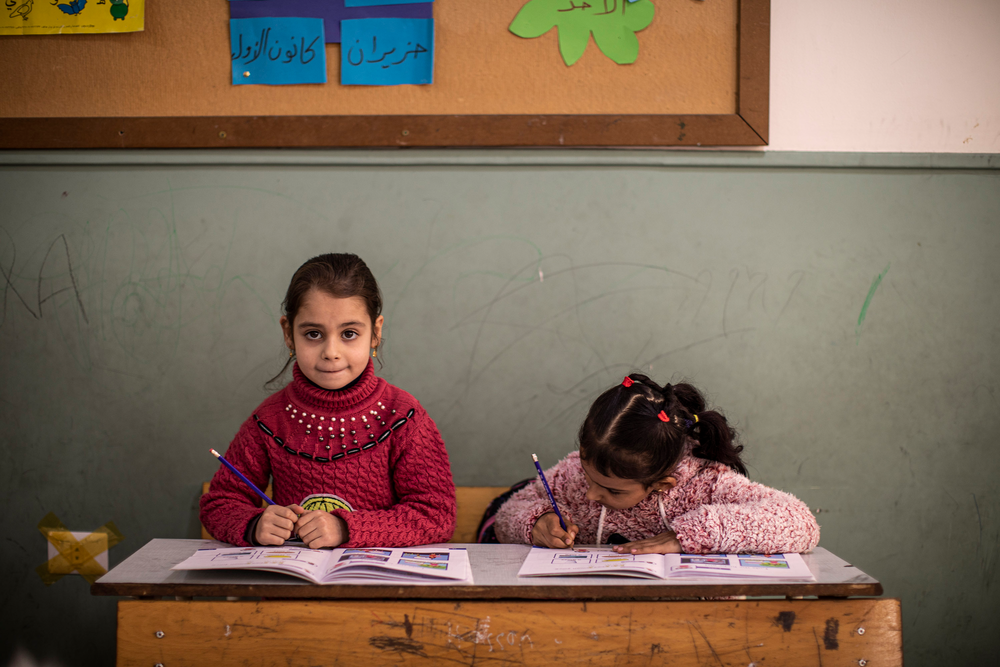 Theirworld's mission to give children in crises a safe place to learn