How Dreams from the Slum is helping Nigerian children into school
Children in conflicts, Education in emergencies
Isaac talks to children as part of Dreams from the Slums initiative
He grew up in the Nigerian slums of Ajegunle in Lagos. Now Omoyele Isaac Success is using his own experiences to better the lives and education of children facing the same hardships.
Isaac realised that by giving a child a pen, a text book and shoes, he was equipping them to get back to school.
Knowing all too well the struggles that come without access to basics of education, he was inspired to start an initiative called Dreams from the Slum, also known as Reachout 22 Project.
The aim of the organisation is to get children back into school and provide psychological support for youths and children with special needs.
Isaac with some of the children who received shoes for school
As well as extreme poverty, many children in the Lagos area found themselves out of school for more than two years after escaping the Boko Haram insurgence.
Isaac and his organisation work to provide aid to families displaced by conflict, giving them school supplies, clothes and food.
Isaac is also one of A World at School's network of 500 Global Youth Ambassadors in 85 countries. He said: "Dreams from the Slum came into existence as a result of my personal experience and the high number of children that are out of school.
"I believe that the education of every child is important and not having basic school supplies such as notebooks, bag and pens stops the child from learning.
To mark World Food Day last month, Dreams from the Slum encouraged children to attend school in Araromi Community by providing meals for 381 children, as well as back-to-school supplies for 732 students.
Isaac said: ''Feeding the children is part of our strategic plan to encourage them to be in school. We echoed to them the importance of education and their right to get an education."
On his role with A World at School, Isaac said: "Being a Global Youth Ambassador is an opportunity to network with like-minded youths all over the globe, to share best practices and ideas which will go a long way to impact the work of Dreams From the Slum as we stand up for education."
Nigeria has the highest out-of-school population in the world –  more than nine million children are not in primary school. 
The Dreams from the Slum team visit a school
"This is why every school session, I reach out to over 700 children living in remote and desolate communities to get them set for school by giving these materials to them."
Dreams from the Slum operates in three states and five communities in Nigeria and in a remote village in Ghana.
Isaac added: "Having mentored the children in Araromi Community in Ajegunle, I saw a need to inspire the children to read as I strongly believe readers are leaders.
"We intend to build the first library in the community so as to instil in them a reading culture."
School students in Ajengule with their new supplies 
Boko Haram has repeatedly targeted education and children, particularly girls. The United Nations children's agency UNICEF reported in September that 500,000 children had fled their homes in the previous five months because of growing attacks – taking the number of displaced children in northeastern Nigeria and neighbouring countries to 1.4 million.
The first Safe Schools Initiative was launched in Nigeria last year following the kidnapping of 276 Chibok schoolgirls.
The Global Business Coalition for Education – alongside the UN Special Envoy for Global Education, A World at School and the Nigerian government – leveraged $30 million from business, government and international donors. This result was a government initiative and a UN multi-donor trust fund for Safe Schools.
Since the start of 2015, UNICEF has increased operations in Nigeria, Niger, Cameroon and Chad to vaccinate more than 315,000 displaced children and providing counselling and psychosocial support to 75,000 children.
---
More news
Theirworld initiative helps to deliver $30m of computers to Ukrainian children
Theirworld initiative helps to deliver $30m of computers to Ukrainian children
Theirworld's mission to give children in crises a safe place to learn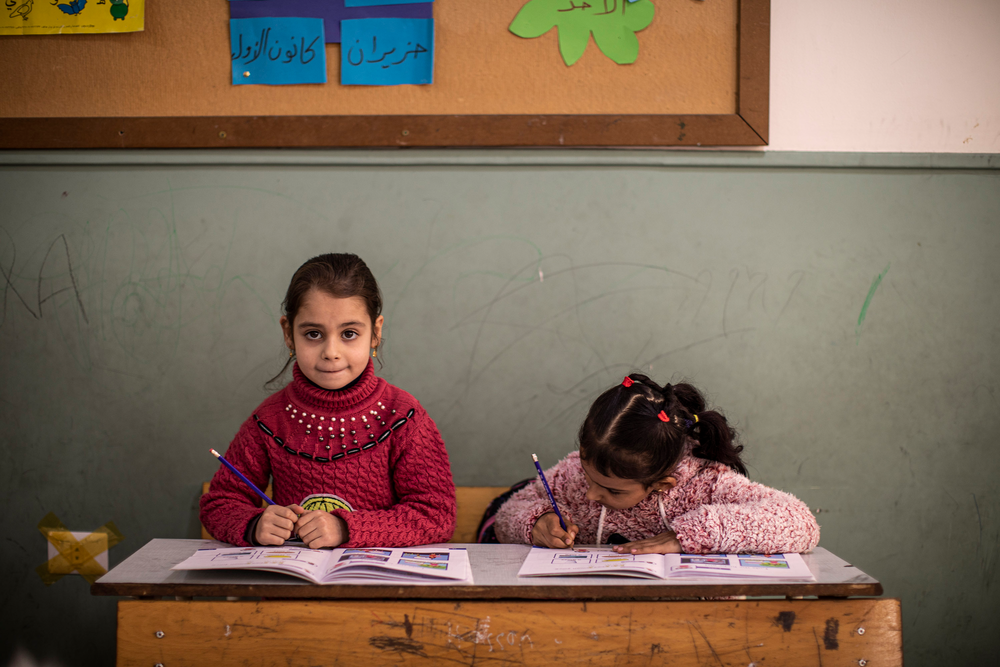 Theirworld's mission to give children in crises a safe place to learn