I will not shut up until Chibok girls are found says campaigner Oby Ezekwisili
Chibok girls, Children in conflicts, Safe schools
Oby Ezekwesili signs A World at School's #UpForSchool Petition
It is now almost a year since more than 200 schoolgirls were snatched from their school in Chibok and taken into the night by Boko Haram terrorists.
They have not been seen since – other than in propaganda videos by the Nigerian gunmen – and the world seems to have moved on since the heady days of the start of the #BringBackOurGirls campaign.
But one woman who refuses to forget is Oby Ezekwesili, former Nigerian education minister and one of the leaders of the campaign. She was in London for the Women of the World Festival and spoke about the plight of the missing girls and their families.
In an interview with BBC Radio 4's Woman's Hour today, she was asked about speaking out as a woman in Nigerian society. Ms Ezekwesili said: "We are coming to terms with the fact that women own their voices and that women can use their voices. But we are not fully in tune with the idea that a woman would just keep on the same issue and completely refuse to be silenced.
"I've been told sometimes 'Just shut up' – and I say nothing is going to make us shut up until the Ch-bok girls are brought back. We owe them our voice. We are amplifying their own voice that has been taken from them."
The students were abducted from the Government Girls Secondary School in Borno state last April. #BringBackOurGirls campaigners keep in touch with the families and Ms Ezekwesili said: "One minute they have plenty of hope and the next minute they have plenty of doubt and then they are angry. The swings are incredible.
Picture: Facebook/BringBackOurGirls
"What's amazing is how resilient they have been. One of the things they say to us and which really hits home is 'You're the only one still talking about our daughters – if you stopped , then our daughters would not be talked about'."
On the subject of threats to herself and other campaigners, she said: "The cost of losing 219 girls is much higher than any threat anyone could be posing to us.
"I refuse to give up. I have been very fortunate in life – education got me far and I feel totally obliged to these young women who remind me of my humble beginnings. Whatever I can do to ensure that their decision to go and get an education does not become the business for losing their lives."
In the wake of the Chibok kidnappings and other attacks on education, the Safe Schools Initiative was launched in Nigeria by United Nations Special Envoy for Global Education Gordon Brown, alongside the Global Business Coalition for Education and Nigerian private sector leaders. Last month the initiative was backed by the US Government, which donated $2 million to help the education needs of thousands of children affected by Boko Haram's reign of terror.
On educating girls in Nigeria and beyond, Ms Ezekwesili said: "How can the choice be between staying alive and being educated? That is a terrible kind of choice to offer any young woman. Every young woman on the planet must be given the opportunity for an education.
"Educate a young woman and what you've basically done is you've liberated the world. A young woman who has acquired knowledge is a young woman who is going to lead the world."
---
More news
Theirworld initiative helps to deliver $30m of computers to Ukrainian children
Theirworld initiative helps to deliver $30m of computers to Ukrainian children
Theirworld's mission to give children in crises a safe place to learn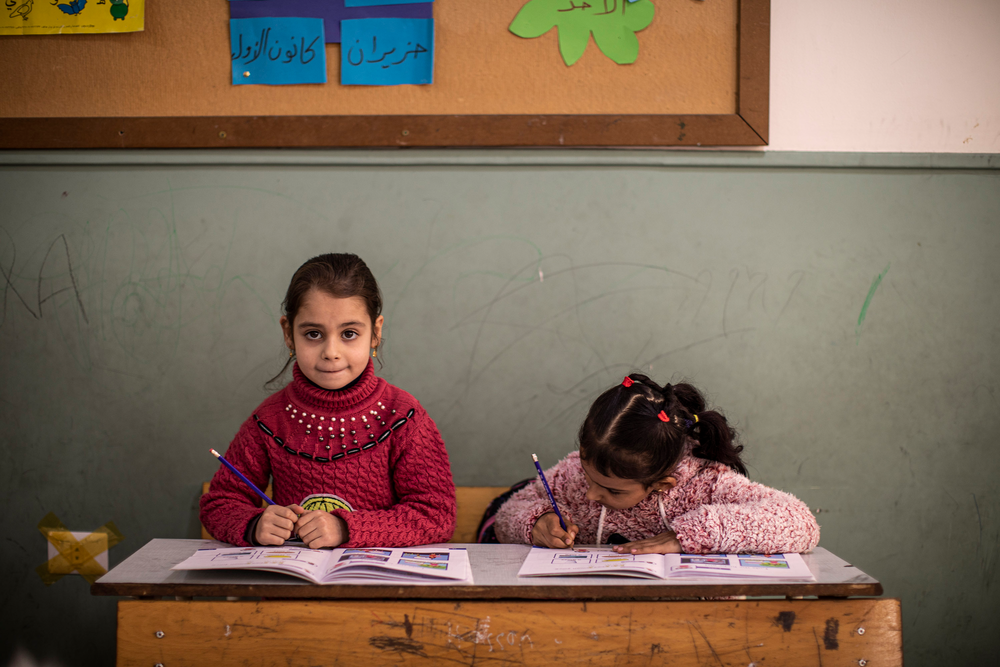 Theirworld's mission to give children in crises a safe place to learn