School for grandmothers: Indian women aged 60 to 90 get lessons for the first time
Barriers to education, Girls' education, International Women's Day, Right to education, Teachers and learning
---
Set up last year to mark International Women's Day, the school in Maharashtra state is thought to be the only one of its kind for uneducated, elderly women.
---
A little before 2 pm each day, when residents of Phangane village in India's Maharashtra state usually take a quick nap in the heat of the day, elderly women in bright pink sarees head towards a colourful hut, clutching satchels and plastic bags.
Inside the hut, festooned with streamers and flowers, the women gingerly sit cross-legged on cotton rugs on the mud floor, and pull out slates, notebooks, chalk and pencils. 
Minutes later, a younger woman leads them in a prayer song before they begin reciting the Marathi alphabet after her.
The Aajibaichi Shala, or grandmothers' school, is perhaps the only one in India for uneducated, elderly women. Set up by a charitable trust and Yogendra Bangar, a teacher at the village's primary school, the school teaches the women to read and write, and basic arithmetic.
"These women did not have the opportunity to study when they were young," said Bangar
"It's not as if they want to go to college or work in an office now. But they do want to be able to read and write, and sign their names, like everyone else in their families."
Literacy levels in India have steadily risen over the past decades as the economy expanded and greater emphasis was placed on education. But women still lag men, particularly in rural areas, where girls are often not sent to class or are pulled out after primary school so they can work at home or in the fields.
While 79% of India's rural men are literate, the rate for women is only 59%, according to official data.
Aajibaichi Shala was set up last year for women over 60 to mark the International Women's Day on March 8. It was first run out of the home of the woman who was the sole teacher, 30-year-old Sheetal More.
The opening day was celebrated like a festival, with entire families accompanying the women to their first day of school, More said. Since then, classes have been moved to a purpose-built hut in her backyard, in the shade of a large mango tree.
"At first I was a bit nervous about teaching such elderly women. Even my mother-in-law comes to class," said More, who has finished high school.
"But they are all so eager and behave just like little children in class. Every other teacher teaches children; only I have the opportunity to teach elderly women," she said.
There is little to distinguish Phangane from other villages in the western state, one of India's wealthiest. About 75 miles from the bustling financial hub of Mumbai, the village of 70 families is a tidy enclave, with clean mud roads and brick homes divided by fences and gardens.
During the day, women go about their chores, cleaning, cooking and tending to the livestock and young grandchildren.
About 30 women aged 60 to 90 attend classes for two hours in the afternoon, six days a week. In the past year, they have learned the Marathi alphabet, numbers and can write their names, Bangar said.
The women, including More, wear fuchsia sarees to class to replicate the experience of wearing a school uniform, he said.
"I like going to the school – I have learned to write my name and I have learned the alphabet," said Kamal Keshav Tupange, 68, as she washed clothes on a slab of stone.
"My knees hurt, so I can't sit on the floor for long; that's the only problem. But I still go every day," said Tupange, who was married at the age of 12 and had never been to school.
I can sign my name now, and read and write a little - it feels good. Anusuya Kokedar, 65-year-old student
It is a similar story with most other elderly women in the village. Most did not go to school as children, and were married at a young age.
While the legal age for marriage for women in India is 18 years, nearly half the women are married earlier even now, according to the United Nations children's agency, Unicef.
India enacted the landmark Right to Education Act in 2009, giving children from poor and other disadvantaged backgrounds the right to free and compulsory education to the age of 14.
Prime Minister Narendra Modi has made education of girls a priority, launching a welfare campaign in 2015 titled: "Beti bachao, beti padhao" (save the girl child, educate the girl child).
On a recent Wednesday afternoon in Phangane, about 20 women made it to class with their books and bags, the ends of their sarees covering their heads. One came with her grandchild.
After the prayer and roll call, they recited the alphabet. Some practised writing in their notebooks and their slates, their bangles clinking as they focused on their letters.
Others chatted among themselves and giggled. The class ended with a recitation of the multiplication tables, as children ran in to look in on their grandmothers.
"I did not study when I was young," said Anusuya Kokedar, 65. "It's nice to sit with the other older women in the village and learn. I can sign my name now, and read and write a little; it feels good."
---
More news
Skills for the future give young people the best chance of success
Skills for the future give young people the best chance of success
Take the test and discover how our Schools Hub helps students grasp the global education crisis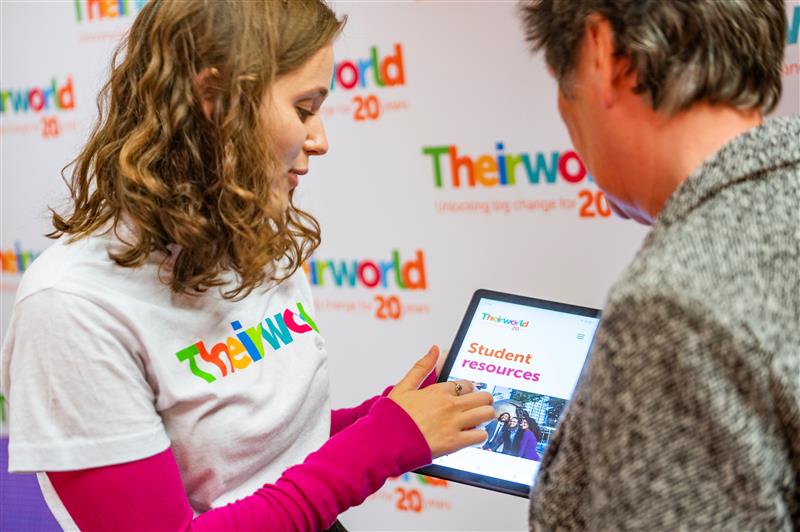 Take the test and discover how our Schools Hub helps students grasp the global education crisis