Life in Dadaab: being a head teacher in Kenya's massive refugee camp
Barriers to education, Education Cannot Wait, Education in emergencies, Girls' education, Refugees and internally displaced people, Right to education, Teachers and learning
---
Peter Atum tells of the many challenges he faces in educating displaced children from different countries and with limited resources. 
---
Dadaab is a complex of refugee camps in eastern Kenya which hosts almost 250,000 people. Like any city, it has schools, hospitals and transport systems. Most of the refugees living there are from nearby Somalia – but there are also people from other countries including Ethiopia, South Sudan and Rwanda.
In a special series of reports from Dadaab this week, we look at life for children living in the camp – which is run by the United Nations refugees agency UNHCR – and talk to a head teacher and young people aged from seven to 16.
Dadaab is one of the biggest refugee camps in the world and has served as a home for many refugees for the last 25 years.
The number of families is growing each day. To every newborn child, Dadaab will be their home. Here children find peace and their parents prefer the camp to their own countries.
Peter Atum is the head teacher of Friends Family School, which was established in 1993 in the camp's Section S. He joined as a senior teacher in 2014 and two years was promoted to head.
The school is made up of different nationalities such as Southern Sudanese, Somalis, Congolese, Rwandese and Ethiopians
Peter confessed that – even with 10 years' experience in teaching – he still has a challenge attending the children of different cultures who share different norms. 
"A joke to one community can be an insult to another community so you have to learn how to solve these problems," he said.
As the head teacher, he has learned to study the different nationalities and analyse to avoid any conflict of interest. 
He explained: "We use two languages in the school to communicate – English and Kiswahili – and the children go through the Kenyan 8-4-4 system (eight years of primary education, four years of secondary and four years of college or university).
"For the children who do not speak these languages, especially Kiswahili, there are some Kenyan teachers who help them. 
"We have some refugees who come in between learning seasons in the term. A good example is the current Somali crisis. Some time ago the military contained the situation and some families moved back to Somalia.
"They included two of our Somali students – a boy in class seven and a girl in class five. When they arrived back in Somalia, unfortunately they found the education system was not good quality and they wanted to come back.
"The parents wanted the girl, who is 14, to settle down to allow them to look for a husband to marry her. The information luckily reached the United Nations and I am happy to report the two children are back in school here in the camp."
The school had a population of 2000 students in January. But the Kenyan government relocated many people to Kakuma refugee camp and now there are only 700 students.
Peter faces many challenges – one of them is a lack of trained teachers. The school has 19 teachers and only three of them are trained, including him.
So they spend a lot of their weekends preparing lesson plans to enable the other teachers to do their work.
Peter said he hopes "there are well-wishers or the Kenyan government to kindly train the teachers so that the school can get the right skills to teach the students". 
The education in this area of the camp is promising. Some of the students get 350 out of 500 in their Kenyan national examination and many of them are talented 
"Another problem in the school is the curriculum," said Peter. "It is not the same as the learners in all other schools in Kenya, so the performance might differ because of the few differences here and there.
"However, the ministry of education in Dadaab sub-county has started to inform us of the right content so we can get the right textbooks for the syllabuses."
The weather in this part of Kenya is extremely hot, so students cannot do many PE activities. 
"But they still do their best in the competitions," he said. "The girls have won trophies in the athletes competitions. If we can get play materials, like balls, it would help the children to participate and develop their skills and nurture their talents."
Last  year the Kenyan government threatened to close Dadaab's camps and relocate everyone. But the country's high court blocked that move in February.
Peter said: "The government wanted to relocate us to our various countries and to Kakuma and that was a challenge – because this is our home and there is nothing in our countries that we are going to do or have.
This is our home and there is nothing in our countries that we are going to do or have. Peter Atum, head teacher of Friends Family School at Dadaab refugee camp
"The other challenge that affected us psychologically is that the neighbouring community here is friendly, not like in Kakuma.
"Relocating also was going to affect the community since the area was their home and they have been living in peace for the past 25 years."
Another challenge came in May when floods affected more than 60,000 people at Dadaab.
"Many lost their belongings and they have been hosted in the school as the agency is still look for an alternative for them," said Peter. Relocating these families would be heartbreaking.
His final message was for UNHCR, other organisations, private donors and government.
He said: "Please work together to put the education system for the refugee kids at the heart of the camp – to make a bright future for them by buying learning materials and training teachers."
Read Voices articles by Dadaab refugees
---
More news
Skills for the future give young people the best chance of success
Skills for the future give young people the best chance of success
Take the test and discover how our Schools Hub helps students grasp the global education crisis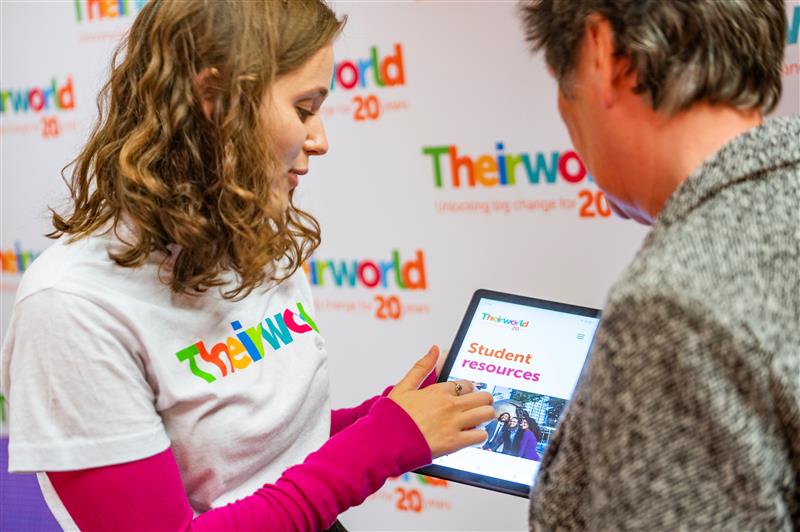 Take the test and discover how our Schools Hub helps students grasp the global education crisis