Watch Teacher Wanjiku become the latest comedian to back #5for5 campaign
Child nutrition (Early years), Childcare, Early childhood development, ​Learning through play (Early years), Theirworld
---
The Kenyan star acts like a baby in a new Theirworld film to show the importance of early childhood development.
---
She has a 20-month-old daughter. So the Kenyan comedian best known as Teacher Wanjiku knows all about the importance of early nurturing care for young children.
She's the latest in a series of well-loved comics who dressed up as babies to support Theirworld's #5for5 campaign. 
Each has channelled their inner child in videos to promote the #5for5 message – that children under five need five key things – nutrition, health, learning, play and protection. 
As well as Teacher Wanjiku, this week we have launched new videos featuring Rainn Wilson from the US version of TV's The Office; Jackie Tohn, the comedic actress currently in the TV series GLOW; Matt Lucas from films and TV series including Doctor Who and Little Britain; and stand-up comedians Wendy Liebman, Shappi Khorsandi and Nish Kumar.
"I love Theirworld's #5for5 campaign because I can relate to it as my own 20-month-old daughter is my biggest motivation," said Teacher, whose real name is Carolyne Wanjiku. 
"This campaign proves that every child below the age of five needs to have good early care and nutrition for proper development, so they can grow into healthy adults."
#5for5 calls on world leaders to take action and invest to make sure all children have access to the care and support they need to thrive.
Kenya has made vast strides in improving the situation for young children and their families. During the last 15 years, maternal mortality rates have been cut in half and primary education has been made free for all.  
But many challenges remain to ensure all Kenyan children – particularly the most vulnerable – survive and reach their full developmental potential.
A report from Theirworld and the Kenyan organisation KANCO in November said action is needed – or children from the poorest and most marginalised groups will continue to be left behind.
The report said poverty, lack of access to services, inadequate resources and violence prevent too many families from being able to provide essential support to their children in the first five years.
Sarah Brown, President of Theirworld, said: "By the time a child reaches the age of five, 90% of their brain has already developed. 
"Investing in the first five years of a child's life has been proven as critical in providing all children an equal chance at success, no matter who they are or where they are born.
"But despite the evidence world leaders are not committing funding for programmes to make sure all children -particularly the poorest and most marginalised – are given the best start in life."
A new Theirworld report called Bright and Early – supported by the Conrad N. Hilton Foundation – was also published this week.
It warns that the severe lack of investment in early years support puts millions of children at a disadvantage before they even start school. 
Campaigners are calling on world leaders meeting at the G20 in Germany next week to commit to a dramatic increase in funding for pre-primary education.
Thank you to our partners and supporters on the #5for5 campaign – in particular the Conrad N. Hilton Foundation.
---
More news
Take the test and discover how our Schools Hub helps students grasp the global education crisis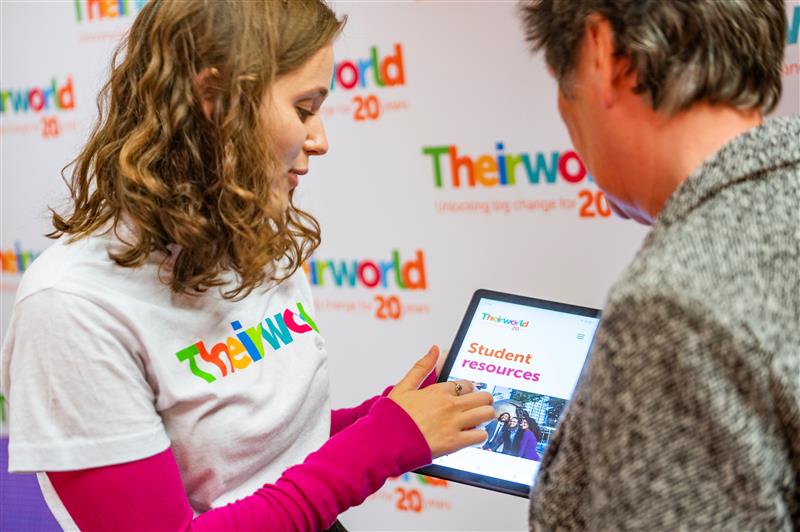 Take the test and discover how our Schools Hub helps students grasp the global education crisis
MyBestStart programme gives young girls the education they deserve
MyBestStart programme gives young girls the education they deserve