LEAP into learning: Theirworld-backed project helps street children with hidden disabilities and special education needs
Children with disabilities, Teachers and learning, Theirworld
---
Specialist assistants aid Kenyan children in the classroom and also work with parents and the community to reduce stigma and discrimination.
---
Thousands of children in Kenya live or work on the streets. They can experience neglect, stigma, addiction and exploitation – and many drop out of primary school or don't get any education.
For street children with disabilities and special education needs, the challenges include discrimination from their communities, teachers and even their own parents.
But a Theirworld-funded project is supporting hundreds of children with visible and hidden disabilities, such as dyslexia or hearing and visual impairment, who are also "street-connected" – meaning they spend all or some of their time living or working on the streets.
The LEAP (Learning, Educating And Protecting) II project is just getting underway in schools in Vihiga County, near Lake Victoria, and will be run by Chance for Childhood and its in-country partner Kisumu Urban Apostolate Programmes.
It matches children with a specialist Learning Support Assistant (LSA) who works with them in the classroom at a mainstream school. The LSAs will work at 12 schools to help students with tasks such as reading the board or helping them to take notes, as well as assisting teachers to make their classrooms more inclusive.
But LEAP's work goes further, working with parents and the community to destigmatise disability. That includes workshops for parents to teach them about inclusive education, get their children into school and teach basic sign language to help with communication.
The initiative is known as LEAP II because it is the second round of LEAP after the original project was launched in 2016 and funded by Comic Relief. LEAP II is supported by Theirworld thanks to the players of People's Postcode Lottery.
Kisumu Urban Apostolate Programmes said: "We are looking forward to an exciting partnership with Theirworld through our partnership with Chance for Childhood as we support children with street connections.
"There was a need in Vihiga County for children with street connections, especially in literacy and numeracy. Issues of safeguarding and child protection in school and the community needed more intervention.
"The directors, LSAs and the head teachers of 12 schools have embraced the project and are equally excited because of the milestones encountered for children in the previous project."
One child helped by LEAP I was Ruth, who was not at school because her mother could not afford the fees. LEAP staff enrolled her in school, with an LSA to support her learning and a counsellor to provide psychosocial support.
Chance for Childhood said: "Ruth has shown great improvement. We are delighted to report that she has risen from the bottom 20 to top 10 in her class. Her self-esteem has increased and we believe she will continue to do well."
A 2018 study in Kenya found that 76% of street people had completed their primary school education but only 14% finished secondary school.
The closure of schools due to the pandemic led many children – mostly boys – in Vihiga County to become street-connected. Some have not returned to school and efforts will be made to locate them and give them support in the future.
---
More news
Technology has the power to expand education for children with disabilities
Technology has the power to expand education for children with disabilities
Take the test and discover how our Schools Hub helps students grasp the global education crisis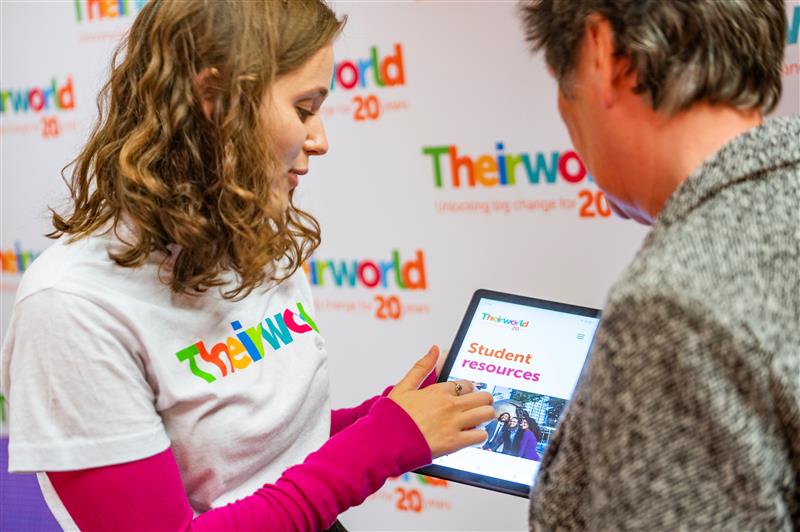 Take the test and discover how our Schools Hub helps students grasp the global education crisis