Lebanon: How do you educate an extra 500,000 Syrian refugee children?
A World at School, Children in conflicts
---
The conflict in Syria is entering its fifth year. Fourteen million children are now affected across the sub-region and almost two million of those are living as refugees in neighbouring countries.
As a result of the fighting, more than three million children are out of school and unable to continue with their education. Families still in Syria are terrified to send their children to school – where the school is still standing – and those who have fled the violence to neighbouring countries are faced with school systems overstretched and unable to absorb the sheer numbers of refugees wanting to enrol.
Nowhere is this problem more acute than in Lebanon. Since 2011, 1.2 million people have fled the conflict to this country, representing more than one-quarter of its total population. Of this 1.2 million, nearly half are thought to be children. That is 500,000 children who have had to pack their bags and flee their homes as fighting draws closer. 500,000 children who have lost family members or parents. 500,000 children who have left their schools, their friends and everything that is familiar to them.
The Lebanese government has shown great commitment to ensuring each and every one of these children is able to access basic education. It has opened its schools to run a 'double shift' system which allows Lebanese children to be taught in the mornings and Syrian children to be taught in the afternoons, using the same schools, the same teachers and the same curricula.
Lebanese children learn French in a Beirut school – after they finish their classes for the day, their classrooms will be opened to a second shift of Syrian children
But educating an additional 500,000 children is not cheap. The Ministry of Education has estimated that the additional cost of teaching each child is $600 per year. With funding received from the international community the government has so far been able to absorb an additional 100,000 children into its school system but there is currently a funding shortfall of $136 million to reach every child. That means that there are still 400,000 children without any access to education in Lebanon. 
Last week, I was in Beirut to see this system in action. I met children who had experienced things in their short lives that I can only imagine. Many of these children are attending school for the first time in months, even years.
Yet their circumstances have done nothing to dampen their dreams for the future. Asked what they want to be when they grow up and you get the same answers you would the world over – a teacher, a doctor, a journalist. Going to school provides these children with a sense of normalcy, a routine. It is a protective environment which gives them an opportunity to play, to be children and to secure a brighter future for themselves.
Education is often the first casualty in times of crisis. Of the 58 million children out of school around the world it is estimated that half of these live in countries affected by conflict. A World at School is campaigning to ensure that no child grows up without an education. No matter where they live.
Sign and share the #UPForSchool petition that we will take to world leaders demanding action for funding for education in conflicts.
---
More news
Theirworld initiative helps to deliver $30m of computers to Ukrainian children
Theirworld initiative helps to deliver $30m of computers to Ukrainian children
Theirworld's mission to give children in crises a safe place to learn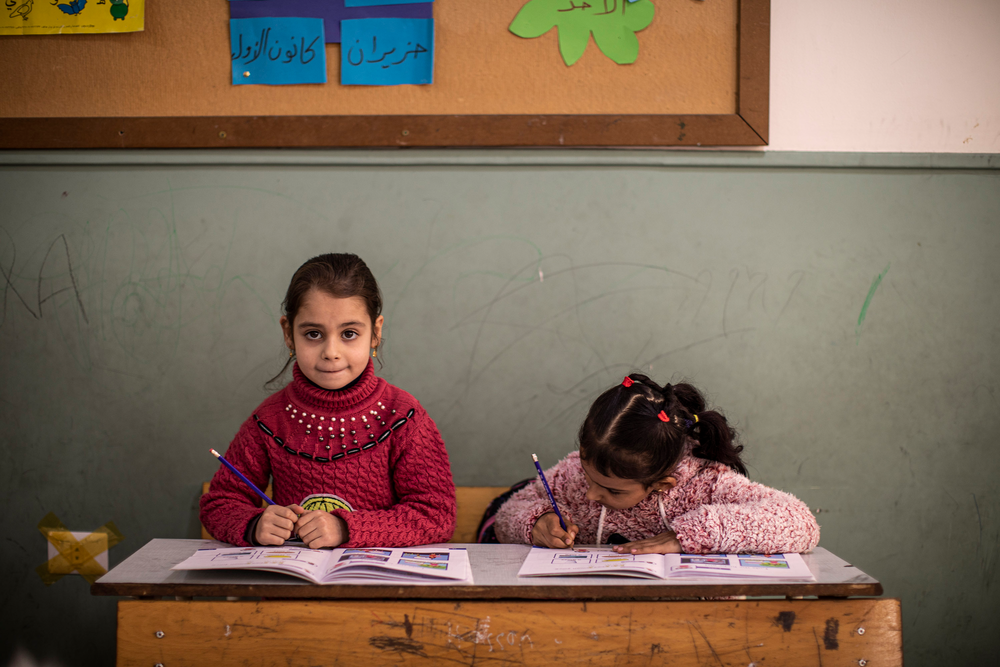 Theirworld's mission to give children in crises a safe place to learn