Classes to reopen for 150,000 Syrian refugee children in Lebanon after funding fears
Refugees and internally displaced people, Theirworld
"Second shift" classes in the country's public schools had been delayed but were due to start today after talks between the education ministry and UN agencies.
---
About 150,000 Syrian refugee children were due to return to school in Lebanon today after a funding gap had left their education in doubt.
Classes had been expected to resume last week but were delayed after a shortfall of $8.6 million from international donors led to teachers not being paid. However, all public schools are expected to open their "second shift" classes, where the majority of students are refugees.
Theirworld was the first organisation to develop a blueprint for schools in Lebanon to host a double-shift system to accommodate the number and education capabilities of local children and Syrian refugees. 
"It is really positive to see that Syrian refugees in Lebanon will now be able to begin their new school year," said Theirworld President Justin van Fleet. "We will continue to campaign for the international community to ensure every refugee is in school.
"We hope that continued support from the international community and additional support from non-formal education partners makes it possible to surpass last year's targets of about 300,000 non-Lebanese students benefiting from education in Lebanon."
Theirworld's #WriteTheWrong campaign aims to help every child in the world receive a quality education, including the 75 million children displaced by humanitarian emergencies such as the Syria conflict.
There are 950,000 Syrian refugees officially registered with UNHCR in Lebanon but the government estimates it is actually hosting 1.5 million Syrians. Lebanon has a population of 6.8 million, making it the country with the highest number of refugees per capita.
About half of school-age Syrian refugees in Lebanon are not in school. Last year there were 208,000 non-Lebanese children enrolled in public primary schools and 5,000 in public secondary schools. 
Many of them had been in the morning shift classes but increasingly Syrian students are being pushed into the second shift. That's mainly because an increasing number of Lebanese students are dropping out of private schools and into public ones because of economic difficulties.
International donors have been giving about $120 million a year since 2015 to support schooling for refugee and local children in Lebanon. Education Minister Akram Chehayeb announced last week that the start of the second-shift school year would be delayed due to a funding shortfall that meant teachers were not paid in June.
But after meeting with representatives of United Nations agencies UNHCR and UNICEF, he said on Friday that classes would go ahead today. It was agreed that alternative funding methods would be explored that would see a shift towards support for the whole education system.
"We welcome the Ministry of Education's sustained efforts in providing quality public education for all," said Philippe Lazzarini, the UN Resident and Humanitarian Coordinator in Lebanon. 
"Education plays a central role in society, protecting young children, including refugees, and preparing them for the future and their role as citizen of the world."
Thirteen-year-old Moaed is a Syrian student who attends an afternoon shift class in the Bekka Valley. He told UNHCR: "I was very happy to have this opportunity to attend school. I loved it from day one. I missed two years of schooling because of the war."
Theirworld's involvement in Lebanon began in 2013, when more than 500,000 school-aged refugee children were living in the country but very few were in school. We funded a team of experts to work with the government, international agencies and NGOs to develop a solution – and the proposal was the double-shift school system. 
Theirworld convened a meeting at the UN General Assembly with the UN Special Envoy and donor agencies to present the plan and embarked on a campaign to raise the funding and political will to make it a reality.
The double-shift system has become a central pillar of the Reaching All Children with Education national strategy in Lebanon.
---
More news
Take the test and discover how our Schools Hub helps students grasp the global education crisis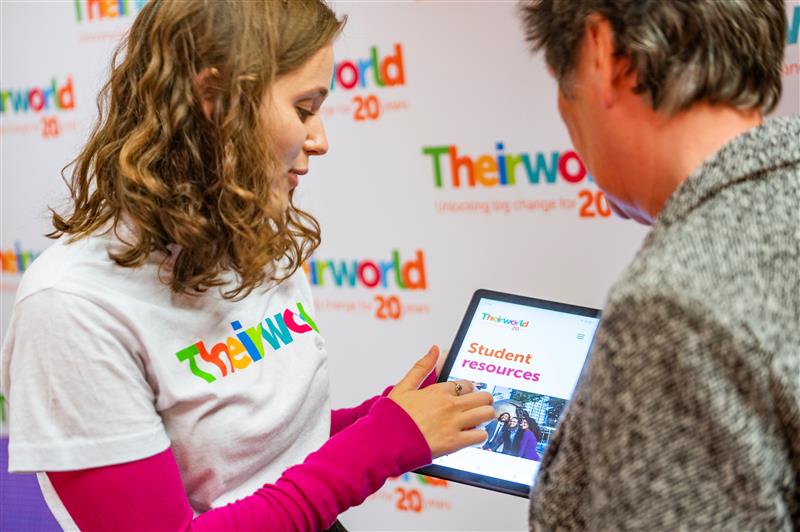 Take the test and discover how our Schools Hub helps students grasp the global education crisis
#LetMeLearn: the story of a global education campaign
#LetMeLearn: the story of a global education campaign