Libyan children go back to school in war-torn Benghazi
Children in conflicts, Education in emergencies
---
Students happy to be back at Beshayer school in Benghazi
Schools in the war-torn Libyan city of Benghazi have reopened for the first time in a year and a half, although international peace efforts have yet to quell the fighting.
"I'm so happy to be back at school," a 13-year-old girl said before going into class at Beshayer school on December 13.
Its classrooms stand just 500 yards away from the scene of some of the fiercest clashes between government forces and armed groups including jihadists over the past 18 months.
"Everything's quite normal," she said, a whisp of hair showing beneath a flowery yellow headscarf. "I'm not scared." 
In jeans and sweatshirts, young pupils improvised a football game in the schoolyard. Outside, parents dropped off their children, relieved their education was back on track.
Abdelaziz al-Dinali waved his two children goodbye from his parked car as they resumed classes, two months later than pupils in the rest of the country.
"God willing, with the return to school, security will also return to Benghazi," he said.
Girls arrive for the first day back at school on December 13
Schools in Libya's second city closed in mid-2014, with the country in chaos ever since the 2011 overthrow of dictator Muammar Gadaffi.
Islamist-backed militias seized the capital that summer, prompting the internationally recognised government to flee to the far east of the country.
As a temporary solution, the local education board instructed children in Benghazi, 620 miles to the east of Tripoli, to study the national curriculum at home.
Parents picked up schoolbooks from government offices and children only went to school for exams.
Home schooling took place as fighting raged across the city, killing hundreds and displacing tens of thousands. 
Around 2000 people died in Benghazi between the beginning of 2014 and last month — the highest for any Libyan city in that period, independent website Libya Body Count says.
Some 100,000 people fled their homes in the city, according to the United Nations, emptying entire neighbourhoods.
One of the first classes at Beshayar school since last year
Only about a third of the city's 254 schools reopened this weekend. As thousands were made homeless, 64 schools became shelters for the displaced, a spokesman for the local education board said.
"Thirty-one schools have been used as alternatives to Benghazi's universities" in areas of fighting, Ahmad al-Qibaili said.
The education ministry now faces the challenge of accommodating up to 150,000 pupils in the 77 schools it has reopened.
Ideas have been mooted to teach in morning and afternoon shifts or in two three-day blocks during the week, according to an official source. 
No extra security measures were taken outside Beshayer school on Sunday but parents had to pass through the city's many checkpoints before dropping off their children. New schoolbooks and uniforms had still not arrived.
As the international community steps up pressure on rival factions to agree on a national unity government to end Libya's conflict, Benghazi's children are making a fresh start.
"All those who didn't show up should come!" 11-year-old Mohammed Abdelaziz said.
© 1994-2015 Agence France-Presse
---
More news
Theirworld initiative helps to deliver $30m of computers to Ukrainian children
Theirworld initiative helps to deliver $30m of computers to Ukrainian children
Theirworld's mission to give children in crises a safe place to learn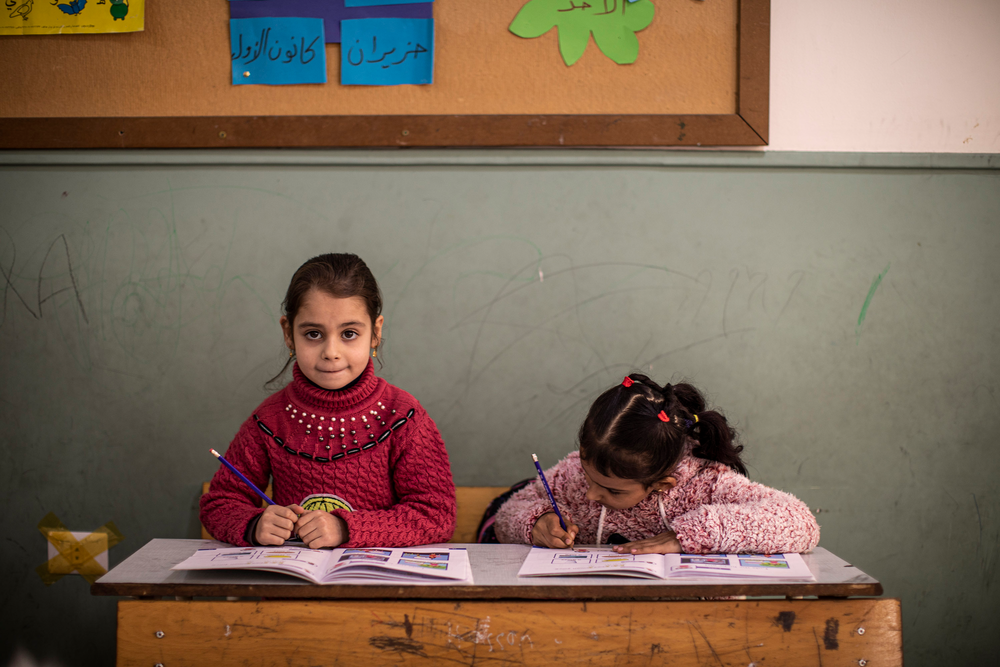 Theirworld's mission to give children in crises a safe place to learn