Watch magician Dynamo's powerful film on broken education promises to Syrian refugee children
Celebrities, Children in conflicts, Double-shift schools, Education in emergencies, Refugees and internally displaced people, Right to education, Sarah Brown, Theirworld
---
The TV illusionist and Theirworld Ambassador went to Lebanon to see the impact on children who have been left out of school.
---
Magician Dynamo has made a powerful film about his journey to meet Syrian refugee children who have been left out of school and let down by world leaders.
The British TV illusionist travelled to Lebanon to discover the impact of broken promises – two years after leaders pledged to get every refugee child into education by the summer of 2017.
In the film titled 72 Hours – part of Theirworld's #YouPromised campaign – Dynamo tells how he was inspired to act and find out more about the education crisis that has left more than 680,000 Syrian refugee children still out of school.
The Theirworld Ambassador went to Lebanon to talk to children, parents and teachers after discovering one of the main reasons why families flee their homes and take their children on harrowing journeys is to get them into school.
"Most people are aware of the humanitarian crisis presented by the Syria conflict – but it's easy to feel overwhelmed and helpless by the sheer size of the problem," said Dynamo, best known for his Magician Impossible TV show. 
"This campaign presents a real opportunity to do something that will have a long-lasting effect for hundreds of thousands of vulnerable children who have suffered some of the worst atrocities imaginable.
"I hope that in a small way we will be able to change the course of history for these kids and create a positive impact amongst all the tragedy."
Now Dynamo is calling on his 10 million social media followers to share the emotional film and put pressure on world leaders to keep their promise.
Those leaders met in London in 2016 and made a historic pledge to get every Syrian refugee child in school by the end of the 2016-2017 school year. Two years on, 689,000 Syrian refugee children are out of school and funding for education has been cut, a major report revealed yesterday That puts the children at risk of child labour, early marriage or exploitation.
Theirworld's #YouPromised campaign has been pushing since last year for the international community to keep its word and for donors to give the money needed to get every child in school.
Next week world leaders will meet again – at the second Supporting Syria and the Region conference in Brussels – to look at progress on the promise made in London. You can send a message to them – sign our 72 Hours petition.
Theirworld President Sarah Brown said: "The average time a child is a refugee is up to 17 years. It is utterly irresponsible to fail to deliver on a promise of education for these children.  
"What others think is impossible – getting every Syrian refugee child in school – we know is possible. We have already got more than a million children in school. 
"But to get every child in a quality and safe education requires timely and transparent funding from governments around the world – and this is a promise they have already made."
At the 2016 conference, governments agreed that $1.4 billion was required annually for education in Syria and the countries hosting Syrian refugees – Turkey, Lebanon, Jordan, Iraq and Egypt. 
Despite the promises made in London, donors cut their support to education in the host countries in 2017 – down from $618 million in 2016 to $566 million. The education sector got only 52% of what it needed last year.
Not only has the funding dropped – there is a lack of transparency regarding financing for education, making it impossible to see how much is committed in total each year. 
Much of the funding has arrived late in the year, further complicating planning in host countries.
Sarah Brown said: "Children who aren't attending school are most at risk of child marriage and child labour. We hear of girls being forced to marry far too young and of children in child labour, doing backbreaking work in fields and textile factories.  
"We want all children back in school – not just to learn but because it's also a safe place for them. That's why it is so important – it allows them to be children."
Theirworld has been working in the region to support Syrian refugees' return to education since 2013, through supporting pilot programmes on double-shift schools and other models of education.
---
More news
Sarah and Gordon Brown share global education vision in 100th episode of Better Angels podcast
Sarah and Gordon Brown share global education vision in 100th episode of Better Angels podcast
Take the test and discover how our Schools Hub helps students grasp the global education crisis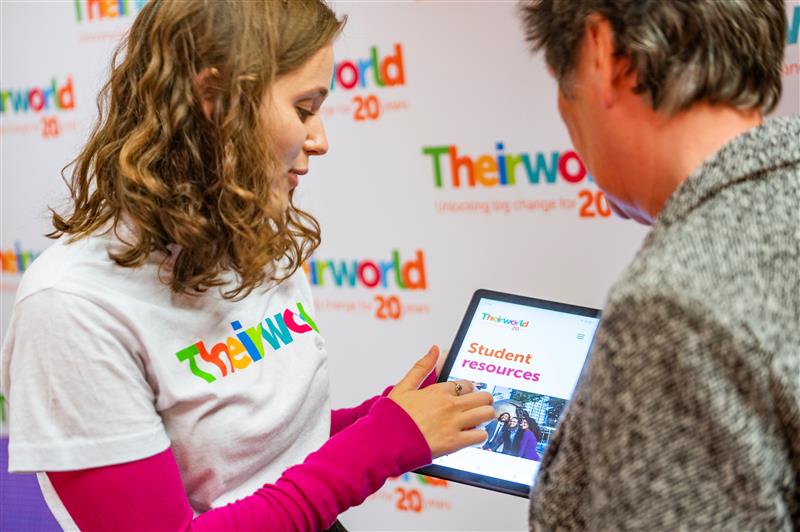 Take the test and discover how our Schools Hub helps students grasp the global education crisis