Dynamo: 'Education is the closest thing to magic you can give to a child'
Celebrities, Children in conflicts, Double-shift schools, Education in emergencies, Refugees and internally displaced people, Right to education, Theirworld
---
The world-famous magician addressed a Syria conference today and sent a powerful reminder to world leaders to keep their promise of every child being in school.
---
Magician Dynamo made an impassioned plea today for global leaders to keep their promise to get every Syrian refugee child into school.
He told them: "Education is the closest thing to real magic that you can give a child."
The world-famous British illusionist and TV star made his powerful appeal at a major conference on Syria held in Brussels. Dynamo has been supporting Theirworld's #YouPromised campaign – and his inspiring film 72 Hours, about a trip to Lebanon to see refugee children, has been watched more than 1.5 million times in the past few days.
Dynamo spoke up on behalf of the 689,000 Syrian refugees still out of school. Despite a promise made by the international community two years ago to get them all into education by the end of 2017, donor funding has fallen and one in three are still denied a place in the classroom.
Thousands of Dynamo fans and Theirworld supporters have signed the #YouPromised petition, demanding these children are given the right to an education. Tomorrow donor countries and organisations will reveal their new financial pledges at the second day of the Supporting the Future of Syria and the Region conference.  
Dynamo said: "If you give a child an education – even simple reading and writing – it instantly gives them a belief in themselves that they didn't have beforehand. It creates ambition.
"I think that we owe it to ourselves to be the ones that believe in the children enough to pledge them the money and put them into education.
"We don't know when the Syrian conflict is going to come to an end. But we do know that these children aren't getting any younger.
Watch Dynamo's film 72 Hours
"If we don't do it now, when it does become possible to go back to Syria who is actually going to go back there? What skills will they go back with? 
"It will be the youth of today who become the future of Syria. So if they have no education, there is no hope for Syria in the future."
Alongside Dynamo at the special meeting on education for Syrian children was Theirworld President Sarah Brown. She thanked the governments of Lebanon, Turkey and Jordan for "working so hard" to accommodate refugee children in their schools. 
Sarah added: "There is much to celebrate. When I think back a few years we can see just how many children have been able to be in school and how hard everyone is working to overcome the many challenges that exist.
"But there is a lot more to do – and that is about the funding and the political will that comes from the donor community. Very few governments are pledging that a proportion of their money must be devoted to education – although all of them will tell you that education is really important."
Sarah introduced Yasmine Sherif, Director of the Education Cannot Wait fund that helps to provide schooling in humanitarian emergencies.
She said: "Once there is a political commitment, if that commitment is to make a pledge for education, it means one acts upon it…. That's the difference between ethical politics and absolutely useless politics. Ethical politics makes dreams come true."
Christos Stylianides, the European Union's Commissioner for Humanitarian Aid and Crisis Management, told the meeting: "I'm delighted that education remains a top priority for today's conference."
Geert Cappelaere, UNICEF Regional Director for the Middle East and North Africa, said: "Without our efforts to this date, 2.5 million Syrian refugee children in school would be out of school. This is a huge achievement.
"We must thank the heroic efforts of host countries and particularly of teachers in the region."
Youth advocate Nivine Abed Al-Hak, 19 – who is from Lebanon – said: "Human rights start the moment you are born. And education is a fundamental human right."
The last word went to Dynamo, who said: "It's pretty safe to say that not a single person in this room would be here without their education. 
"Maybe in the future, it could be one of those Syrian children who is actually sat in this room, being able to make decisions like we're making. So let's give them that right."
---
More news
Take the test and discover how our Schools Hub helps students grasp the global education crisis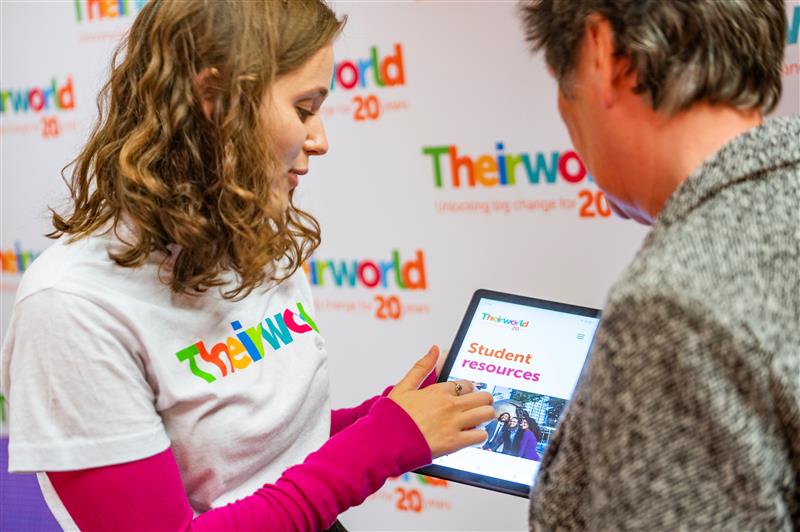 Take the test and discover how our Schools Hub helps students grasp the global education crisis
#LetMeLearn: the story of a global education campaign
#LetMeLearn: the story of a global education campaign