Dynamo: I had to do something to help Syrian refugee children
Celebrities, Children in conflicts, Double-shift schools, Education in emergencies, Refugees and internally displaced people, Right to education, Theirworld
---
The TV magician tells how he made a powerful film about his trip to Lebanon - and what he'll say to world leaders who broke their promise to educate children.
---
Like most of us, the magician Dynamo was horrified by what he saw unfolding in Syria. But he felt powerless, unable to do anything in the face of such a catastrophic conflict.
Eventually, he knew he couldn't sit back any longer. He had to act. Dynamo became an ambassador for Theirworld and went to Lebanon to see for himself the plight of Syrian refugee children who are out of school.
"It's easy to feel overwhelmed and helpless by the sheer size of the problem," said Dynamo. "But I wanted to try and help in some way."
The British illusionist – best known for his Magician Impossible TV shows –  has made a powerful and moving film about his trip. He is calling on his 10 million social media followers to share the video and urge world leaders to keep a promise made two years ago to educate every Syrian child by the summer of 2017.
Watch and share the film here – then sign the petition below
Angered by those broken pledges, Dynamo – whose real name is Steven Frayne – will head to Brussels next week for the second Supporting Syria and the Region conference. He hopes to persuade international leaders to ensure this time that the funds are in place.
He said: "I'm going to say – come on guys, remember these kids that you promised to get in school? Do you want to deliver on it?"
Dynamo travelled with Theirworld to Lebanon recently to talk to children, parents, teachers and aid workers about the lack of education for many refugees.
"I wanted to find out for myself how this would actually affect the Syrian children on the ground," he said.
"The first thing that hits you when you arrive is the number of children hanging around with nothing to do.
"These children aren't just refugees – they're the future lawyers, doctors and architects that will be needed to rebuild Syria."
A major report this week revealed that 689,000 Syrian refugee children – 35% of the total – are still out of school in Turkey, Lebanon, Jordan, Iraq and Egypt. Despite the promise that they would all be in school by the summer of 2017, funding for their education has actually dropped.
Last year the total funding requirement for the education humanitarian responses in Syria and the five host countries was $1.091 billion. By the end of the year $566 million had been received – only 52%. That was down from 2016, when 71% of the total of $618 million needed was received.
The No Lost Generation report – titled We Made a Promise – was released ahead of the Brussels conference on April 24 and 25, hosted by the European Union and UN. Theirworld's #YouPromised campaign has been pushing since last year for the pledges made at the first Supporting Syria conference in 2016 to be kept.
In Lebanon, Dynamo saw the double-shift system in action – where the same classrooms are used for local children in the morning and Syrian kids in the afternoons.
He told the BBC's 5 Live Breakfast show: "Theirworld has a solution to the problem which is amazing. There's a special system with the existing schools in Lebanon where they allow the children from the refugee camps to use the school in the afternoon.
"I went to a school that has this running and it works. This method has got 200,000 children into school."
Dynamo has also talked this week about his ongoing struggle with Crohn's disease, which has seen him take a step back from performing.
He said: "Instead of thinking about my own illness, going out to Lebanon and seeing the way these people are living really puts into perspective that what I'm going through is nothing. Mentally, helping other people is helping me to deal with my own situation."
---
More news
Take the test and discover how our Schools Hub helps students grasp the global education crisis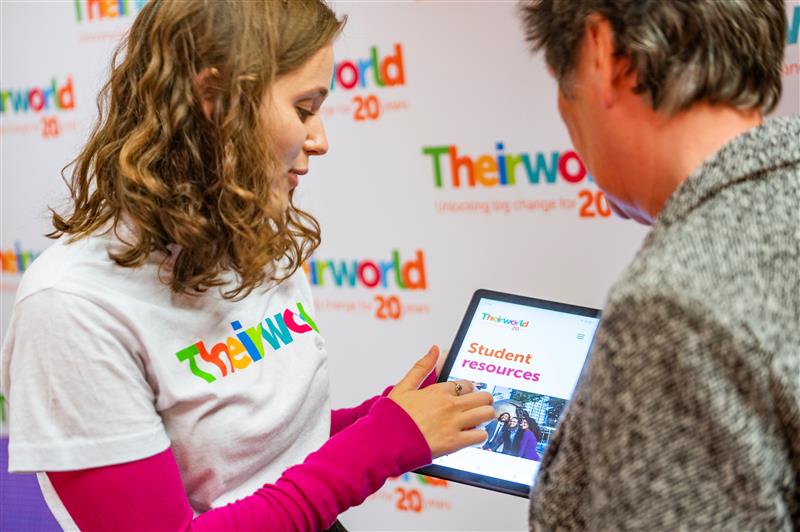 Take the test and discover how our Schools Hub helps students grasp the global education crisis
#LetMeLearn: the story of a global education campaign
#LetMeLearn: the story of a global education campaign