"Theirworld has the know-how and the know-who to help the next generation"
Barriers to education, Days in the childhood development calendar, Early childhood development, Education funding, Global Youth Ambassadors, Justin van Fleet, Right to education, Safe schools, The Education Commission, Theirworld
---
Justin van Fleet is the new President of Theirworld. With a wealth of experience and a proven track record in international education, the former Director of the global Education Commission will lead our work on ensuring every child and young person has the chance to fulfil their potential. To mark the first-ever International Day of Education today, Justin talks in depth about his new role, his background and personal values, and about Theirworld's vision on early learning, safe schools and youth skills.
---
If someone isn't aware of Theirworld, how would you describe what it is, what it does and its overall vision?
Theirworld is a global charity which aims to unleash the potential of the next generation.  
The right to education is the core of our work – every child deserves the best start in life, a safe place to learn and skills to succeed. 
Education has a tremendous impact on health, women, girls and communities. We work from the top down on the big picture and the bottom up with amazing, ground-breaking projects.  
What makes Theirworld different from other organisations in the sector?
We have a unique combination of skills and expertise to unlock opportunity for young people from the top-down and bottom-up.  
We analyse complex systems to identify the barriers to progress – whether it be political will, lack of financing or policy roadblocks – and propose innovative solutions.  
We look for the high-hanging fruit – the big prizes – and then effectively mobilise partners across sectors between government, youth, civil society, international organisations and the business community to facilitate the implementation of the solution.
We have the "know-how" and "know-who" to unlock barriers by using our unique toolbox of agenda-setting reports, strategic campaigning, developing and testing new innovation projects, and building diverse partnerships
We have countless examples of how we use these tools to unlock the innovation, finance, political will and inclusion necessary to create change.
You're the new President of Theirworld. What does that role entail?
My new role coincides with the first-ever International Day of Education on January 24 – so it is a very exciting moment because Theirworld is laser-focused on breaking down barriers to the United Nations' Sustainable Development Goal 4 (inclusive and equitable quality education for all).  
My own education spanned growing up and attending school in rural Maryland to attending high school in Bolivia, where I saw young people my age who were in child labour and not in school. These experiences have stayed with me through my time at my university near my hometown in rural Appalachia and then at Harvard University. 
I have worked with governments and major international organisations, as well as civil society, youth coalitions, foundations and the business sector on creating change.  And right now is a crucial time where the contributions of every part of society will count if we are to ensure every child is in school and learning.
My role entails being part of a global team working on developing and testing new solutions – and then taking them to scale. 
We look for big wins, like running a global #WriteTheWrong campaign to mobilise billions of dollars for global education funds, looking at how we can provide inclusive education for very young refugee children with special needs or scaling up employment and entrepreneurship opportunities for marginalised girls in STEM.
I am part of a team working across all of our projects and campaigns to reach the next level of success.  
My job also entails taking our messages to the people who matter and can make decisions, listening and learning from young people themselves – including our 900 Global Youth Ambassadors in 90 countries – and building up the supporters who are part of our movement to ensure we unlock opportunity for every single child and young person by 2030.
You've been Director of the Education Commission for the past three years. How has that experience shaped your thinking about global education and what you want to achieve at Theirworld?
The Commission has shown us that, unless we radically change course, in 2030 over half of all young people will have been left behind without even the most basic skills for a job or to participate in society. 
That experience has not only heightened the severity of the global education crisis but put in place a blueprint to reach universal equitable and inclusive quality education by 2030.
At Theirworld, I want to make sure we are ensuring governments and international agencies are delivering on this agenda and everyone is doing their part to unlock the finance, inclusion and innovation needed to make SDG4 (quality education and lifelong learning for all) a reality.
Will you continue to be involved with the Education Commission in any capacity – or the launch of the International Finance Facility for Education?
From a Theirworld perspective, we are interested in all the ways that education is funded. And I know my colleagues at the Education Commission will continue to pioneer innovations in education finance and bring data and evidence to the forefront. 
At Theirworld, this year we are prioritising the delivery of the International Finance Facility for Education (IFFEd) as the greatest new breakthrough in education financing to reach millions of children – and will support Education Cannot Wait (a fund for education in humanitarian emergencies) as it endeavours to raise new funding for children and youth in emergencies.  
We will also support the Global Partnership for Education and other funders we work with closely to support the difference they make to young lives.
How would you describe your own personal style? What are your particular strengths?
I have a unique vantage point of all of the moving pieces in global education. Bringing those pieces together – and foreseeing barriers to progress – is something I enjoy doing. 
I did my Ph.D at the University of Maryland and then was a fellow at the Brookings Institution Center for Universal Education in Washington, D.C. where most of my research focused on philanthropy and corporate social investments in education.  
I was also active in education in the community, where I helped to set up and serve as the chair of an amazing school focused on inclusion. 
I am a continuous learner and enjoy speaking with parents, teachers and students. Every visit I make – from a rural girls' school in India to Syrian refugees in the Middle East, or schools for disadvantaged youth from Nigeria to Nicaragua – is an opportunity to learn from young people and their families. 
I am keen to discover new ideas and innovations and find ways to support them in helping more and more young people.  
Combining that with all of the tools for change available at Theirworld is an opportunity to make the impossible probable when it comes to achieving universal education.
How important was education in your life? And did you have an inspirational teacher who had a lasting effect on your development?
I grew up in rural Maryland in the foothills of the Appalachian mountains. I am so grateful to all of the teachers I have had throughout my life in the Allegany County schools. 
From kindergarten through to high school, the number of teachers who inspired me, challenged me and shaped who I am are too many to count on two hands.  
I could tell stories about every single teacher I had – way too many for this interview. Just thinking back, I feel so fortunate and lucky to have had so many caring teachers in my life. 
I often equate teachers to brain surgeons – they are shaping the minds of the next generation day in and day out – and we should do all we can to support them.
Why is building consensus and coalitions so important to Theirworld's way of thinking?
At Theirworld, we are more impactful together. Only through next-generation partnerships and next-generation thinking can we achieve the goals we have set.   
So bringing as many people behind our common campaigns and projects is essential.
What do you think is Theirworld's greatest achievement so far?
Theirworld has worked behind the scenes as a catalyst for so many developments in the global education landscape.  
From being the first organisation to develop a blueprint for "double-shift schools" for Syrian refugees in Lebanon and funding the coordination of the initiative in the Education Ministry, we have unlocked a barrier that allows the government and many organisations to deliver education to over 200,000 refugees.
We also took a leap and were the first organisation building support in the sector for a new fund for education in emergencies. Today the Education Cannot Wait fund has reached one million children in emergencies with education.
If we just put children first, invest in what works sufficiently and work together, we can #WriteTheWrong by 2030 Justin van Fleet
What does Theirworld want to achieve this year specifically – and in the coming years?
There are five things we are going to put laser-focus on this year.  
We will: 
Increase the priority of and financing for early childhood development, especially pre-primary education for marginalised children
Increase the priority of and financing for safe schools
Ensure Sustainable Development Goal 4 is fully funded and financing is available for the most marginalised who are missing out
Advance new practical solutions to address barriers for young people getting a quality education and the skills they deserve – and provide blueprints to go to scale
Build a cohort of youth activists who are unlocking opportunity for the next generation.
Why is quality education and early learning – particularly pre-primary education – so crucial for every child?
We know that every child deserves the best start in life – and 90% of the brain develops before the age of five.  
But I am shocked that 150 million children age three to five do not have access to pre-primary education, including more than 80% of children in the poorest countries. Only 1% of aid goes to early learning.  
This is even true in my home town, where the numbers hover around  one in three children being ready for school by grade five. 
This is a global scandal that affects everyone – and affects the most marginalised and vulnerable the most.
We are going to put the full weight of Theirworld to the #WriteTheWrong campaign when it comes to early childhood development.
If you were to list the five biggest hurdles to overcome in getting every child a quality education, what would they be?
Lack of political will
Limited funding
Too few true partnerships for change
Limited innovations that can scale
Exclusion of the most marginalised – including girls, children with disabilities, affected by HIV/AIDS and those living in crises
All of these have a simple solution. If we just put children first, invest in what works sufficiently and work together, we can #WriteTheWrong by 2030.
Why is it important for youth to have a strong voice in the struggle to get every child a quality education? And how does Theirworld's network of Global Youth Ambassadors help to do that?
Young people are on the front lines and have the most to gain or lose if we do not invest in them. 
They are the most powerful voice in delivering messages to leaders about what must be done to deliver change and unlock opportunity.
Our Global Youth Ambassadors are our most powerful asset at Theirworld and we will see this initiative continue to grow.
Is there one particular incident you've seen or one child you know about who gives you hope that all the obstacles can be overcome?
I will never forget going to Lebanon and meeting a young Syrian refugee who was working as a child labourer to support his family, who had fled their home because of the conflict. 
Fortunately, Theirworld was able to help him register to be part of the RACE (Reaching All Children with Education in Lebanon) and now he is in school.
Where do you think Theirworld will be in five years and what will have been achieved?
Theirworld will have played an instrumental role in placing early childhood development – specifically pre-primary education – on the map, scaling up the financing and provision of safe schools and learning environments for all children, and finding new ways to equip young people with skills for the future linked to economic and social opportunity. 
If we move these three areas – always with a focus on including the most marginalised – we will be on the front lines of unlocking the next barrier to opportunity and hope for the next generation.
Learn more about Justin van Fleet
He is President of Theirworld and Executive Director of the Global Business Coalition for Education. 
Justin previously served as the Director of the International Commission on Financing Global Education Opportunity (Education Commission) and Chief of Staff to Gordon Brown, the United Nations Special Envoy for Global Education and former UK Prime Minister.
The Commission produced the landmark report The Learning Generation, which put forward a pathway to finance and deliver the ambitions of Sustainable Development Goal 4 – inclusive and equitable quality education for all. 
He has been a passionate advocate for financing education, playing an instrumental role in the establishment of the Education Cannot Wait Fund for education in emergencies and the new International Finance Facility for Education.
Justin was a fellow at the Brookings Institution's Center for Universal Education in Washington, D.C. where his research focused on corporate social investments and philanthropy for global education.  
He has previously held various non-profit and academic posts, including as Deputy Chair for Education at the Clinton Global Initiative, an Instructor at the University of Maryland and Associate Director of the Council on Foreign Relations Center for Universal Education. He has consulted for various international and national organisations and foundations.
Justin served on the Board of Trustees of Creative Minds International Public Charter School in Washington, D.C. from 2011 to 2015.
He graduated with a Ph.D. from the University of Maryland in international education policy and holds a Master degree from Harvard University in the same field.  
A native of Western Maryland in the foothills of the Appalachian mountains, he completed his Bachelor of Arts at Frostburg State University in international politics and Spanish. He has lived in Bolivia and Argentina. 
---
More news
Take the test and discover how our Schools Hub helps students grasp the global education crisis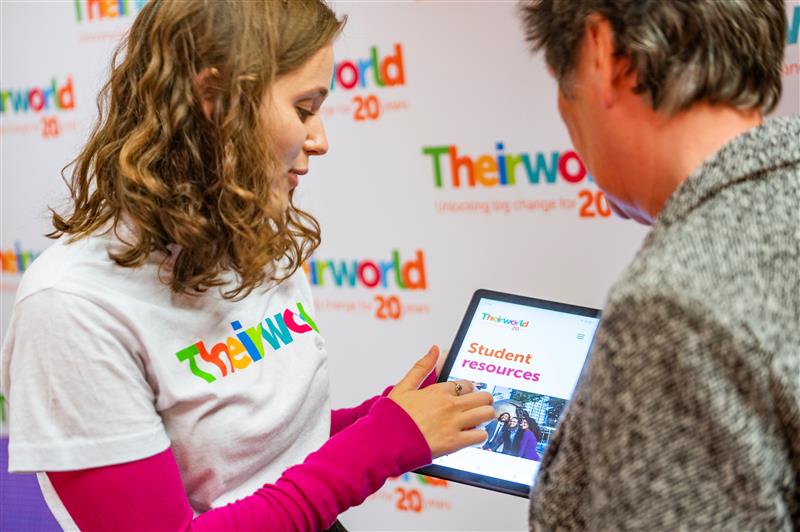 Take the test and discover how our Schools Hub helps students grasp the global education crisis
MyBestStart programme gives young girls the education they deserve
MyBestStart programme gives young girls the education they deserve