Meet the Mexican mother who started her own preschool and became a global teacher
Child nutrition (Early years), Children with disabilities, Early childhood development, ​Learning through play (Early years), Teachers and learning
Elisa Guerra began with a programme for under-fives - and now has schools in three countries, a series of education books and international recognition for her work.
---
Elisa Guerra set up her own preschool in her home city of Aguascalientes in Mexico because she didn't like what the local school had to offer her own children. Now she's winning global awards as an educator. 
Mother-of-three Elisa is helping to change the face of education in her country – and while she never envisaged herself as a teacher she knows she's found her vocation.
"I became a teacher by accident," she said. "But that might not be completely accurate. 
"I was not expecting my life to take the path of education but once I found myself there it was my decision to stay."
The first school, Colegio Valle de Diladelfia, was opened in 2004 with fewer than 20 students. Within six months, there were more than 80. Now it has close to 700 students at preschool, elementary and junior high levels.
Another 15,000 children are learning to read and develop into global citizens using her series of learning books, printed by the educational publisher Pearson.
"Founding a school is no piece of cake. But even more difficult was the thought of the school system slowly chewing away at my son's individuality and love of learning," Elisa said.
Her main focus was the under-fives and their development, including promoting children to read from as young as three. 
"Our school has a very different approach," she said. 
"We believe that the traditional education systems are pretty much wasting tiny kids' learning potential.
"We have a very ambitious programme – early reading, violin, art, global citizenship, languages (all our schools teach three languages, most often Spanish, English and French but also Chinese and Portuguese in some) physical development (crawling, creeping, gymnastics and even a triathlon).
"We do this in very brief sessions, we use tons of enthusiasm and a playful approach. We do not pressure children. Play is an integral part of our programme.
"Basically, all we do is enrich the learning environment, as much as possible, with exciting and high-quality stimuli and plenty of opportunity for movement. And then we see the children flourish. 
"Learning should never be a dull task to complete but the greatest adventure to enjoy."
Elisa borrowed money from her father, sold her car and rented a small space to open her pre-school with 17 children aged from one to five – including her own. 
She said: "I had no experience or training. I hired a couple of teachers and began to teach myself. It was truly hard work."
But that hard work paid off – and now 13 years after the first school opened, there is a network of schools in Mexico, Brazil and Costa Rica.
In 2015, Elisa received the Alas IDB Award as Best Educator in Latin America. In 2015 and 2016 she was named as a top 50 finalist for the Global Teacher Prize.
Elisa also studied for a degree in Early Childhood Education and a Master's Degree in Education with a specialisation in Teaching-Learning Process and has now won a string of global awards.
Learning should never be a dull task to complete but the greatest adventure to enjoy. Elisa Guerra
She has worked as a teacher in each one of the three basic education levels in México. 
For junior high school level, she developed a flipped classroom (where students study at home before the class) for history and geography, including collaborative projects, videos, evaluation rubrics and teaching suggestions. These materials have been available online since 2009 to be used freely by teachers and students.
In 2012 and 2013 Save the Children and the foundation O2 Bolivia invited Elisa to train more than 1000 teachers and parents in five Bolivian cities of Bolivia in how to develop stimulating learning environments for young children and children with disabilities.
She has volunteered as Director for The Institutes for the Achievement of Human Potential for Latin America since 2001, where she has worked with well and brain-injured children and their families.
She still teaches today. And loves it.
"Our school searches to embrace diversity, promote collaboration and provide rich opportunities for learning," she said.
"We focus on arts, music, global awareness, physical excellence and challenging academics. We soon opened elementary (primary) classes and years later, received secondary students."
Elisa realised that when she had her own children that the early years were more important than anything – and she wanted to provide them with a proper start.
"From the time I taught my kids at home, I had become fascinated with the brain and learning. Over the years, the model for our school evolved and was franchised," she explained. 
There are now five schools operating in different cities in Mexico and two international schools have opened in Costa Rica and Brazil.
She said: "I've taught children from pre-school to secondary school. I work mostly with little ones – an early reading programme." She teaches geography, history and technology to teenagers.
"My team is committed and passionate. I have been fortunate to have great learning and growing opportunities."
The ethos of the school is that all children have tremendous potential and that it is the responsibility of parents and educators to generate the best learning environment for children to fulfil that potential. 
Their motto is: dream big, work hard. It's exactly what Elisa Guerra does.
Read: A day in my life by Lisa Guerra, in our Voices channel
---
More news
Technology has the power to expand education for children with disabilities
Technology has the power to expand education for children with disabilities
Take the test and discover how our Schools Hub helps students grasp the global education crisis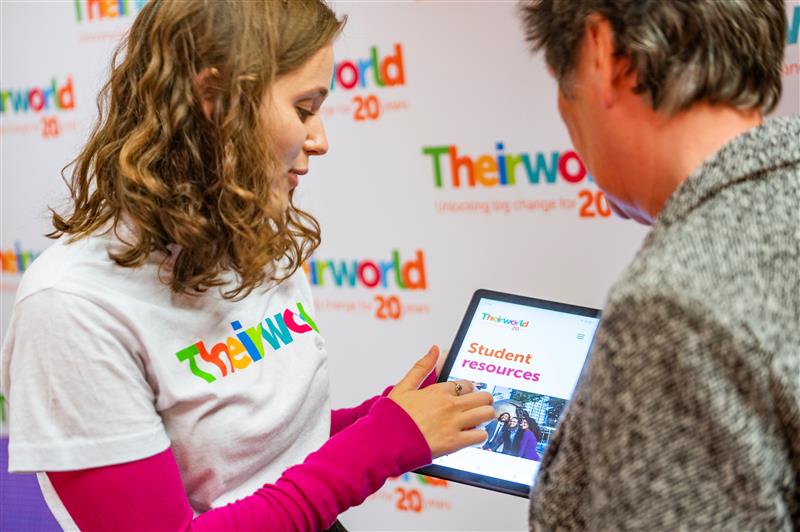 Take the test and discover how our Schools Hub helps students grasp the global education crisis