"When I became a mother, I also gave birth to my inner teacher. I found a passion"
Child nutrition (Early years), Childcare, Early childhood development, ​Learning through play (Early years), Right to education, Teachers and learning
---
Elisa Guerra, the founder of an early childhood project in Mexico that grew into a network of schools, tells about a typical day in her life, what drives her and her hopes for her own children.
---
It's almost seven in the morning and we are running late. My son, Santiago, who is 14, can't find his tennis shoes. 
I wait for him by the door. He comes down in his socks, shoes in hand, and off we go. 
Our school is a short, 10-minute drive away. As a ninth grader, this is Santiago's last year here. 
It's hard to believe so much time has gone by. I founded Colegio Valle de Filadelfia years ago, because, as a mother, I was not happy with the schooling options I had in Aguascalientes, México, our home town.
When I became a mother at age 23, I wanted my eldest son Leo to fall in love with books, art and music. I was lucky that my catering job allowed me to spend most of the time with him. 
I read a book by Glenn Doman called How to Teach Your Baby to Read and was profoundly moved. The book proposed it was possible to teach a tiny child to read, joyously and easily, without "robbing him" of play time. 
I began teaching Leo, and later Annie and Santiago, as they arrived to the family – not only to read but also math, music and as much as I could about the beauties of the world. 
When I became a mother, I also gave birth to my inner teacher. I found a passion.
Then it was time for Leo to start school.  
Both public and private schools seemed dull to me, very traditional in their ways, not challenging or interesting enough. I felt like they were eating away my son's hunger for learning. I expected so much more. 
We tried a couple of them but eventually I decided I needed to found the school I wanted for my children. 
Now both Leo and Annie have left home for college. Leo will become an engineer and Annie a mathematician. Santiago is the only one still at home. 
He has three more years to decide but, so far, it seems like he will go into medical school and become a neurosurgeon. 
As we arrive to school we part our ways. Santi goes to chemistry class. I will be teaching stop motion animation to a group of sixth graders.
Then I will meet with our preschool teachers to review our early learning programmes. This wonderful team is helping me coach the many schools that are now implementing our programmes across México and even in some Latin American countries.
Since 2015, when I first became one of the Top 50 finalists for the Global Teacher Prize, there has been a peak of interest in what we are doing. Just a year earlier, in 2014, I had published a series of books for early reading and global citizenship. 
My current project is designing and implementing an early development programme for disadvantaged children aged two and three. Elisa Guerra
We leave school at around 2.30pm and eat together. Santi is part of a state tennis team and trains every day from 4 to 7pm. 
I drop him off at the courts and head back home to work on my current project – designing and implementing an early development programme for disadvantaged children aged two and three. 
I have teamed up with Prospera, a government- run initiative to help improve the living conditions of the poorest Mexican families, and The Institutes for the Achievement of Human Potential, an international organisation that teaches parents of both well and brain-injured children on how they can help their kids reach their fullest potential. 
I have been working with the Institutes as a volunteer since 2001. The Institutes are based in Philadelphia, USA, and were founded by Glenn Doman, the author of the book that turned me into a teacher.
I am very excited about this project, which could mean drastically improving the educational outcomes for these children.
By the time poor kids start elementary school they are already behind. If we are able to reach them early, while their brains are raging with possibilities and plasticity, we could indeed change their lives for the better. 
Part of this work was captured in the Al Jazeera documentary about our school, Rebel Education, México: The Power of Early Education. 
I pick up Santiago from practice and after we eat he will complete his homework and I will catch up on reading, until we call the day off. 
I'm happy but still craving a few more hours in the day so I could get many more things done. I am sure most moms and teachers share this same, last-moment-of-the-day feelings. 
But then there's always tomorrow.
---
More news
Take the test and discover how our Schools Hub helps students grasp the global education crisis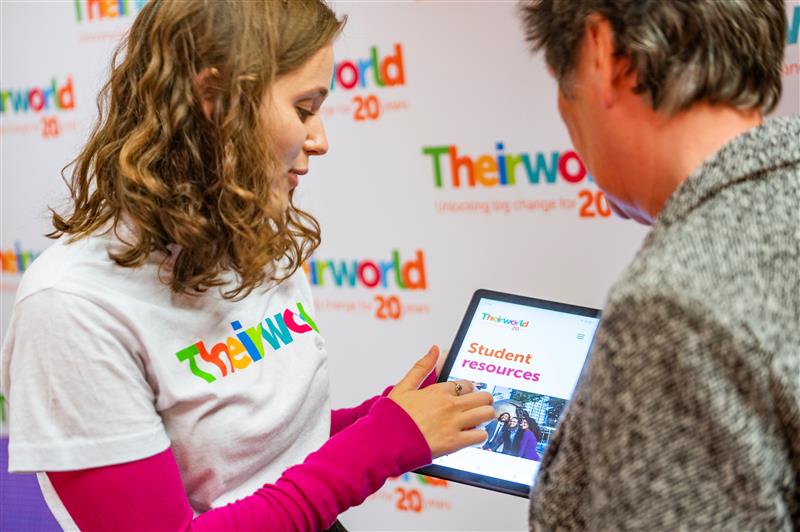 Take the test and discover how our Schools Hub helps students grasp the global education crisis
MyBestStart programme gives young girls the education they deserve
MyBestStart programme gives young girls the education they deserve