Conflicts and disasters leave millions of children displaced in their own countries
Barriers to education, Children's welfare after natural disasters, Education Cannot Wait, Education in emergencies, Refugees and internally displaced people, Right to education
---
30.6 million people were internally displaced last year - half of them will be children and many could be out of school for months or even years.
---
When news reports cover conflicts and natural disasters, more often than not they focus on refugees – those who have fled their own country to find safety in another.
But the plight of people who are displaced from their homes within their own borders is just as crucial and equally as traumatic.
In fact, there are many more internally displaced people (IDPs) than refugees – 30.6 million left their homes in 2017 alone, according to a major report published yesterday. There are 22.5 million refugees and many of them have been displaced for years.
"This is the equivalent of more than 80,000 people displaced each day," said Alexandra Bilak, Director of the Internal Displacement Monitoring Centre (IDMC), which produced the report with the Norwegian Refugee Council (NRC). 
"The scale of this displacement is dishearteningly familiar. This report shows why we need a new approach to address the huge costs of internal displacement – not only to individuals but also to the economy, stability and security of affected countries."
The effect of fleeing from a war zone or escaping a flood can be devastating for children. Displaced children can be out of school for months or even years. If they do get into school in a host community, the overcrowded classrooms can affect the quality of education for them and the local students.
Being in humanitarian emergencies can leave them with trauma and psychological issues. And, without education, their childhoods can be lost to child labour, child marriage, recruitment by armed groups or exploitation.
The new Global Report on Internal Displacement (GRID 2018) doesn't give overall figures for the number of IDP children. But over half of all refugees are under 18. 
The report does spotlight some of the issues in two warn-torn countries. In the Democratic Republic of Congo, children make up about 60% of the displaced population. The United Nations verified 2334 grave violations against children in 2016, the highest number since 2012. That included recruitment by armed groups.
In the Kasai region of DRC, the education of as many as 64,000 children was at risk because armed groups had occupied schools and instilled a climate of fear. 
Women and children make up 75% of Yemen's displaced population. A survey in three governorates with large displaced populations in late 2016 found that 45% of marriages involved girls under the age of 15.
The GRID 2018 report shows that new displacement due to conflict and violence reached 11.8 million in 2017 – a big jump from 6.9 million in 2016. That makes up 31% of the total displacements.
Syria, the DRC and Iraq account for more than half of the 11.8 million. Sub-Saharan Africa is home to 5.5 million of them, followed by the Middle East and North Africa with 4.5 million. 
Natural disasters displaced 18.8 million people in 135 countries last year. Of these, 8.6 million were triggered by floods and 7.5 million by storms, especially tropical cyclones.
The worst affected countries were China with 4.5 million, the Philippines with 2.5 million, Cuba and the US each with 1.7 million and India with 1.3 million displacements
The 30 million new displacements in 2017 takes the total number of IDPs due to conflict close to 40 million worldwide.
"The staggering number of people forced to flee from their homes due to conflict and violence must serve as an eye-opener to us all," said Jan Egeland, NRC's Secretary General. 
---
More news
Theirworld's mission to give children in crises a safe place to learn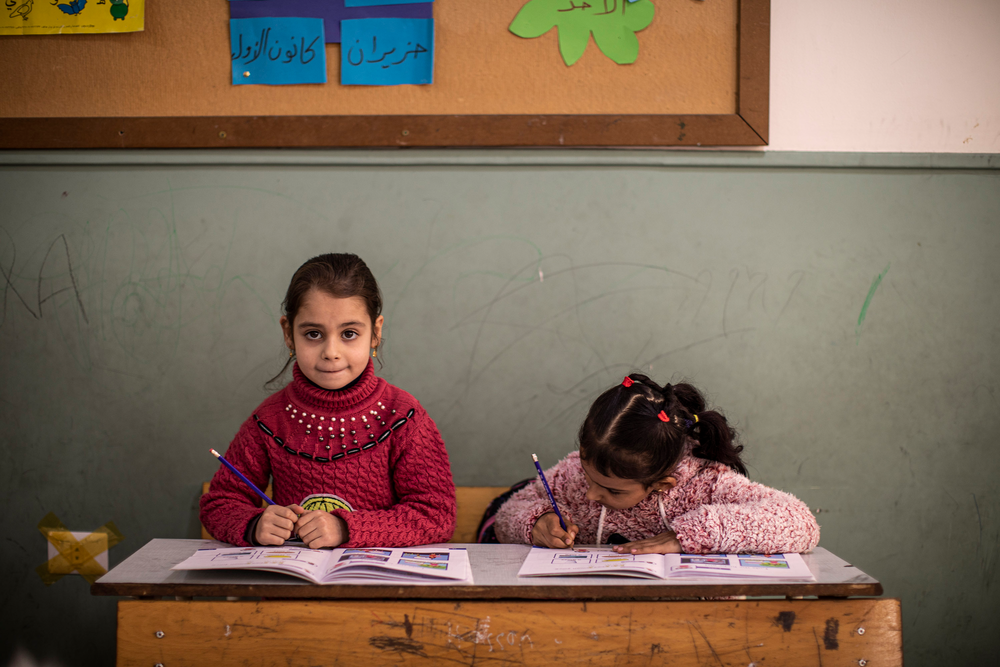 Theirworld's mission to give children in crises a safe place to learn
World Refugee Day: ACE project helps children to integrate and learn in Greece
World Refugee Day: ACE project helps children to integrate and learn in Greece