Mobile film-makers capture the education plight of refugee children in Lebanon
Children in conflicts, Education in emergencies
The winning film features the story of 12-year-old Abdelsalam
Every day, millions of people across the world use their mobile phones to record their lives – taking pictures, sending messages and making videos to share with their friends and family.
But what if mobile phones were used for a greater cause? To demonstrate the importance of education in shaping the lives of refugee children by showing their moments of despair and hope?
That was the motivation for Capture The Moment: Mobiles for Education, a competition organised in Lebanon by Soulayma Mardam and supported by Anthony Aslou. Both are Global Youth Ambassadors for A World at School..
The aim was to raise the profile of the GYA programme in Lebanon – home to hundreds of thousands of Syrian children whose famiies fled from the conflict – and to engage young people in dialogue about education.
Entrants were asked to make short films of three to five minutes on their mobile phones on the theme of education.
"We believed the 'pocket' format was a fun and engaging way for contestants to approach sensitive issues," said Soulayma.
Film makers and judges at Beirut event where the videos were shown
When the judging panel of experts watched the entries, they saw films that captured the plight of refugee children and their struggles for the basic right of a quality education.
"Through their art, they created a space to let the voiceless speak out," added Soulayma. Read a blog by her about the competition.
At an event in Beirut, seven films were shown and the winner was named as Mahdi Seyit. The 21-year-old's video tells of Abdelsalam, a 12-year-old Syrian refugee who dreamed of going to school but now works as a mechanic.
Abdelsalam's moving story was highlighted by Soulayma when she addressed an education event at the civil society section of the Supporting Syria and the Region pledging conference in London on February 3.
Mahdi said: "I decided to do the film about this boy because I thought his story sums up the tragedy of the many Syrian kids who ended up without education. I also wanted it to be heard, hoping that someone would help.
"I aimed to highlight the hopes and the dreams of this kid while showing the dire reality in contrast. I also wanted to include scenes of him working with the unhygienic machinery to shed light on the unsafe environment of child labour.
"I was glad I won the competition – but I considered myself a winner when I was told that an organisation is willing to help Abdelsalam and put him back in school."
Watch Mahdi's winning film here…
First runner-up was Rym Chamas, an 18-year-old student at the cinema department of the Lebanese University of Fine Arts. Her film addresses girls' education through a flashback by one of the victims of the customs and traditions that prevent girls from learning.
Watch Rym's film here…
Second runner-up was Maysam Azzam, 18, and Hiba Jindawi, 23. They are both Palestinians and their movie – filmed in the Ain El Helwe refugee camp in Saida – shows the challenges the Palestinian community has in accessing quality education.
In a blog about the making of the film, Maysam said: "These children are stronger than we thought they'd be. Instead of us giving them the hope, they gave us a hope of a better future."
Watch Maysam and Hiba's fim here…
Third runner-up was Nessim Stevenson, 21, and Ghinwa Daher, 27. They focused on street children in Hamra, letting them talk about their lives, their dreams and their hopes.
Watch Nessim and Ghinwa's film here…
The event where the films were shown was held at Teh Marbouta in Hamra, Beirut. It was sponsored by Teh Marbouta and the Dar Al Mussawir and Sonbola organisations.
The judging panel included Pierre Abi Saab, journalist and art critic; Cynthia Choucair, producer and film-maker; Massa Mutfi, CEO of Sonbola; and Gisela Hurschler, Technical Adviser for Education, Save the Children.
Competition winner Mahdi received a GoPro camera provided by A World at School.
He said: "Today education is a crucial and basic right that every child should possess. Without it, the child is at risk of slipping into child labour.
"I believe in education and I believe everyone has the potential of making the world a better place if they have proper access to education."
---
More news
Theirworld initiative helps to deliver $30m of computers to Ukrainian children
Theirworld initiative helps to deliver $30m of computers to Ukrainian children
Theirworld's mission to give children in crises a safe place to learn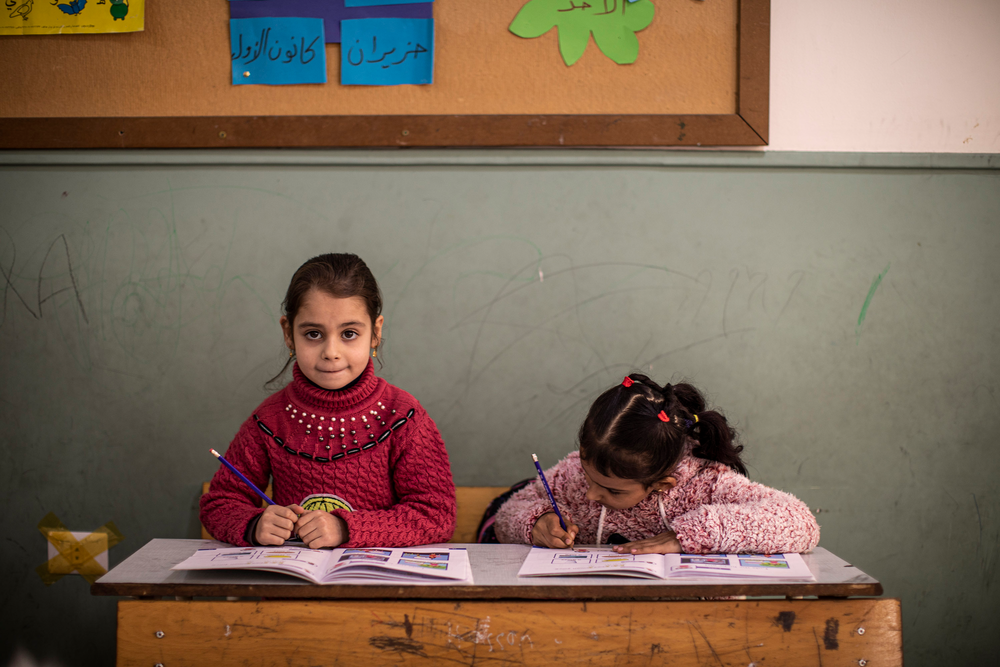 Theirworld's mission to give children in crises a safe place to learn