New school resources focus on disability and girls' education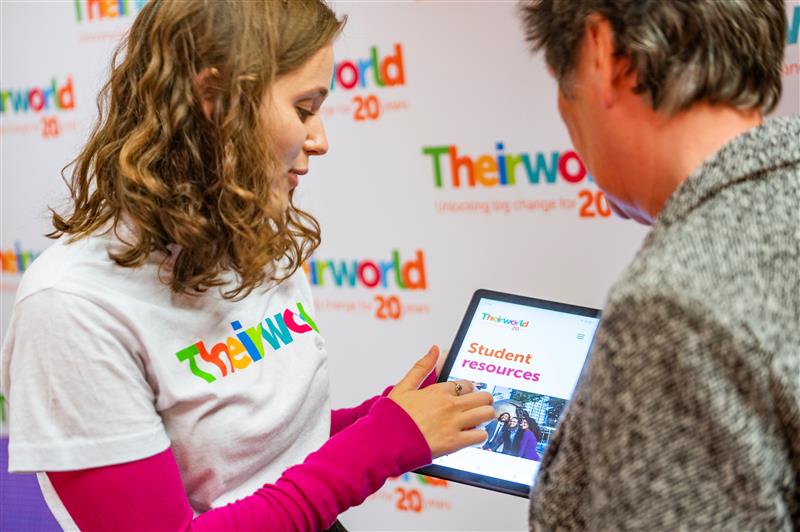 Theirworld's latest classroom packs have engaging and thought-provoking activities for students and feature the experiences of some of our Global Youth Ambassadors.
---
Aksheyaa and Kigenyi are both 25. They live in different countries but both faced challenges accessing education when they were younger because of disabilities.
Now, in their roles as Theirworld Global Youth Ambassadors, they're advocating for inclusive education and showing others what can be done to unlock big change for children with disabilities.
The experiences of Aksheyaa from India and Kigenyi from Uganda feature in two new resource packs launched as part of Theirworld's successful teaching resources for schools in the United Kingdom.
The new packs are:
They build on our existing teacher resources, which include support for refugees, health and wellbeing, climate action, and skills and employment.
There are two versions of each new pack – for primary school children aged seven to 11 and secondary school students from 11 to 16. They include links to national curriculums for England, Wales, Scotland and Northern Ireland and also have case studies featuring our Global Youth Ambassadors.
"I have dyslexia and as a child I lived with ADHD (attention deficit hyperactivity disorder)," said Aksheyaa, who lives in Chennai. "I felt excluded from learning at times. I was made to feel like it was my fault and that I didn't study hard enough.
"My own experience of the lack of inclusive education for children with learning disabilities in India brought me to start working on this issue. I studied psychology at university and I have a Masters in Human Rights. I am now a special educator, supporting children with learning disabilities."
Almost half of children with disabilities around the world are missing out on school, compared with 13% of children without disabilities. Even those who are in classrooms can face significant barriers to learning, such as inaccessible curriculums, discrimination and a lack of assistive technologies.
Theirworld's disability resources packs have engaging and thought-provoking activities to develop students' understanding of the different ways in which people learn, as well as building empathy and strengthening collaborative skills. There are accessible versions of PowerPoint slides and Word versions of all PDFs.
Kigenyi set up an organisation in Uganda that helps people with disabilities make the step from education to work. He said: "I do not want other people to face the same obstacles to learning that I faced."
But he added: "In the last 10 years I have seen things change and many more people are now able to learn. The Ugandan government started to advocate for the right for education for every person and now it's not easy to find a school that isn't accessible for wheelchair-users or doesn't have enough teachers."
In the girls' education packs, activities encourage students to think critically about some of the reasons why so many children and young people – girls in particular – are still denied the chance to go to school.
Learners will consider the impacts of gender stereotyping on people's lives and think about what action they could take to help make life fairer for everyone, whatever their gender.
The case study in these packs features Shazia Ramzan and Kainat Riaz, who were injured when girls' education campaigner Malala Yousafzai was shot by the Taliban on her way to school in Pakistan in 2012.
Shazia and Kainat are now studying in the UK and hope to become doctors. Kainat said: "For me, education is like a light – without light you can't see anything."
Take our quick quiz to test your knowledge. Click to reveal the answers.
Q. What percentage of countries have laws supporting full inclusion in education?
Q. What percentage of children with disabilities in low-income countries have never been to school?
A. Shockingly, it's about 90%, according to UNESCO.
Q. How many girls are out of school around the world?
A. About 129 million, according to estimates by the United Nations children's agency UNICEF.
Q. What percentage of technology graduates globally are female?
A. Only 3%. But Theirworld's Skills for the Future programme is working with others to help girls and young women aged 14-20 to develop digital, coding and entrepreneurship skills.