One million Iraqi children 'have lost out on education under Islamic State'
Children in conflicts, Education in emergencies
---
Save The Children says many children have been denied an education for the past two years - forced out of school or made to take an extremist curriculum designed to turn them into fighters.
---
One million children living under the rule of Islamic State in Iraq have been denied a normal education, Save The Children has said.
They have either been out of school or forced to learn from extremist teachings designed to brainwash them into becoming fighters.
A father of five called Hamid said: "They would tell children how to make bombs. When children came out from the school there was a big TV in the garden where they were showing propaganda: how to kill and how to make suicide bombs and how to cut heads off."
As Iraqi and Kurdish forces continue to battle with Islamic State (ISIL) for control of Iraq's second largest city Mosul, the number of people displaced by fighting since the offensive was launched on October 17 has climbed to around 34,000.
Hundreds of thousands more people in and around the Mosul area could be displaced as fighting continues and many have already fled to refugee camps.
ISIL took control of large areas of northern and western Iraq in 2014. It is estimated that around three million people in Iraq were living under their control at the end of last year, according to the 2016 Iraq Humanitarian Response Plan.  
With around 35% of the Iraqi population of school age, Save The Children estimates that 1,050,000 children in ISIL-held areas were either not going to school or attending schools controlled by the terror group.
The United Nations children's agency UNICEF said recently that almost 10% of Iraqi children – more than 1.5 million – have been forced to flee their homes because of violence since 2014. Nearly one in five schools is closed due to conflict, UNICEF added.
Save The Children runs Jad'ah camp near Qayyarah, which is about 20 miles south of Mosul.
Hamid (not his real name) said only boys were allowed to go to school and many parents did their best to protect them by keeping them at home, despite pressure from ISIL.
He added: "We told them… you should not believe it. This is not the right Islam. We were guiding our children to make sure they didn't believe everything they were taught."
A father-of-four called Karim said children as young as 12 were recruited at school to fight. He added: "Some children told me that ISIL used to take them to their base for 40 days to train them and to tell them that it's Halaal (permissable) to kill army people.
"They used to take about 50 to 100 children for each programme. A lot of children obeyed ISIL and then they were killed in fighting.
His four children lived in constant fear and Karim said he was frustrated at having to keep them away from school in order to protect them.
He added: "It's difficult for my girls. They were very scared, crying all the time, shaking. I want my children to get educated and get a job. The most important thing for them is to read and to write."
Save The Children said more than 1000 families are living at the camp, where the charity has built temporary classrooms to get children back into education as quickly as possible.
Maurizio Crivellaro, Save the Children Iraq country director, said: "Innocent children should never be exposed to this kind of instruction at school. Getting them back into a safe and positive school environment is critical to starting the recovery process and giving them hope for their future.
I want my children to get educated and get a job. The most important thing for them is to read and to write. Karim, father of four at Jad'ah camp
"As soon as we set the classrooms up, they were already gathering outside and peering in curiously. Judging by the big smiles on their faces, they knew this is how school should be and they were excited to get back to normal."
Teachers are running recreational activities and games for the children, before teaching them basic literacy and numeracy.
The children are also introduced to the Iraqi curriculum, with support from the affected communities and the Ninewa Directorate of Education (DoE).
Crivellaro said some children had never been to school and would need extra support.
He added: "All displaced children will need to attend non-formal or catch up classes for at least the next few months before they are reassessed and referred to formal schools depending on their performance, and as per guidance and support from the DoE.
"Children and parents tell us that during times of crisis, education is their priority. They tell us it's the key to their future and it can't be delayed. These children have missed out on enough of their childhoods."
Last month Theirworld sent a message to world leaders meeting in Paris, urging the international community to get children back into education as quickly as possible once Mosul is retaken.
"It's going to be really important to the half a million children living in the city that they are able to return to school," said Fiona Duggan, Senior Project Manager at Theirworld.
She added: "For the children of Mosul, education is hope. It's a way out of the suffering. A way to rebuild their lives."
UNICEF says more than 500,000 Iraqi children are estimated to be at work rather than at school as violence and displacement hurts the income of millions of families.
---
More news
Theirworld initiative helps to deliver $30m of computers to Ukrainian children
Theirworld initiative helps to deliver $30m of computers to Ukrainian children
Theirworld's mission to give children in crises a safe place to learn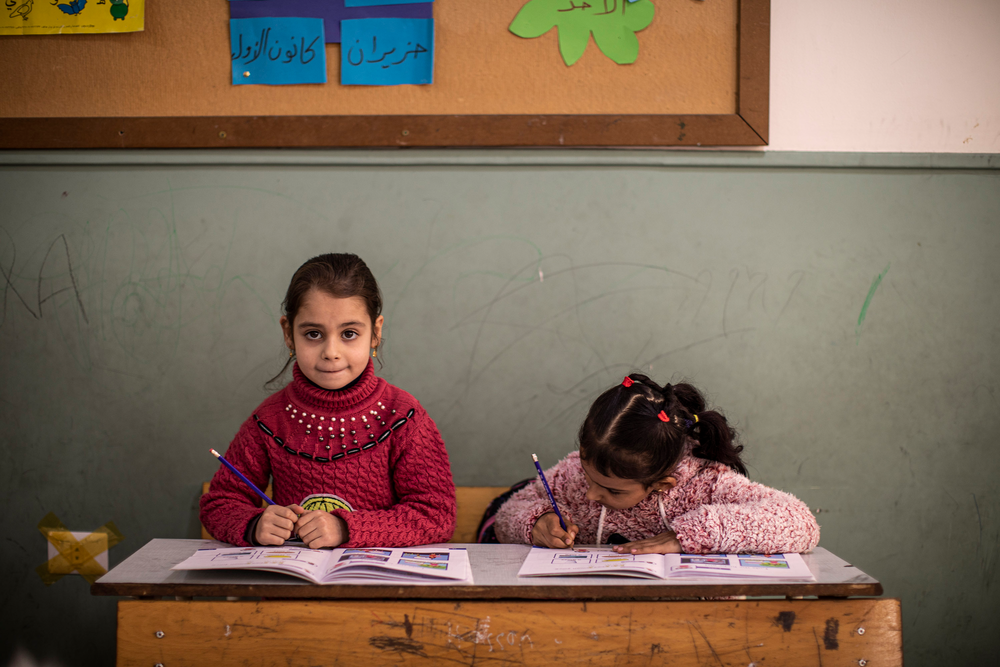 Theirworld's mission to give children in crises a safe place to learn