Day of celebration as Palestinian children go back to school amid funding crisis
Education funding, Refugees and internally displaced people
---
Classes run by the UN agency UNRWA reopened today but their future beyond the next few weeks is still in doubt because of lack of money,
---
Thousands of Palestinian children went back to school today – but a funding crisis means their educational future is still in doubt.
After warnings that the schools run by the United Nations agency UNRWA might not reopen after the summer break, classes began today in Gaza and the West Bank. Schools in Lebanon, Jordan and Syria will restart at the weekend. 
"Let us make this a moment of celebration – celebration of the right to education for every single boy and girl," said UNRWA Commissioner-General Pierre Krähenbühl. 
But he added: "As we celebrate the opening of our schools on time, we must not lose sight of the fact that we are still facing severe and crippling financial crises."
Theirworld supporters have been calling for the international community to rally round and help to keep UNRWA's schools open.
UNRWA (United Nations Relief and Works Agency for Palestinian Refugees) provides education for 525,000 Palestinian children in 711 schools. 
The agency has been facing a financial catastrophe since January, when the United States slashed its contribution by $250 million and other expected financing fell through. Donors stepped in to plug some of the funding gap but UNRWA still needs more help.
Two weeks ago, officials said schools would reopen – but warned there was only enough money to keep them going until the end of September.
Krähenbühl paid tribute to the role of host communities, partners and donors for their help in getting the schools reopened.
He also said this was a "moment of pride in the courage and commitment of UNRWA students, pride in the passion and commitment of UNRWA education staff".
Krähenbühl said that was exemplified by Aya Abbas, a ninth grader from Yarmouk refugee camp outside Damascus who was the highest-scoring student across Syria. 
He said: "Despite the extraordinary adversities she faced as a Palestine refugee child, including forced displacement from the camp where she was born and raised, she outperformed her peers in all subjects.
"It was because of students like Aya that I decided to open our schools on time this week, notwithstanding a shortfall of over $200 million – an unprecedented deficit in UNRWA's 70-year history."
He said the prospect of  over half a million students not being in school was "deeply unsettling for the host countries who have generously welcomed hundreds of thousands of refugees for decades". 
In Gaza City, 11-year-old student Hala Muhanna said her "message to the world is that no one has the right to close schools".
She added: "Even if they take away our schools we will bring them back."
---
More news
Young people's tireless campaign for an education game-changer
Young people's tireless campaign for an education game-changer
Theirworld's mission to give children in crises a safe place to learn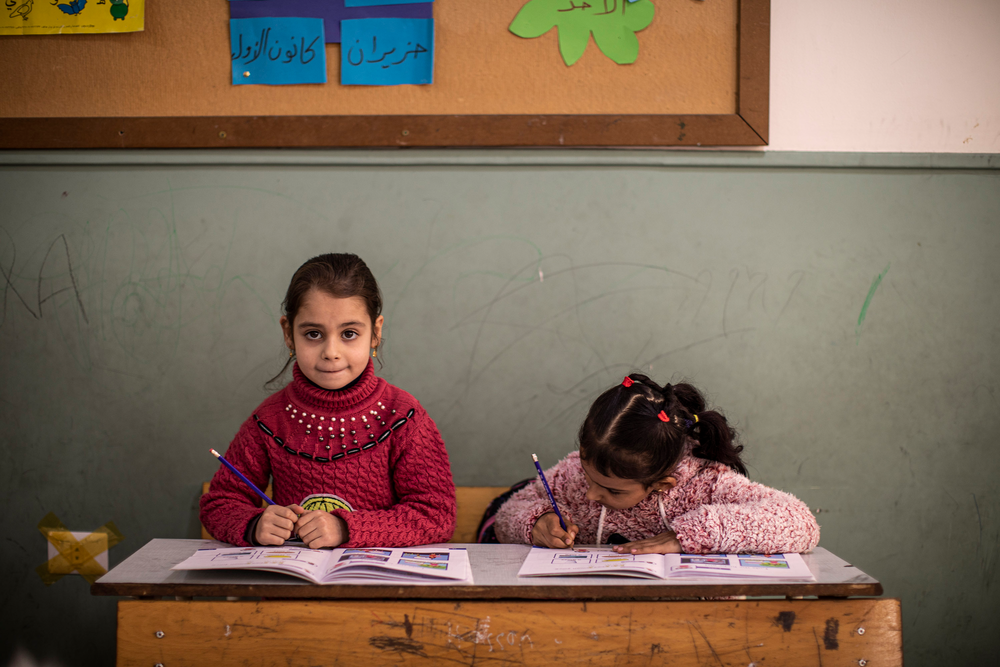 Theirworld's mission to give children in crises a safe place to learn