Penny Lancaster backs #5for5 campaign for early years care
Celebrities, Child nutrition (Early years), Early childhood development, ​Learning through play (Early years), Safe pregnancy and birth, Sarah Brown, Theirworld
---
Watch the broadcaster and mother visit a children's centre to find out why early years care is so crucial to give them the best start in life.
---
Theirworld's #5for5 campaign to give every child the best start in life is being championed by the campaigner and broadcaster Penny Lancaster.
Penny – who has two children with her husband, the singer Rod Stewart – believes that every child should have access to early years care.
She visited a children's centre in London to see how important it is that under-fives have access to quality care – including nutrition, health, learning, play and protection.
The #5for5 campaign is raising awareness of early childhood development and urging world leaders to invest in early years care.
Penny, who is a presenter on the British TV show Loose Women, talked to Theirworld President Sarah Brown after her visit to Regent's Park Children's Centre in Camden.
Although she's passionate about the welfare of children and the underprivileged, Penny admitted: "Even I didn't know how important it [early years care] was until I was educated and brought up to speed – finding out that 90% of the brain growth happens up until the age of five.
Listen to Penny chat to Theirworld President Sarah Brown
"A lot of parents think that when children are five that's when they go to school and start learning."
Although early education is so crucial, a Theirworld report published yesterday reveals that less than 1% of all global education aid is spent on pre-primary education. 
Our Setting New Targets for Success scorecard says donors need to do more to help young children fulfil their potential.
---
More news
Sarah and Gordon Brown share global education vision in 100th episode of Better Angels podcast
Sarah and Gordon Brown share global education vision in 100th episode of Better Angels podcast
Take the test and discover how our Schools Hub helps students grasp the global education crisis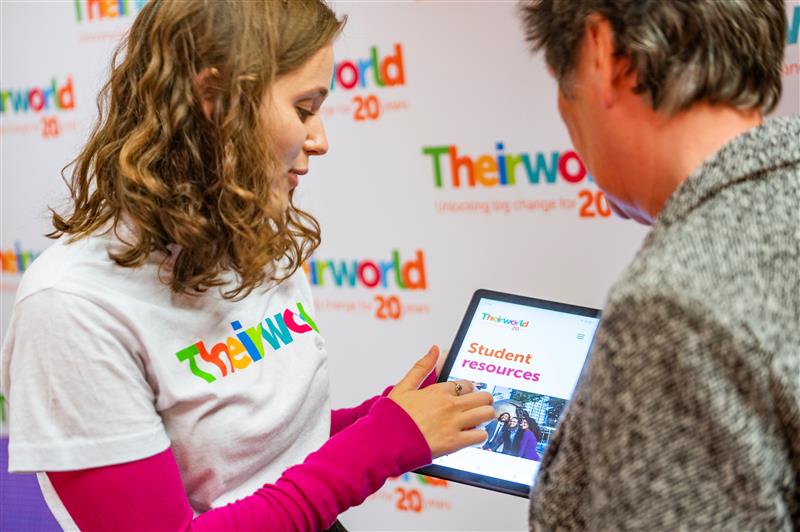 Take the test and discover how our Schools Hub helps students grasp the global education crisis